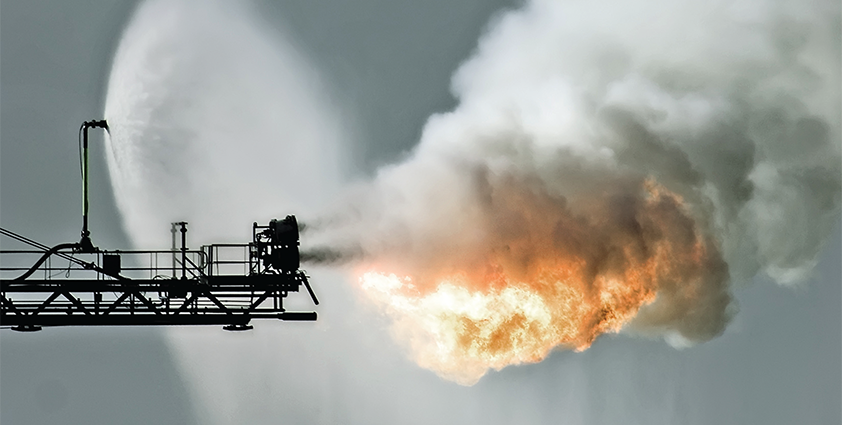 Flowing places
Oliver Valves was established by mechanical and production engineer Michael Oliver in 1979 from the garage of his family home.
His ambitious endeavours soon led to the creation of the non-rotating tip, anti-galling needle valve, an invention which brought such success to the company that it now operates across more than 50 countries worldwide, serving all of the major players within the oil and gas industry. Today, Oliver Valves operates as three separate companies. These are the original company, Oliver Valves Ltd., Oliver Valvetek Ltd., which was established in 1995 and Oliver Twinsafe Ltd., founded in 2000.
Oliver Valves Ltd. possesses a large portfolio of products encompassing high pressure needle and ball valves, needle valve manifolds, monoflanges and slimline monoflanges, double block and bleed valves, injection valves, sampling valves, distribution manifolds and instrumentation products. Oliver Valvetek Ltd., on the other hand, provides subsea valve solutions that include deepwater hydraulically actuated gate valves, manually actuated gate valves with optional position indication half turn gate valves, ball valves and needle valves. The final unit of the company, Oliver Twinsafe Ltd., provides reduced and full bore ball type double block and bleed pipeline valves up to 16 inches. These are available in forged or cast body construction. Many of these valves have been designed to ANSI B16.10 standard length, the compact design of which reduces the number of potential leak paths and means safety levels are improved whilst weight, space and cost are all reduced.
Paul Shillito, engineering director of Oliver Valves, reveals the company's key customer base: "We work with the likes of BP, Shell and all other major oil and gas operators. Approximately 90 per cent of the products we manufacture end up on oil and gas plants, rigs and refineries, worldwide. We have a vast distribution network that spans across all regions, and we have our own sales personnel based in offices in Houston, Rio De Janeiro, Malaysia and the Middle East. Having our own staff in these areas means that we can communicate directly with local companies in their own time zone, which maximises convenience for both parties.
"In addition to our distribution network we also co-operate closely with a number of important suppliers," said senior purchaser for Oliver's, Martin Hallworth. "Suppliers such as Zaffar Hussain's Huntley Mount Engineering, a very valuable supplier that carries out important turning and milling work for us. From day one Huntley has demonstrated excellent flexibility and a willingness to work with us, even turning around important projects at very short notice."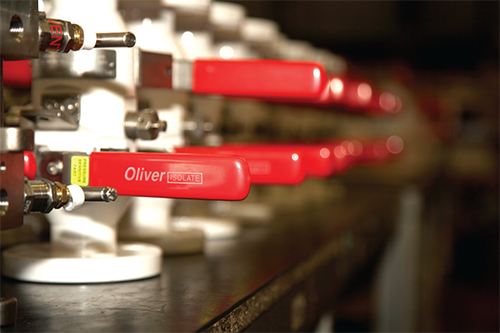 Such global proliferation is made possible by the fact that Oliver Valves has built a strong reputation in the industry, as Paul explains: "One of our main strengths is that we have learnt to become very reactive to what our clients are after. We listen carefully to their requests in order to get them exactly what they need. We manufacture a wide range of valves, with many different sizes available too. If a customer comes to us saying that they need a valve for a certain application, we can provide them with various options by asking them what their ideal product is. We will try to offer them something from our standard collection, but if that does not fully meet their needs then we will collaborate with them to develop a special product, using research and development to give them exactly what they desire."
Oliver Valves is constantly working on new projects in order to uphold its industry position. Paul elaborates: "We are developing new products all the time, as maximum working pressures in a subsea environment have increased from 10,000 psi to 15,000 psi over recent years, with future talk of working with wells at 20,000 psi. With Oliver Twinsafe we are looking at cryogenic applications for double block and bleed valves, as well as working at higher pressures. We are also researching into larger bores and actuated valves, so that we can offer products that work within a higher range of pressure and temperature ratings.
This will also involve using more of the more exotic duplex materials and nickel alloys that are being developed, so we are constantly looking to react to the changing market place. As the oil and gas industry develops more fields we will continue manufacturing new components to meet the operators' requirements."
The company's environmental policy is evident throughout all of its operations, and this is an area of business that it places a great deal of value upon. Oliver Valves ensures that all processes carried out at its manufacturing and production sites have minimal impact on the environment, whilst actively promoting the recycling of materials. All of the products manufactured are free of components that are harmful to the environment in their designed parameters, and the company also promotes the idea of environmentally friendly disposal of valves that have reached the end of their useful life. It also ensures that any specialist process mediums or products used during the manufacturing stage are disposed of in accordance to health and safety legislation requirements and local government authority guidelines and requirements.
With its headquarters in Knutsford, Cheshire Oliver Valves is also the number one employer in its region. Paul discusses the other benefits of this location: "We are based in a location that is very central to England. Being close to both Manchester airport and the motorway network, we are ideally situated for transportation purposes. Because we can get to Great Yarmouth as easily as we can get to Aberdeen, we also have good access to both the southern North Sea and the northern North Sea. Having the aerospace industry nearby means we can utilise their sub contract facilities for the machining of components if necessary."
Oliver Valves continues to prosper amidst the turbulent global economy, and Paul believes that the company has avoided any significant impact from the crisis: "Whilst we did of course see a slight slow down in orders, we have still been growing as a business. All three of our business units are continuing to grow rapidly and we are on course for another record-breaking year this year and, by looking at predicted figures, we expect next year will be record-breaking too. Oliver Valves has remained very strong and we are not making staff cut backs like many others in our industry. In fact, we are still employing people and we are always on the lookout for exciting new talent to join our company."
The future of the company seems filled with opportunity, as Paul concludes: "Whilst I do not see us starting up a fourth business unit in the foreseeable future, I certainly expect Oliver Valves, Oliver Valvetek and Oliver Twinsafe to continue their rapid growth. Our strategy for the coming years will be to carry on developing our product range and expand upon our engineering team in order to develop the best possible products to suit the demands of the oil and gas industry."
Oliver Valves
Products: Instrumentation, pipeline and subsea valves