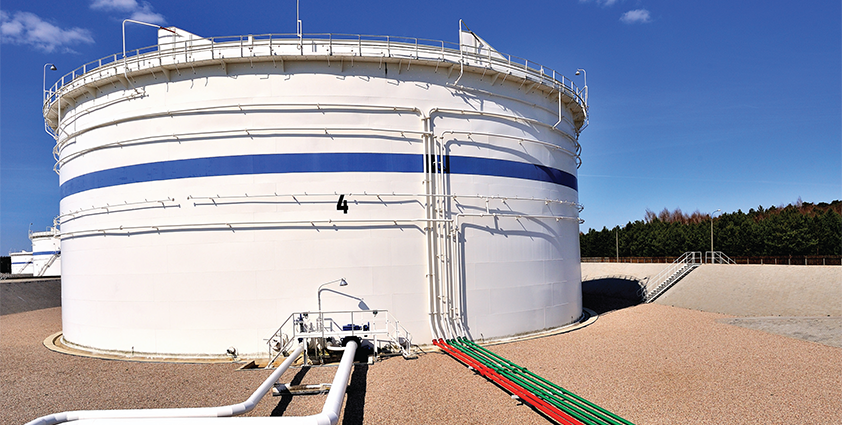 Securing supply
Driven by a desire to offer services for all operators on the Polish fuel market, Operator Logistyczny Paliw Płynnych (OLPP) was established in 1997.
Although initially founded under the name CPN Dyrekcja Baz Magazynowych Naftobazy, the business became known as OLPP in September 2006.
Since its founding, the Company has consolidated its position as Poland's leading company specialising in the storage and transhipment of liquid fuels, with an approximately 50 per cent market share. Primarily, OLPP engages in storage and transhipment of petrol, diesel oil, light furnace oil, and aviation fuels intended for on-going distribution, as well as maintaining statutory emergency and strategic national reserve stocks of liquid fuels. With a current network of 20 fully operational storage facilities located across Poland, OLPP is in a position to offer its customers the most convenient locations for fuel storage and transhipment services. In total, this represents over 1.8 million cubic metres of storage capacity.
Five of the company's key facilities are located at Koluszki – capacity of 185,000 m3, Nowa Wies Wielka – 295,000 m3, Boronów – 55,000 m3, Rejowiec Poznanski – 214,000 m3, and Emilianów – 116,000 m3. All of them have access to long-distance fuel pipelines, whilst the site at Debogórze features a sea terminal with a transhipment capacity of 1.2 million tonnes of fuels per year, both to and from Poland. A further four facilities along the Eastern border, besides the service of fuel storage, also offer broad to standard gauge railway tanker transhipment capacities, as well as the other way around, with a total capacity of 2.7 million tonnes of fuels annually.
The current fuel consumption requires the suppliers to provide continuous supplies. Hence, OLPP also offers logistics services. The company has state-of-the-art fill and drain facilities for fuel transportation by road and rail, with service lead times having reduced significantly following the introduction of automated and self-serving systems.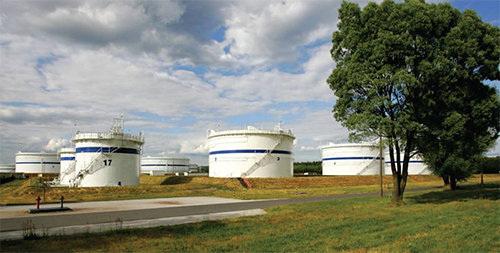 In recognition of the needs of the market, it also offers services including fuel blending and refining. In particular, National Indicative Targets and legal requirements stipulate a need for fuels to be blended with biocomponents, such as fatty acid methyl esters (mainly RME) in diesel oil and alcohol in petrol. By blending fuel with specific proprietary additives, OLPP is capable of producing 'ready-made' fuels to be sold under the brand name of specific customers.
In a more unique offering, OLPP benefits from its own independent network of accredited laboratories located all over Poland. It employs experienced experts, who perform fuel analyses of fuels, liquid biofuels, and biocomponents, as well as environmental protection and on-site examinations in accordance with EU standards and relevant legal requirements. Each OLPP laboratory is equipped with state-of-the-art control and measurement installations to undertake regular quality control monitoring at each stage of the product storage process, offering customers confidence in receiving a product that complies with all appropriate quality requirements.
In order to confirm the highest quality of analytical services, OLPP Laboratories systematically take part in comparative studies. Arbitrary studies, fuel quality monitoring at filling station, and other services are also provided on special customer request.
OLPP also owns two subsidiary companies – Naftor Sp. z.o.o, and Naftoserwis Sp. z.o.o, which respectively offer personal and property protection services and fire safety provision, and technical maintenance services for equipment operations at fuel storage facilities and filling stations.
Fuel consumption in Poland has risen year-on-year, and as a consequence, new legal regulations have been introduced which impose specific stockholding obligations on fuel producers and importers in order to increase the country's energy security. This has proven to offer excellent opportunities for companies such as OLPP. In order to maintain its large market share, the business is continually upgrading and investing in its existing fuel storage facilities, as well as building new containers.
According to the Directive 2003/30/EC of the European Parliament, the minimum proportion of biofuels and other renewable fuels present on the market should reach 6.2 per cent of total marketed fuels by 2011, and this figure will continue to rise every year. In response to these legal requirements concerning the introduction of biocomponents to fuels, OLPP has launched biofuel blending facilities at eight storage sites.
This represents a key move in OLPP's ambition to enhance its position in the competitive storage market, in order to provide all entities with equal access to the best quality services that reflect the principles of ensuring Poland's energy security and environmental protection.
OLPP (Operator Logistyczny Paliw Płynnych Sp. z o.o.)
Services: Fuel storage