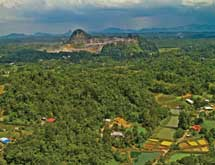 Olympus Pacific Minerals Inc.
Olympus Pacific Minerals Inc. has big plans for 2011. The Canadian junior mining firm is looking to increase production on two of its gold properties in Southeast Asia while also stepping up exploration at the Bau gold project in east Malaysia near Kuching City. "We have premium assets in an area of the world where there are many world-class deposits, we're diversified over two countries and have a full mining team in place," says Jim Hamilton, vice president of investor relations, ticking off a list of the company's advantages. "The real exciting part for us is the tremendous upside potential from our exploration and drilling at Bau."
The company's core properties are the Bong Mieu and Phuoc Son underground mines in Vietnam. Both mines combined will produce 33,000 to 34,000 ounces of gold this year, a number expected to increase in 2011 with the opening of a new processing plant in the second quarter.
"For a company of our size, we have a lot of depth," Hamilton explains. "We're at a position where we could move up to mid-tier status as a gold producer in the next three to four years. We are generating cash flow, we have tremendous exploration potential, experienced people and premium assets."
Both the Bong Mieu and Phuoc Son properties are located on the Phuoc Son Suture, a geological structure that runs through Vietnam into Laos. The PS Suture is host to a number of major mineral deposits including the world famous copper/gold Sepon deposit in Laos, Hamilton says.
Olympus Pacific Minerals acquired the Bong Mieu property in 1997 and commissioned an underground mine there in April 2006. Mining activity has taken place on this site for 1,000 years and more recently by French miners who mined intermittently – poor bullion prices forced various shutdowns – from 1899 to 1941 until forced to leave upon the Japanese invasion of Vietnam. "We are the newest operator and the first foreign company to commission a modern gold mine in Vietnam," Hamilton adds.
In addition to production the Company has an established NI 43-101 Resource and Reserve Estimates at all of its core properties. "The company is involved in exploration on their Bong Mieu and Phuoc Son properties," Hamilton explains. "However, Bau has been prioritized due to several identified mineralized conductivity anomalies that warrant further drilling to prove up our geological models. If our geological models prove successful, Bau could be a company maker on its own."
The Phuoc Son property received an investment licensed in 1999. Ore extracted from Bong Mieu and Phuoc Son mines are currently processed through a 500 tpd GEKKO modular plant at Bong Mieu. The plant has undergone many changes; resin columns have been replaced by carbon, both intensive leach reactors and floatation circuits are larger capacity. The gravity circuit has been augmented with a series of shaking tables with the company now capturing 50 percent of the gold mechanically using less cyanide. The plant design is such that only 10 percent of the ore is subjected to cyanide making it more environmentally friendly. A second plant at Phuoc Son will open in the quarter two 2011, allowing the company to process the ore on site versus having the added trucking costs associated with processing Phuoc Son ore through the Bong Mieu plant, Hamilton says.
The roughly $24 million Phuoc Son plant will use similar gravity and cyandization processes used at the Bong Mieu plant. "The construction of the new plant has benefitted greatly in design terms because of the treatment techniques we're using on the Phouc Son ore at the Bong Mieu plant," he adds.
Once the plant is opened, the company will target to expand its gold production to 60,000 ounces in 2011.
Major Prospects
The 800-square-kilometer Bau property has a gold mining history extending back to the 1850s, Hamilton says.
The property was explored in the mid-1980s by Cameco, a Canadian company. Olympus Pacific inherited and digitized Cameco's previous drilling data.
"We're excited about the Bau property; we feel it has the makings of a world-class deposit," he adds. "This will be an important part of our future as we develop the next three to four years."
Olympus acquired the property after merging with Australian Zedex Minerals in late 2009. Olympus is looking to drill 20,000 meters on the Bau property and potentially begin a feasibility study there in 2011. The Bau property offers many advantages, including a zero royalty rate, low corporate income tax and an English-speaking population. It also has strong infrastructure with an accessible power grid, sealed roads, modern airports and an educated work force.
The company also controls 75 percent of an early stage exploration property at Tien Thuan due south of its Bong Mieu and Phouc Son properties in Vietnam.
Pride in safety
Olympus Pacific Materials brings years of experience to all of its Southeast Asian projects. The company was founded in 1996 by David, Paul and John Seton, brothers with more than 20 years of experience in Vietnam and nearly 30 years in the mining industry.
"The firm is Sarbanes Oxley Act compliant and registered with the U.S. Securities and Exchange Commission, which give us the ability to raise capital in the United States more efficiently than most companies our size," Hamilton says.
Olympus also prides itself on its safety program and involvement within its rural areas of operation. It employs more than 1,000 people and has contributed to the infrastructure of its properties' surrounding areas, including building roads and street lights. The firm also has extended fresh water lines, established scholarship funds for underprivileged children, and built athletic courts and a kindergarten.
The company's safety program provides training, equipment, and medical services to its mining employees. "We have a good safety record we are proud of," Hamilton says. "We're working constantly to improve the level of safety at all our operations."