Omega Completion Technology Ltd
Divine intervention
Established since 1998, Omega Completion Technology Ltd is an independently owned Scottish completion and well intervention technology provider.
Omega is the only company in the UK well engineering sector to be involved in every aspect of the well completion process – from the electronic and mechanical design of its products, in house manufacturing (both mechanical and electronic,) sales, service and offshore deployment of all products and services. Additionally, all artwork, web design and sales materials are generated in house.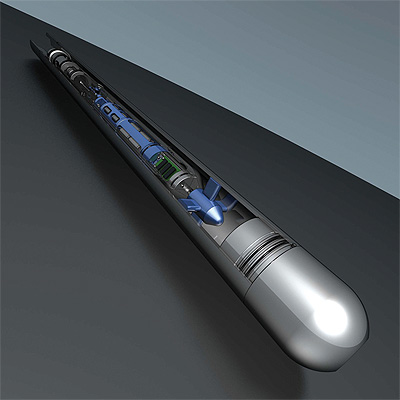 All products and services are supplied both domestically and internationally to the onshore and offshore industries to a high standard and at short notice.
Omega is unusual in that the company has grown organically, never having debt or borrowings to worry about. This has allowed robust growth and a managerial freedom envied by others who are beholden to the bank. Omega Completion Technology's business development manager, Malcolm Adam, explains how this has helped the company pursue its ambitions: "There are fewer limits for us than there are for our competition, as we don't have to worry about paying back externally sourced loans. With this in mind, we can go ahead and finance virtually any project that we want without seeking authority or having to navigate additional funding processes beforehand. This makes us fast off the mark and reactive to our customers needs."
In support of these ambitions, the company is moving ahead with its relocation to a new custom-built facility four times the size of the current site, in August this year. Malcolm discusses the benefits of this new facility, and how it was obtained: "We have outgrown our present premises and have been looking for a new building for over a year. This new site is perfectly located as it is convenient for our customer's facilities, the airport and heliports. The new building has been tailor-made to suit our specifications and needs and will provide the space and facilities that are required for the next stage of our growth."
The company has been building on the success of its unique Sandface family of valves, a suite of products that enjoyed a large degree of success last year through its implementation in BP's Clair oilfield project and others. Malcolm elaborates: "These permanently deployed valves deliver production gains, not only in terms of daily flow rates but also in terms of total percentages of oil recoverable. Use of the valves provides an enhanced foundation for the lifetime of the well generating more profit for the operator. We have had a 100 per cent success rate with more than 65 valves now installed, which in itself is an outstanding achievement. We have invested heavily in new C.N.C. machinery to manufacture these valves in order to better serve our customers and to provide rapid deliveries."
A new generation of these valves presently being introduced can be functioned from the surface on demand with no control lines, fibre optics or any other physical link. This new technology allows a flexibility and cost effectiveness unrivalled anywhere else with a variety of additional applications now being investigated. Additionally, Omega still offers pressure pulse command activated tools –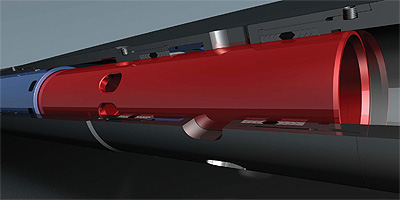 a technology it has used in sister companies since 1994.
Malcolm explains that Omega Completion Technology will build upon the success of this innovative product line: "We have always offered our customers bespoke engineering and manufacturing solutions to help with their problems. As this new technology has so many applications, we envisage a large number of 'specials' will be engineered to meet our customers needs and we are ready to step up to the line to do this. We plan to continue our expansion driven by our customers needs – as we always have done."
Omega's growth has been steady over the past years. 2006 and 2007 saw an increase of around 40 per cent both in turnover and profit, whilst 2008 saw a 45 per cent increase. Indications are that despite the recession, 2009 will be a record year with around 50 per cent growth and an expected turnover of over £9 million. Although the Sandface valve products have contributed to this, business has increased through all product lines and services. Geographically, Omega is expanding, regularly returning to each foreign location worked in to repeat and build on the success achieved there. In summary, Malcolm states, "Omega is an impressive company with an impressive performance, particularly given the present economic situation, but our success is principally due to our people and their continuing loyalty and effort. We plan to proceed with the same winning formula as before and expect continuing growth and success by building on the recognition of being the foremost UK supplier of well completion and well intervention equipment."
Omega Completion Technology Ltd
Services: Completion Systems/Solutions and Well intervention