On its journey to carbon neutrality, ArcelorMittal Belgium is pioneering sustainable steel production  
For ArcelorMittal Group, the goal is to help build a better world with smarter steels, made using innovative processes that are efficient, use less energy, and emit significantly less carbon. Over at the group's Belgium branch, the team is on a mission to manufacture steel for electric vehicles, and renewable energy infrastructure that will support societies as they evolve through the sustainability transition.  
The company specializes in sustainable steel products suitable for a wide range of applications. With the vast experience and extended knowledge of its 5000 employees, ArcelorMittal Belgium not only makes the difference for its customers, but also contributes to a better society. We hear from Manfred Van Vlierberghe, CEO, as well as Jan Cornelis, Country Manager, about how the business fosters a culture of innovation by putting research and development at the heart of its operations.  
The two leaders begin by sharing the projects currently taking place at the Belgium site, and how these contracts are helping contribute to a greener globe. "We want to be pioneers in new technologies now. To make this happen, we have three focus points to our energy transition. The first is energy efficiency. We are also embracing hydrogen and electrification, and we  have the ambition to replace a blast furnace, which mainly uses carbon to extract oxygen from iron ore, with a plant that will use natural gas and hydrogen to reduce iron ore. The third is the smart carbon circular economy, which is incredibly efficient."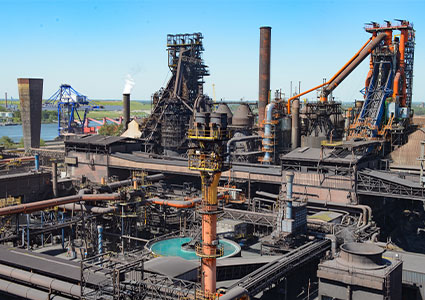 Smart carbon 
The circular carbon economy is an important concept that aims to manage the world's excessive CO2 emissions. At ArcelorMittal, in order to make steel, the business requires iron and carbon molecules. "However, instead of digging fresh fossil carbon from the earth, we are increasingly replacing fossil carbon with green and circular carbon. We cannot have a world without carbon, but smart carbon is exactly the answer to that," Manfred explains.  
"We try to use carbon in a way that counterbalances the amount we extract. This is usually by taking carbon directly from end-of-life products like wood and plastics, and putting it into our operations, rather than using fresh fossil carbon. We also then try to capture the carbon, store it and use it in such a way that it is not emitted into the atmosphere. This dual approach is what we call smart carbon." 
In practice, this process is pretty cool, and there are two projects of which the business is particularly proud: Steelanol and Torero. The first involves a 200-million-euro bioreactor plant to convert carbon-rich waste gasses to bioethanol. The company will produce 80 million liters per year for use in transport and chemical production. It is a unique project; the first of its kind in Europe, and has been designed with variables to continually improve operational efficiencies. 
Torero, on the other hand, is a plant build, and will involve assembling a 35-million-euro demonstration plant to convert waste wood to bio-coal for injection into a blast furnace. The potential replacement of coal with circular carbon sources is an important component of ArcelorMittal's smart carbon, low-emissions steelmaking pathway. 
Green steel 
Another significant project is called North-C Circular, where the business plans to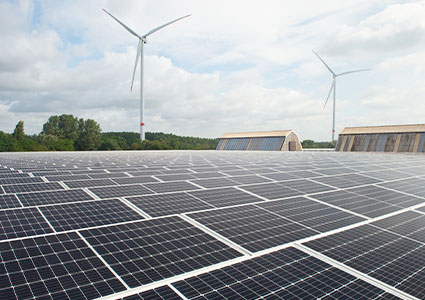 develop  150 hectares on its premises to further strengthen its climate neutrality efforts, including renewable energy installations. This, according to the two leaders, is an excellent example of the benefits of the carbon circular economy. "On this area, we are also preparing a follow up project on the Steelanol plant, where we will be producing, apart from sustainable ethanol,  acetone and other chemical compounds too. In this project we will be boosting productivity and CO2 utilization by using hydrogen rather than water," shares Jan.  
"We foresee many more production facilities and initiatives that will foster the circular carbon economy. For example, we will also replace the felled trees on this plot. While this is mandated by the Belgian Government, it is important to note that the planned installations will take more than 1000 times more CO2 from the air than would have been absorbed by the trees," Manfred expresses. 
With the new massive investment to help make these projects possible, ArcelorMittal Belgium is well on target to achieve its goal of becoming completely sustainable. "We will reduce more than three million tons of CO2 emissions, which will contribute to our pledge to reduce our own carbon emissions by 35 percent by 2030, compared to 2018. Between 2030 and 2050, we will secure the remaining percentage, and have a detailed road map to achieving that goal. 
"Regarding smart carbon, we plan to fulfil supplementary projects to reduce carbon. We also endeavor to complete further projects in efficiency that will contribute to us becoming a carbon neutral business," Manfred shares.  
Steel manufacturing clearly faces its challenges. However, from what we've learnt from Manfred and Jan, there are ways to make the industry more environmentally friendly. "Over the last ten years, European steel production has gradually reduced by about three million tons a year, and yet, European steel consumption remains constant. This means there is an increase in imports. We want to find ways to minimize this, while also ensuring the manufacturing process is fast enough to make green steel in Europe," says Manfred.  
To summarize, ArcelorMittal Belgium will continue to strengthen and evolve, by becoming more influential experts in the process of carbon circular economy. Hopefully, as it refines the operation, other businesses will soon follow suit. 
www.corporate.arcelormittal.com