ONGC Petro additions Ltd (OPaL)
It all adds up
Financial investment has played a massive part in the multi-billion joint venture company ONGC Petro additions Ltd (OPaL).
It was first incorporated in 2006 as a PLC bringing together Oil and Natural Gas Corporation (ONGC) with co-promoters Gas Authority of India Ltd (GAIL) and Gujarat State Petroleum Corporation (GSPC). The venture was founded as a special purpose vehicle for the construction of the Dahej complex, a grass root mega-petrochemical project, destined to significantly boost the petrochemical sector as well as generating 1000 permanent and 15,000 direct and indirect jobs. The project is being implemented under the government scheme Petroleum, Chemicals and Petrochemical Investment Regions (PCPIR).
Aimed at becoming a world-class petrochemical company with a dominant Indian presence, the venture focuses on driving forward quality and value so that it becomes the preferred choice of customers. Leading process and design technologies coupled with locational advantages ensure OPaL is well poised to reach that goal, with the region already accounting for around 2/3rd of petrochemicals production in India. The multi-product special economic zone, on which the site is established, is one of the top 50 'free zones' in the world. The Delhi Mumbai industrial corridor being developed as a global manufacturing and trading hub is expected to triple the industrial output within five years. Such achievements will be made possible through extensions to ports, roads, rail and air.
Domestically, the belief in the Indian growth story is gaining strength from its inherent demographic advantages and rising consumerism, propelled by growing incomes and aspirations. Low levels of per capita consumption of polymers in India against the world average and some of the emerging economies corroborate promising demand potential. Due primarily to expanding end-user markets, positive economic development and a rising living standard, domestic consumption levels for finished goods are increasing at a quickened pace and this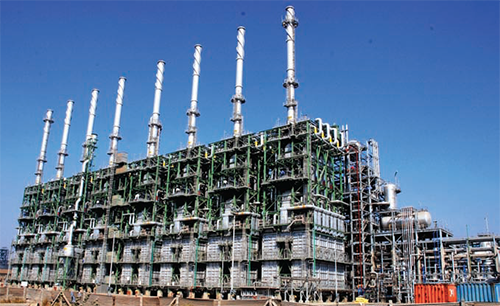 venture will play a massive role in bridging the opening gap of that market. Historically, the polymer demand is intertwined with the economic growth, and such demand in India is huge and expected to further rise with the GDP. This venture also works as a perfect downstream integration for ONGC, the key promoter that will be supplying the feedstock required for this project.
The largest joint owner of the venture, ONGC, is a premier flagship company in E&P in the oil and gas sector of India, accounting for over 80 per cent of India's oil and gas production. The business enjoys international respect and prestige, having been ranked 335th in Fortune 500, 152nd in Forbes Global 2000, and is the only company from India to feature in Fortune Magazine's list of the World's Most Admired Companies, 2007. The second business involved, GAIL (India) Limited, is India's flagship natural gas company, integrating all aspects including exploration and production, processing, transmission, distribution and marketing of the natural gas value chain. Apart from gas infrastructure, GAIL has diversified into petrochemicals, telecom, liquid hydrocarbons, power, liquefied natural gas re-gasification, and exploration and production through equity and joint ventures participations. Finally, GSPC is India's only state government-owned company in the oil and gas exploration and production (E&P) business. Having emerged as a global player in E&P, it has a portfolio of 50 oil and gas fields having acquired exploration blocks in Australia, Egypt, and Yemen.
OPaL's $4 billion integrated petrochemical complex, which will become the flag bearer for three other PCPIR schemes to follow, is at the most advanced stages of completion with commissioning scheduled for 2015. The complex is one of the largest of its kind in the country, and will consist of a dual feed cracker unit and associated facilities with a capacity to produce 1.1 million tonnes of ethylene and 400,000 tonnes of propylene annually. The complex will supply about 50 per cent of its products to overseas markets such as Africa, China, Vietnam, Malaysia, Indonesia, Turkey, and Sri Lanka. The grass-root complex is the largest of its kind in India, on a single location, and once commissioned will have the capacity to distribute 180 MW of power to various polymers and other associated units, utilising state-of-the-art technology across 41 bays, which will represent the longest in India.
Testimony to the business is the vast amount of engineering work that has been undertaken, from the dual feed cracker units capable of cracking C2, C3 and C4 gases and liquid to the specially designed cooling tower and cooling water system. Suitably designed to meet some of the most demanding applications, its products include HDPE, LLDPE and PP in polymers, responsible for transforming applications in varied industries including the packaging industry such as woven sacks, oil packaging, wire ducts or high barrier thin films that increase shelf life for the products they protect. Other liquid products in the basket include Benzene, Butadiene, Pygas and CBFS, essential for the creation of products used heavily in industry today.
Driven to provide the latest, industry leading products, the company has established a product application resource centre (PARC), focused on testing, processing, R&D and business development. In doing so, it continues to act as a leading force in the realisation of the complex, ensuring the highest quality without neglecting its responsibility to ensure environmental protection, establishing a relationship with the community for mutual benefit.
ONGC Petro additions Ltd (OPaL)
Services: Joint venture business providing petrochemical products