Consistency and accuracy
A provider of complete integrated solutions for submarine cable installation projects, Optic Marine Services (OMS) has more than 30 years' experience and has been involved in the majority of submarine cable projects in Asia.
Proud of the strong partnerships and meaningful networks it has forged in this area, the company is keen to continue developing its exceptional track record for consistency, accuracy and cost-effectiveness in the submarine cable industry.
"We are a shore and marine installation company that specialises in power cable installations in Asia. One of our key strengths is that we are involved in the permit acquisitions of these systems that go across water, particularly around Asia and the South China Sea; we also focus on project management," explains Ronnie Lim, chief executive officer of OMS. Boasting thorough experience in the application of governmental and local authority permits for submarine cable projects across the Asia Pacific Region, India, Pakistan, Russia and the Middle East, the company's expertise extends to territorial, occupancy and local permission, operation permits, transit permit applications and local government permits.
With an exceptional track record, OMS' project managers have the experience and resources to manage and co-ordinate a complete service, from the development stage through to cable installation. Its scope of work ranges from cable inspections, vessel mobilisation and demobilisation, as well as operational security. "We are an exceptionally hands-on company, our management also gets very involved in projects and this is how we ensure project deadlines are met. We have an excellent team, which definitely helps," enthuses Ronnie.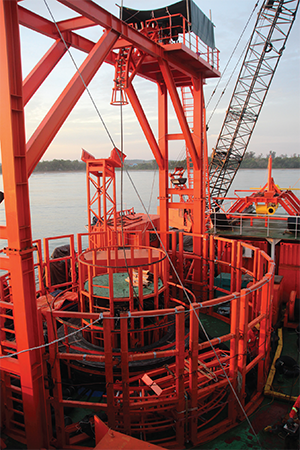 To keep ideas innovative and continue growing alongside the technological advances in the industry, OMS is dedicated to developing its equipment and bringing in new personnel. "We have a very young team that benefits from the experience we have developed in the industry. We have a system where the young members are mentored and supported by older and more experienced employees, which is how we grow as a company and bring in new ideas. Knowledge is passed on and experience is gained from our employees going out on the field and learning hands-on," highlights Ronnie.
Recent major projects for OMS include the Pulau Gaya power cable installation in Kota Kinabalu, which involved an undersea 11Kv power cable being landed and buried to provide electricity to residents. "The project was quite challenging but we managed to complete it way ahead of schedule and saved our clients a lot of money, which is what we always aim to offer existing and new customers," says Ronnie. The firm is also working on a South-East Asia Japan cable system (SJC), which boasts internet giants Facebook and Yahoo as co-investors, and is due for completion mid-2013. Strong customer relationships are very important for the firm, particularly in Asia where the majority of projects are done on an ad-hoc basis.
Due to the capabilities and resources that OMS has developed, the company has successfully completed complex submarine cable installation projects in places such as Russia, China and India. Its wide range of vessels, tools and equipment include MV Janet, a 2060HP tugboat that can complement Cable Empowered, an OMS-owned purpose-built barge that facilitates shallow water cable installations in depths of water up to 20m, in the installation process. The vessels that the company operates and manages allow it to meet diverse client demands and also stringent industry requirements; on top of that, its equipment and tools are built, tested and maintained to the highest standards and there will be a focus on developing tools and upgrading assets in 2013. Dedicated to consistent improvement, the company is ISO 9001:2008 certified by the Joint Accreditation System of Australia and New Zealand (JAS-ANZ), and is a member of the International Accreditation Forum (IAF).
Having proven itself as a company with an excellent performance record and exceptional track record for its accuracy, consistency and cost-effective techniques in the submarine cable industry, OMS is looking to expand its offering to the Middle East while also retaining its strong affiliations with clients and partners in Asia, as Ronnie highlights: "We are looking at projects in the Middle East and we see ourselves working there soon; over the next few years we are looking to expand the business and see opportunities coming up across the Far East, Africa and the Middle East and we think we have the capabilities and experience to offer some of the best services in the industry."
Looking to the future, another area of interest for the company is the development of its subsea sector and it aims to acquire new vessels to support this plan in the upcoming months. Personnel at OMS have been involved in most submarine cable projects in the Asia Pacific region, working with government offices and global telecommunications firms from around the world. "We have built up a great relationship with our customers over the past 30 years and to keep offering the best solutions we aim to develop engineering works in-house and focus on moving into deeper waters. There are opportunities to expand our business in areas across the Far East, the Middle East and Africa as well as continuing work in Asia. We have enjoyed constant growth over the past five years and aim to see the same level of success in the next five," Ronnie concludes.
Optic Marine Services
Services: Submarine cable installation