Opus Industrial Services Ltd
The professionals
One of the UK's most progressive specialist industrial service providers, Opus Industrial Services prides itself on its delivery of cost effective solutions tailored to meet clients' specific needs.
Although the company only commenced operations in 2004, it is drawn upon the experiences of the director's and senior management, which stems back to the offshore markets and developments of the 1980's through to the early 1990's.
Carefully orchestrated by Neil Kerr, company founder and managing director, the success of the business has been built around working towards providing a 'best in class' approach by offering a seamless multi-disciplined service. Neil and his fellow director's Kevin Heilbron, Gary King and Bill Ross decided from the outset to reinvest all profits back into the business, which has had the desired effect of the company growing very rapidly in its development and the range of services that it now provides.
In October 2007 Opus acquired a long standing well established northeast scaffolding and insulation company, as part of its strategy to offer clients a truly multi-discipline service. Today Opus' in-house services include the provision of access scaffolding, rope access, training, specialist coatings, painting, structural fire protection, industrial cleaning, thermal insulation and non-destructive examination (NDE) inspection services.
Constantly striving to raise the standard within the industrial services sector, Opus' significant investment in all aspects of business development, through innovation and focused training, has resulted in exceptional levels of repeat business from clients.
Describing Opus' range of clients, Neil says: "We work on a wide variety of contracts from maintenance works to new build projects across major industries such as the power generation, oil, gas, petrochemical, pharmaceutical and infrastructure sectors. Two of Opus' main business streams are the provision of rope access and specialist coatings, which were put to very good use on one of our very first major projects – the construction of Terminal 5 at London Heathrow Airport. We've also completed major vessel and tank refurbishment works for companies such as ExxonMobil, Total, Sabic, Ineos and Amec on projects throughout the UK
"Opus is also very active in onshore fixed asset maintenance works and we are looking to roll out shortly to the offshore maintenance market, where we have already been engaged in providing specialist, cost effective technical solutions."
Being a standalone business has enabled Opus to provide its clients with a proactive and innovative service, which has resulted in some of these key clients benefiting from quicker turnarounds, reduction in outage durations, lower cost base and the freeing up of valuable assets.
With rope access fast becoming a preferred means of access within a variety of industries, Opus' expertise in this area is a key asset. Operating a dedicated rope access training school at its headquarters in Billingham, UK, the company has successfully trained well over a thousand individuals. Gary King, operations director, comments: "Anyone who works within rope access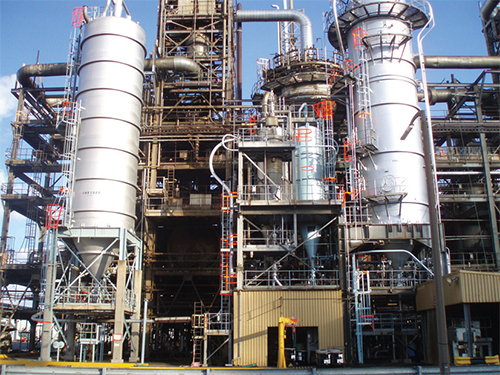 needs to be certified by the internationally recognised Industrial Rope Access Trade Association (IRATA) standard. Opus is a Training and Operator member of IRATA and over 90 per cent of the working at height training we provide is for third party businesses. Other in-house training courses available include IOSH managing safely, confined space, safety passport, first aid, working at height awareness and harness training."
Alongside offering added value solutions, many of Opus' defining strengths are down to its management's business approach and long-term strategies. "The benefit of starting this business from scratch is that every employee is effectively hand-picked and this gives us massive leverage compared to some of our competition. One of the biggest things that sets us apart is that we are a stand-alone company, rather than being attached to any bigger corporation or Plc, so we have complete control over how we operate as a business. We also invest a lot of money on training from the shop floor level right up to senior management, myself included, and as a result of this I believe we are one of the few companies in the UK that has every manager and supervisor trained to the Institution of Occupational Safety and Health (IOSH) managing safely standard," explains Neil.
Certainly this investment appears to have paid off with Opus achieving the milestone achievement of one million lost time accident (LTA) free hours in October 2010. Commenting on what this means for the company, Kevin Heilbron, operations director, explains: "This is a major achievement for a business of our size and within this industry, particularly when you consider that we have probably only clocked up 1.6 million man-hours in total since the business began, so to go three and half years without a single LTA is quite remarkable. Health and safety criteria are increasingly becoming more rigorous, particularly within the construction industry, and so this achievement is a real benefit to us as a business in terms of gaining new clients because we can demonstrate a really effective track record in health, safety and environment."
With such a strong history and experience behind it, Neil is positive about the potential to further establish Opus as a leader amongst the industrial service providers, both in its current markets and moving into new industries: "In spite of a global slowdown, the strategic approach has enabled Opus to continue to grow over the last 18 months, thus deflecting effects of the recession. Looking forward in 2011 we see a wealth of opportunity for continued growth coming through, particularly in the second half of the year. This, together with the commitment of the senior management, will greatly assist Opus' three-year plan to double the current size of the business."
He concludes: "We have a very strong reputation in the market, and we really want to build upon that to grow the business, and continue to consistently deliver the highest quality of services to our clients."
Opus Industrial Services Ltd
Services: Specialist industrial solutions