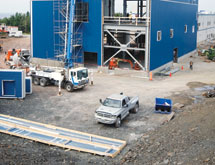 Revolutionary processes to extract alumina not only from mined clay but also from the red mud byproduct of alumina mining and from the fly ash left after coal is burned in electrical power plants are just three of the areas in which Orbite Aluminae Inc. plans to prosper.
Another area is the rare earth elements that Orbite Aluminae can extract from its Grande-Vallée, Quebec, property. Orbite's patented technology can extract rare earths, metallurgical-grade alumina and high-purity alumina from the same aluminous clay feedstock with the same process.
Alumina has been extracted from bauxite to produce alumina for up to 120 years, but Orbite now offers an ecologically sound and economically viable alternative requiring much less energy, pro­d­ucing less pollution and leaving no caustic byproducts behind.
"We need to get known a little more all around the world, so the people see that there are new technologies more economical and eco-friendly than the existing technology," declares Yves Noël, vice president of sales and marketing. "As far as our unique technologies, we have three patents that are already granted, and we have over 23 patents pending in 10 different families."
Industry acceptance of these patents has been a challenge. "The aluminum industry has been using the same process to extract alumina from bauxite for over 120 years, the Bayer process, and here we come up with a new game-changing technology," Noël points out. "Everybody is scratching their heads asking, 'How come this company has been able to develop that while other corporations have not been able to do so?'"
PRODUCING ALUMINA
Orbite's process of producing metallurgical-grade alumina – also called smelter-grade alumina, which is the normal feedstock for aluminum smelters – involves crushing and then acid-leaching aluminous claystone. By using various temperatures and pH levels, the company's process selectively isolates the alumina component and removes iron and other impurities.
Besides potentially producing metallurgical alumina, Orbite's process yields high-purity alumina and also has the potential to extract high-value elements such as rare earths and rare metals. It can used to produce synthetic sapphires that are used in fiber-optic communications and in circuit substrates for mobile phones.
Although Noël is closed-mouthed about the specifics of Orbite Aluminae's patented processes, he divulges a few critical points. "It's a low-cost technology," he reveals. "It's also a very clean process, where we recover more than 90 percent of the components of the clay, and the other 10 percent is water. In total, about 90 percent of the components of the clay will be used and turned into commercial products. It's a very ecofriendly process."
Part of Orbite Aluminae's business plan is to recover the alumina from the clay it will mine on its flagship Grande-Vallée property in Gaspé, Quebec. This is made up of 115 claims covering 60,984 hectares for which Orbite owns exclusive mining rights, spreading from Quebec City to Gaspé. This includes the 6,665-hectare Grande-Vallée property located 32 kilometers northeast of Murdochville, Quebec. The first open pit mining will be done on a strip of land 1/4 of a square kilometer.
"It's a huge deposit," Noël emphasizes. "It is at least 300 meters deep." An independent geologist's report has indicated that a highly homogeneous aluminous clay deposit with an average grade of 23.13 percent alumina is in the Marin sector of Orbite Aluminae's Grande-Vallée property. The Marin is one of three sectors of clay minerals with high alumina content delineated on the site so far, according to the company.
The estimated volumes of the Marin site are 1.04 billion tons. The deposit can be mined with conventional heavy mining equipment without blasting. Several deep-water ports are located near the Grande-Vallée property, which is across the St. Lawrence River from the major aluminum smelters, the company says.
unEarthing rare Elements
A separate Orbite technology is also used to extract high-value elements and rare earths from clay found on the site, the company says. These high-value elements include scandium, gallium, dysprosium, yttrium, neodymium, praseodymium and lanthanum.
"The rare earths are present in low concentration in the clay deposit, but our process allows for their concentration and purification," Noël explains.
"Our recent preliminary economic assessment estimates that approximately 600,000 tons of rare earths could be extracted from the deposit," he adds.
The presence of these high-value elements and rare earths also was confirmed by the Institut national de la recherche scientifique (INRS) and, more specifically, analyses performed by Chemex and SGS on 10 characteristic samples extracted from the pilot plant bulk sample originating from the Grande-Vallée property's Marin sector, the company says.
no Red Mud
Another application of the company's processes is the extraction of rare earth elements and alumina from red mud, the most significant waste product of the traditional Bayer process for alumina production. Red mud has been piling up over the decades and currently is estimated to amount to 3 billion metric tons, Noël calculates.
Red mud is held in massive holding reservoirs and ponds near all alumina refineries and is difficult to dispose. An alumina refinery using the Bayer process can produce up to twice as much red mud as alumina depending on the type of bauxite used. Red mud is a mixture of solid and metallic oxide-bearing impurities and is up to 60 percent oxidized iron, which gives it its red color. Its other constituents include silica, unleached residual alumina and titanium oxide.
"There's a lot of interest from many companies to have a low-cost process that is ecologically friendly and does not generate red mud," Noël says of Orbite's alumina extraction process. "Not only do Orbite Aluminae's patented processes produce no red mud, they can extract alumina from red mud."
extracted from Fly Ash
Finally, Orbite Aluminae's processes also can extract alumina from fly ash, a product left over when coal is burned to generate electricity. "They call it fly ash because it flies everywhere around where the coal has been burned to extract the energy," Noël explains. "You have some in the U.S. and a lot in Asia, because coal is a prime source of energy around many parts of the world. There are not many uses for these, so that's one of the reasons why we looked at the application of our technology to recover the alumina that is contained in these fly ashes.
"Sometimes more alumina are in fly ashes and red mud than there is in our clay deposit," Noël remarks. "Orbite's mined clay has approximately 23 percent alumina, whereas red mud can contain up to 30 percent alumina and fly ash has from 20 to 30 percent alumina," Noël calculates.
Converted Pilot Plant
Orbite Aluminae was operating until March 2012 a pilot alumina extraction plant in an existing 28,000-square-foot building in Cap-Chat, Quebec, to validate its processes. On Feb. 17, 2011, the plant produced its first ton of alumina in a single day from a 400-tonne bulk sample of aluminous claystone from its Grande-Vallée property. The plant is now being converted into a full-scale production facility commissioned to produce three tons of high-purity alumina a day during the first quarter of 2013 and scaling up to five tons at the end of 2013.
The company is reportedly positioning itself to capture 20 percent of the global market for high-purity alumina by 2013. "In parallel to entering the high-purity alumina market, Orbite intends to put up more than 10 plants to produce smelter-grade alumina using the same technology to capture, in a five-to-10-year period, about 50 percent of the smelter-grade alumina requirement in the Northern Atlantic," Noël forecasts.
Orbite Aluminae was founded more than 10 years ago. "At that time, it was an exploration company, but over the past six years, it has evolved into a clean tech company that is shaking up the alumina and aluminum industries and making people talk," Noel declares. "When we started to work on turning that clay into alumina, it became our focus for the past eight years.
"The challenge so far has been rapid growth," he maintains. "So we're building a team, and every couple of weeks, there is another person joining the family. That's a real positive challenge. The second challenge is the acceptance of the aluminum industry. But that's a challenge that is fading away the more we present our technologies and prove to the big players that this technology works, that it's economical and eco-friendly and that it's going to be a solution to their future needs for aluminum. It must be working, since we now have partnerships with the world's largest aluminum producer, UC Rusal, and with National Aluminum Co. Ltd., which is owned by India." EMI