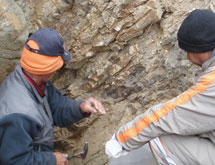 Orosur Mining Inc. (OMI) may be a junior company by definition, but its revenue shows otherwise. Operating the only gold-producing mine in Uruguay, earning $75 million in revenue per year and managing an exploration portfolio of high-quality assets in Chile and Uruguay, OMI performs at a level more akin to that of a major producer. Its biggest assets are the established San Gregorio operation in Uruguay and newer acquisitions in Chile – Pantanillo, Anillo and Talca.
Formerly known as Uruguay Minerals, OMI's history goes back 15 years to when it was formed in 1996. Active from the start, within its first five years the company discovered a number of deposits close to the San Gregorio mine, including Castrillon and Sobresaliente. In 2000, its common shares were admitted for listing on the Canadian Venture Exchange – now called the Toronto Stock Exchange – and two years later the company's ambitious exploration program paid off when the Arenal deposit was discovered 4 kilometers from the San Gregorio plant.
One and only
The only gold-producing mine in Uruguay, San Gregorio has produced in excess of 1 million contained ounces from open pits up to 200 meters deep and is expected to produce 315,000 ounces over the next five years.
OMI's chief operations officer, Luis Tondo, describes the labor mechanics behind San Gregorio. "We've been able to put together a team of miners and train them," he says. "We had to do that because Uruguay is not a mining country; it didn't have that tradition." Experienced expatriates were brought in to cover leading positions. Mixing them in with newly trained individuals provided the plant and mine with a strong team of workers. After extensive formal and in-the-field training, Uruguay residents are taking over more of the managing.
"The company was set to process 1.2 million tons a year; we've managed over the past three to four years to do 1.5, which is much more than the capacity we had envisioned," Tondo comments. "That speaks to the employee labor and the optimizations made during those years. San Gregorio consistently produces approximately 55,000 ounces of gold each year."
Going underground
The San Gregorio mine is made up of three main pits: Arenal, San Gregorio and Santa Teresa. However, a new project in that system – Arenal Deeps – has received more recognition than the others. In September 2010, a feasibility study conducted by AMEC International indicated an output of 145,000 ounces over a six-year mine life. At the time, CEO David Fowler released a statement, saying, "This feasibility study for Arenal Deeps is an important step for the company in our objective to extend the San Gregorio mine life in Uruguay while maintaining production levels at approximately 50,000 to 60,000 ounces of gold per annum."
By the end of that year, OMI approved the Arenal Deeps project, making it the first mechanized underground mine in Uruguay. The feasibility study showed an internal rate of return of 32.3 percent and a net present value of $16.4 million at a 7 percent discount. Life-of-mine operating costs are $73.4 million, while cash costs are planned at $545 per ounce. The underground extension to San Gregorio's operation is expected to extend the life of the mine and significantly lower OMI's cash costs.
A superior grade
With high expectations for the value this new project will add to the existing system, OMI continues its exploration. "The interesting thing about Arenal is that it contains a higher gold-grade mineral," Tondo notes. "For example, today I have a grade in the open-pits that is approximately 1.1 grams per ton; in the underground we'll get 2.8 to 3 grams per ton." Once Arenal Deeps begins to produce, the combination of underground and open-pits will increase the average grade to close to 1.5 grams per ton for the next 24 months of operation.
"This will help enormously because with the better grade acquired from Arenal Deeps, from the same amount of gold, one needs to process less material and that impacts positively in the operational cost of the mine." At this time the mining company's processing cost is approximately $810 to $850 per ounce, but Tondo estimates this rate to decrease to approximately $650 per ounce, a better average than is currently seen in this industry. "Now with the price of gold at about $1,700 per ounce, this gives us a margin of more than $1,000 an ounce, which is great for the financial health of the company," he relates.
Life extension
Expanding existing mines has proven to be a valuable strategy for this company that brought in revenue of $21 million in the second quarter of 2011/12, an increase of 26 percent versus the second quarter of the previous year. "Every year, we've been able to replace the amount of reserves consumed the previous year," Tondo says. For the last six years, the company has annually reported five to six more years left in the mine, each year replacing the resources.
"I have confidence that we can extend the life of the mine some more, five to six years or more, if we continue doing this type of exploration," Tondo says.
In January 2012, Fowler commented, "Excellent progress has been made on the development of the Arenal Deeps underground mine with 1,388 meters of decline and access development along with 446 meters of ore development completed to the end of November 2011." Permission to start production at the first two underground levels of Arenal Deeps was received in December.
Cash box
If the price of gold remains solid, OMI expects to generate $75 million this year, revenue levels that differentiate this smaller company from others of the same rank. As most junior companies are merely in the beginning stages of investigating new projects, OMI stands apart, immersed in consistent production, backed by a well-trained team. The income allows the mining company to further expand its business as it reinvests in other projects, such as Chilean mines Talca and Pantanillo.
OMI's business model of fully exploiting existing mines while exploring opportunities has kept the company ahead of its competition. As it investigates a new project in Chile, Tondo comments "It's not producing yet, but we are looking toward the future so that when San Gregorio finishes its mining life, we will already have another project in the pipeline that will continue generating production and hopefully will be able to do much more."
With high mining goals, the company plans on doubling its gold production in the long term.
Currently producing an annual amount of 55,000 ounces a year, its initiative is to reach over 100,000 ounces annually by adding production from recent Latin American projects to its already producing Uruguayan system. According to Tondo, OMI is actively seeking opportunities throughout Latin America – including in Chile, Brazil, Uruguay and Peru.
In the works
OMI's newest mines, Anillo and Pantanillo, were part of Fortune Valley's portfolio when the company was acquired in 2010. Located in the Maricunga region, the Pantanillo mine lies precisely within the Maricunga belt – a mining zone that is known to contain approximately 70 million ounces of gold.
Pantanillo's deposits are of a lower grade, with an average of 0.7 grams per ton, but are of high volume. The results of the mine's Preliminary Economic Assessment (PEA) – published in January 2012 – show a five-year mine life and a net present value of $32 million (before tax) with an IRR of 17 percent internal rate of return at an 8 percent discount rate.
According to the report, the Pantanillo plant is planned to have an installed capacity to process up to 115,000 ounces a year of gold from a total resource of 33.4 million tons. The capital cost estimate for the project will be around $178 million and $12.9 million of sustaining capital. "It's a project that will demand a high investment because with a low-grade mineral you have to process high volume per year to advance economically."
The goal for Pantanillo is to have the development ready beginning in 2015 or 2016 when San Gregorio is finished.
Pantanillo has undergone a series of intense drilling, engineering and metallurgy operations to determine a mineral resource that is 43-101 compliant, meaning it meets the strict national guidelines for public disclosure of information relating to properties in Canada.
Anillo mine
The Anillo mine, north of Pantanillo and 125 kilometers east of Antofagasta, is still in the early stages of studies. Until now there has been surface mapping, geophysics, drilling and trenching work performed on the property, but the resources haven't been defined yet. Drilling intersected several encouraging zones of anomalous gold mineralization and, similar to Pantanillo, it is located in a high prospect area. Merely 15 kilometers away is the El Peñon mine, operated by Yamana Gold, which produces 300,000 ounces a year in high-grade gold and silver with costs that are lower than $350 per ounce.
The area of Anillo is large and with drilling occurring as deep as 400 to 500 meters, exploration will require more time and money.
"More drilling is necessary and our geologists are working hard to discover something," Tondo says. "We have high prospects for Anillo. We haven't discovered anything there yet, but we know there are high prospects there."
Artisanal prospect
In August, 2011 OMI signed the rights to buy the Talca mine in Chile. The property is its newest acquisition, with perhaps the most interesting back-story. It was owned by a family of artisanal miners, the Tello family of 14 brothers and sisters. Their father started the mine at the end of WWII and the mine had produced at a low rate. When he passed away, his children continued prospecting and dividing the money.
"Of course with a mine you have to reinvest the money you generate," Tondo explains. "Half of the family wanted to invest in the mine and the other half didn't." Because of this conflict, the family decided to sell. "We believe we were lucky to find this opportunity," he says. It took six months to convince all the siblings to come to terms with purchasing the mine.
Talca encompasses a system of seven high-grade quartz veins that range in width from 0.3 to 4 meters wide. In the last 40 years, the family has reportedly produced close to 300,000 ounces from high-grade gold veins. Based on previous production of 1 million tons of ore, OMI estimates the historic grade average should be about 13 grams per ton.
With three perforators on site drilling 4,500 meters since November, the company's goal is to apply a fast-track scoping study to define the first resource by mid-2012. If the resources are confirmed and the grade is good, the plan is to prioritize this deposit ahead of Pantanillo since the better grade would demand a lower investment while producing approximately the same amount of gold.
"This would be a priority and that's why we are moving ahead strongly with Talca," Tondo relates. "It could be a big opportunity." EMI