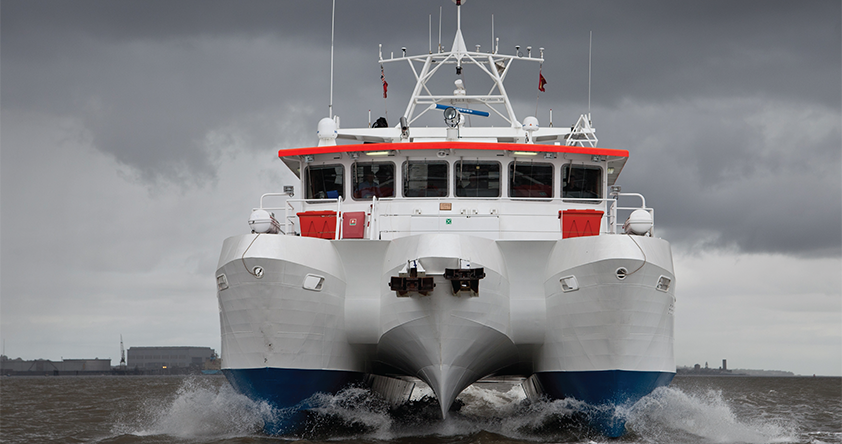 A bright future
After 15 years of independent ownership, Osiris Projects was acquired earlier this year by Bibby Marine, a subsidiary of Bibby Line Group. Osiris Projects' Marketing Manager Heather Carrigher explains what this means for the company going forward.
Osiris Projects was founded in 1997 and since then has established itself as a leading marine survey contractor serving clients from a range of industries. Having expanded significantly since 2010, the company works extensively for high profile oil and gas clients, and retains a term contract with Shell within Northern Europe.
Bibby Tethra, our custom-built survey vessel launched in 2011 as the 5th and largest of our specialist fleet, has been central to our recent growth, and we now employ over 50 full-time professional personnel. Financed through the Bibby Line Group, the 27.5 metre semi-SWATH catamaran has many unusual features for a vessel of her size, including DP1, an 8T A-Frame and a permanently mobilised hydrographic and geophysical survey spread. Her A-frame and substantial working deck space means she can comfortably perform shallow geotechnical sampling, and can accommodate our compact track-driven seabed crawler for depth of burial surveys.
The design and build process provided the basis for a longer-term relationship between Osiris Projects and the Bibby Line Group, and the acquisition was completed earlier this year by Bibby Marine. Osiris Projects retains full autonomy while benefitting from the backing and resource of a highly successful 'local' company with a global presence, which is unusual for the increasingly consolidated survey sector. With the support of Bibby Marine, we have a number of planned developments.
The business has traditionally focused on coastal high resolution bathymetry, side scan sonar and shallow seismic data, and while this will remain at the core, we aim to develop our shallow geotechnical, ROV and AUV services to deliver on integrated multi-discipline projects. The company already benefits from experience in these areas, having completed a comprehensive geotechnical and ROV campaign for TenneT Offshore GmbH in 2011. The geotechnical element was performed by Geotechnics Ltd, using Osiris Projects' own GeoResources GeoCorer 6000 and a hired CPT system.
Shallow water pipeline inspection and depth of burial surveying has traditionally been dependent upon weather conditions and limited by vessel draft, and was an area that the company was keen to develop. To help achieve this aim, we signed an agreement with Global Marine Systems for a tracked inspection ROV. With a weight in air of three tonnes, the system can reach sea water depths of 100 metres and benefits from a full surveillance suite featuring three cameras, an obstacle avoidance sonar and a survey quality depth sensor as well as a various depth of burial profilers.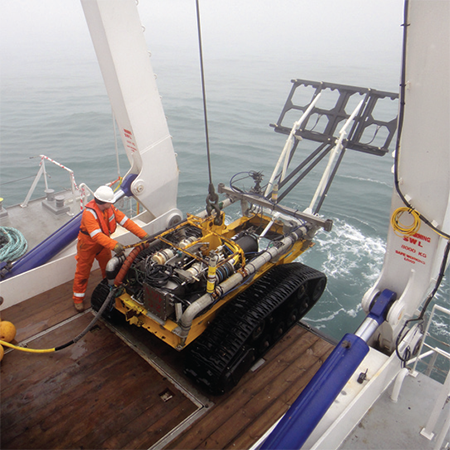 The overriding benefit of the track-driven system is the ability to function within a wider environmental window in the challenging UK coastal environment, when compared with free-flying ROVs. This versatile platform can perform inspection operations in the surf zone and is capable of being loaded with an impressive array of subsea and monitoring tools. It can be operated from a variety of support platforms or may be operated from the beach.
The track-driven ROV is mobilised with a Teledyne TSS 440 for pipeline tracking, with resultant data supplied to the support vessel via the ROV's umbilical, where all navigation and depth of burial data is logged by the survey computer. These results are logged and displayed in real time, with an option to be overlaid on the ROV video footage if required.
We also have experience with AUV surveys, and recently completed shallow-water AUV surveys on a number of Dutch rig sites and pipelines. Although usually associated with deeper water, AUVs have the ability to acquire usable data in shallow areas where previous surface-led surveys have not been successful, and unlike ROVs they do not require a large offshore support vessel. Battery life and positioning are clearly issues, but the Gavia system used benefits from a Doppler Velocity Log aided Internal Navigation System (DVL-INS); somewhat unusual for a small AUV, with mission planning from SeeByte's AutoTracker. The AutoTracker system utilises the AUV's existing payload sensors to determine position and adjust trajectory accordingly. In shallow water battery life becomes less of an issue as deployment is faster, and the Gavia system typically has an endurance of four to five hours depending upon speed, with the spare battery allowing for quick redeployment. Shallow water is where our expertise lies, so AUV based surveys could provide a future cost-effective solution for pipeline inspection.
Osiris Projects favours long-term employment, and has only a small pool of long-term contracted staff. We prefer to invest in our core team, and encourage staff retention through offering attractive benefit packages. We recently announced the launch of our Career Development Academy; a company-wide scheme offering academic and professional development for all employees and supporting new recruits through mentoring. We are also formalising our apprentice scheme, which aims to target capable college leavers who are considering university but are open to other options. We are pleased to be in the position to offer such an opportunity. As we know, sourcing people with the right skill-set and attitude to work in offshore positions can be challenging, and we hope that the introduction of these schemes will work to complement existing benefits and ensure our team grows to manage the increase in demand.
Vessels are high on our agenda, and following on from the success of Bibby Tethra our next custom-built vessel will most likely expand further on her design and capabilities. We aim to offer clients true inshore to offshore options, which for us means launching multi-role, dynamically positioned vessels capable of performing geophysical, geotechnical and ROV/AUV operations, ideally with an endurance of over three weeks. Investing in the latest advanced survey and positioning equipment and software is critical to our future success, which is partially fulfilled through our service agreement with RESON. Ultimately, all our developments are targeted towards providing superior data alongside real cost efficiencies using safe, environmentally conscious methods.
Osiris Projects
Services: Seabed site investigation and monitoring