Lighting the way
Since the company was founded in 1997, Osiris Projects has earned an acclaimed reputation as a professional and reliable solution provider in a broad scope of survey operations.
Osiris Projects was founded by directors Andy McLeay and Jim Walters, who each brought with them several years of experience of operating within geotechnical and other survey areas. Today the company is owned by the Bibby Line Group, which acquired Osiris Projects during 2012. Bibby Line Group has existed as an independent, family run business for over 200 years and has grown from operating within its traditional market of vessel ownership,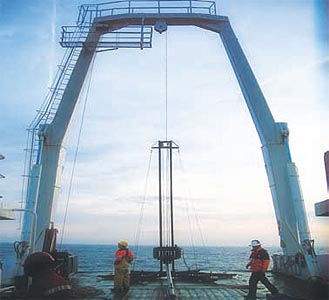 management and operation into a dynamic group of companies that operates within shipping, marine services, logistics, financial services, offshore services and retailing. Having successfully navigated through demanding markets and the challenges of diversification into new areas, Bibby has developed the reputation for integrity, responsiveness and respect that defines the company today. It is these shared values coupled with a proven track record of expertise and excellence that allows Osiris Projects to act as a wholly owned, but selfmanaged part of the Bibby Line Group.
Today Osiris Projects provides turnkey survey solutions throughout the UK and European waters. Its services are typically applied to six main areas comprised of the oil and gas industry, renewables, marine aggregates, subsea cable, hydrographic and utilities markets. Within these areas the company's extensive services include but are not limited to acoustic cable and pipeline inspection, acoustic ground discrimination systems (AGDS), bathymetric survey, benthic and environmental sampling services, cable route survey, data processing and reporting, debris clearance survey, geotechnical sampling, oceanography and metocean services, ROV and AUV services and topographic survey.
Osiris Projects is currently in the final stages of an expansive cable survey operation for the Highlands and Islands project, which is designed to deliver fast, fibre optic broadband to the region. During March 2013, BT were awarded a contract by Highlands and Islands Enterprise (HIE) to execute a project to deliver fibre optic broadband to around 84 per cent of homes and businesses by 2016. As leading specialists in the coastal environment around the UK, Osiris Projects has exceptional knowledge of the challenging environments encountered by the project. As such the company was appointed to carry out detailed seabed mapping along all of the potential cable routes, which is critical to determine route development and cable installations. "This was a huge project," says Marketing Manager Cate Oake. "We have undertaken a 20-route cable survey, which is essentially 20 jobs in one and we are currently in the final stages of completing that."
The success of Osiris Projects is based on its ability to deliver first-class solutions in the broad portfolio of services that it has on hand. To ensure that it is best able to service its clients the company has continuously invested in its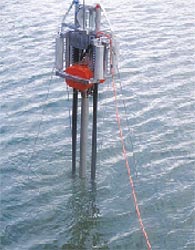 knowledge base, equipment and training to bring all of the required components for survey operations in-house as Cate explains: "One of the company's founders, Jim Walters has a background in geotechnical work and it is something that we have always undertaken. Previously it was always carried out with hired equipment until the decision was taken last year to purchase the equipment and bring the service in house. We have established a specialist department run by the Geotechnical Manager and three Geotechnical Engineers."
Osiris Projects purchased two specialist pieces of kit. The Geo-Corer 6000 high performance electric Vibrocore is a system that can operate in 3m, 4m or 6m configuration and has a weight in air of approximately 1000kg. It can be deployed from a wide range of platforms and Osiris has undertaken a range of improvements to offer a unique system to the market. These include simple deployment stability features, overhauling lifting configuration and a cantilevered recovery option.
The Datem 5000 CPT was added to the Osiris Portfolio during 2014 as part of the continued development of its geotechnical capability. Prior to purchasing the Datem 5000 unit, Osiris had previously used both the Datem 5000 and the smaller 3000 system for numerous projects around the UK. The cone penetration system includes a 5cm2 digital smartcone and delivers 70Mpa/70kn push capability and penetration capability of up to 20m. Furthermore the system incorporates several features that allow for simple and efficient operation including an easily deployed compact sub-sea frame, real time control and display, single coax connection for power and data, low maintenance and low consumable use and easy to operate Windows based PC control.
Osiris Projects manages its services through the operation of both chartered and owned vessels. This enables the company to service its clients effectively and to continue on its future strategy of growth into new markets. For example, during January 2014 Osiris secured a long-term charter of the MV Neptune from Neptune EHF. The 50 metre, DP1 multi-purpose survey vessel will allow Osiris Projects to conduct operations in deeper waters and increase its presence in the European market. The company is expecting the delivery of the Bibby Athena during winter 2014, which is currently under construction by specialist French shipbuilder Socarenam in Boulogne. The vessel will mirror the capabilities of Bibby Tethra, which was built in 2011 with a few subtle changes to reflect the company's development into shallow geotechnical sampling and more challenging offshore market. Osiris Projects managing director Andy McLeay says: "Placing the order for a twin sister vessel to Bibby Tethra is quite a milestone in the history of the company as it acknowledges the great success achieved with the original concept of providing the 'ultimate' coastal survey vessel. The second vessel will build upon the success of Bibby Tethra and allow us to offer greater availability of this remarkably capable multi-role survey platform."
Osiris Projects
Services: Seabed mapping and coastal surveys