Quality integration
This Norwegian based management service company was established in 1991 and has since grown to become one of the world's leading ship management service providers.
Today OSM offers full management services to over 400 vessels, operates through 26 strategically placed office locations and employs over 10,000 people worldwide allowing the company to achieve true global coverage.
Commenting on OSM's growth strategy is the CEO, Geir Sekkesaeter, "At OSM we focus on providing quality, competence and transparency in each of our business segments. We believe this is what both secures the most long-term value for our customers and affords OSM the stable platform required for continuous improvement. The extra effort we put into our people, our organisation and our international network is what has enabled us to grow at such a steady rate."
"OSM Maritime Group was founded in 1989 in Arendal, Norway and established in 1991 following the company's first crew-management contract win," begins Bjorn Simonsen, managing director of OSM Crew Management.
"Roughly 50 per cent of our manning operations take place in the offshore sector, particularly offshore support vessels and drilling units. The remainder of our Crew Management operations allocates 35 per cent towards tanker management and 15 per cent towards servicing bulk carriers, grain and cargo vessels. Crew Management services are managed from eight of our office locations, while the remaining offices are used as recruitment offices or as service providers."
OSM takes a proactive role in ensuring it consistently meets its mission target to deliver a comprehensive spectrum of impeccable, efficient and customer focused services in all areas of operation. "As a pure service provider, we do not own any vessels or steel, but we do have good people, both onshore and off, and successful systems that we have developed over the years. These characteristics make us flexible in managing a client's assets. Having worked in the North Sea environment for clients such as Statoil and ConocoPhillips for many years, our systems are well suited for our major customers, which is a huge advantage when it comes to winning contracts," says Elvind Nordal, the Kristiansand based managing director of OSM Offshore.
OSM in growing markets
OSM is strategically split into three divisions – Ship Management, Crew Management and Offshore Management – this strategy has enabled the group to aggressively expand over its 23 years of operation. One notable area that is representative of this growth can be seen in Germany. In commenting on this OSM's managing director of Ship Management Germany & Norway, Matthias Imrecke, says:
"OSM Hamburg was established in 2009 with the aim of servicing the German and European markets with full technical and crew management services. As it stands today, our fleet includes two LR Panamax tankers, four Handymax tankers, three container vessels, 13 anchor handling vessels and platform supply vessels that we provide crewing for. We have noticed positive signs and trends in Germany and have grown by three units over the last five months in the container side of the business. Although this is a new segment for us in Hamburg we have anticipated this development for a long time and are prepared to handle the expansion. Traditionally, Germany has predominantly served as a tanker market, however, there are a lot of opportunities to develop this sector and expand in all directions where OSM is concerned."
In addition to Germany's developments, OSM is anticipating major growth for OSM Ship Management in Arednal, Norway for 2015. This forecasted growth comes as a direct result of the recent takeover of Neste Oil's shipping fleet, which has become an integrated part of OSM operating under the name OSM Ship Management Finland. Falling under the group's strategy to strengthen its position as a leading provider of tanker management services, OSM Finland will take on Neste Shipping's fleet of 11 vessels and approximately 300 seafarers. "We are working as a joint venture with Neste Oil, which involves retaining the seamen and office staff as well as the Document of Compliance for these vessel types. This strategy enables OSM to maintain approvals with oil majors, which is important because without the necessary paper work it is impossible to operate. This approach means we can avoid any issues with paperwork while also facilitating a smooth transition into a new management structure," explains managing director of OSM Ship Management Singapore, Steffen Tunge.
To ensure the success of this venture, managing director of OSM Ship Management Arendal, Kjell Andreassen, comments on the anticipated support for OSM Finland: "Although OSM Finland will be directly responsible for this contract, we will support the office with our HSSQ systems and crewing management services. OSM has a very good reputation and health and safety record in the North Sea; and is well known for its stringent vetting of crew who operate the vessels we manage; these strengths will all be used to support OSM Finland."
Further growth for OSM can be seen in the Crew Management sector, where OSM has been taking advantage of its long-term expertise and strength within the group to develop its foothold in West Africa, as Bjorn Simonsen discusses: "We see huge potential in West Africa for the offshore sector; Nigeria in particular represents the largest economy and as a result OSM has been operating locally for five years in the Congo supplying crew and vessels to our own customers as well as to other clients setting up operations in the area. In line with the developments in West Africa, OSM opened offices in Laos and Angola in 2013 to provide local support to these areas and based on the resultant success, we are looking to expand into Mozambique and Tanzania."
OSM – drilling
Not a company to rest on its laurels, the group is also looking to develop its presence in both the Mexican Gulf and Houston following developing opportunities in the drilling market, as Matthias Imrecke elaborates: "In the past, the drilling industry has been dominated by major oil and gas players, but there are new companies coming into the market who we can provide management services to for their drilling units. We are actively exploring this marketing right now, using our onshore and offshore competence to find clients that may be interested in going into a partnership with us."
"There is a lot going on in Mexico at the moment as a result of a change in policies, so there will now be many more external operators moving into the region," adds Steffen Tunge. "We already have an office in Cuidad del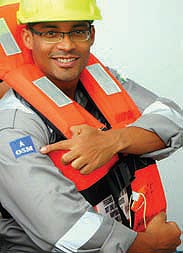 Carmen, Mexico, where we operate supply vessels. Elsewhere, we see that the Far East is a growing market; it is a mature market but there is a wealth of new projects beginning that we hope to capitalise on."
OSM – training for the future
To meet the ever-increasing demands of the evolving industries in which it operates, the OSM group established the OSM academy in October 2010 to provide high quality training to seafarers. Following on from the Academy's success, OSM Crew Management established the OSM Training Academy in 2012; a game-changing state-of-the-art facility that provides both technically designed and soft courses that meet both STCW and client demands. "We have one big training centre in Manila, which is due to the Philippines being our biggest recruiting office; this is where our high end training is offered; courses cover a range of topics including deep sea simulation, engine simulation, crane operation, and drilling skills. In the future, we plan on expanding our offerings to include ROV pilot training and are looking to expand the centre to meet the developing needs of our customers," highlights Bjorn Simonsen.
OSM – EBN license
In addition to its training centre in Manila, OSM has opened training centres in other strategic locations around the world and is looking to develop another in Brazil where OSM Crew Management has recently achieved an EBN license. "We have focused a lot on establishing ourselves in Brazil and obtaining our EBN license means we now have a navigation license for working in the area. We can now manage every aspect of vessel operating for Petrobras on behalf of our customers, the vessel owners. This includes Petrobras reporting, vessel import and export, as well as technical, crew and operational management services. Meanwhile, Petrobas has a fantastic major plan for developments in Brazil in the future and these strategic steps are part of our aim to be a key participant in its programme," says Bjorn Simonsen.
Conclusion
With the foundations in place to continue growing in all strategic locations of interest around the globe, the future looks positive for the adaptable and versatile OSM as it utilises long-term experience to offer integrated, high quality services, delivered locally yet with a global reach.
OSM Maritime Group
Services: Global ship, crew and offshore management