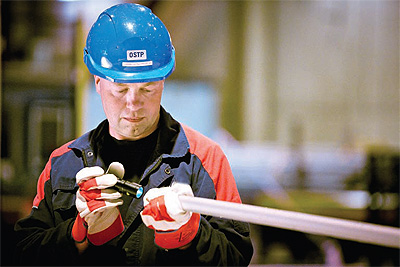 Top grades
Operating as a joint venture between Tubinoxia and Outokumpu EMEA Oy, OSTP is a specialist welded stainless steel tubular products manufacturer that offers one of the broadest ranges of solutions including, process pipes and tubes, butt weld fittings and process equipment, for pressure corrosion applications.
OSTP has a long history and tradition in the production of welded stainless steel products stretching back well more than 50 years and spanning several acquisitions and mergers. The company as it is recognised today came into being during 2011 when current shareholder and CEO of OSTP, Andrea Gatti acquired 36 per cent of the business, before taking the option to take a controlling interest of 51 per cent of OSTP in January 2013. Commenting of the running of the business today, Andrea says: "Our business decisions are based on fundamental principles which we will not compromise. That is to have a sustainable growth and take full environmental responsibility, doing so always with the highest ethical standards at all times."
Presently OSTP consists of four production sites, the largest of which is located in Jakobstad, Finland. Two of the production sites are located in Örnsköldsvik, Sweden. OSTP Sweden focuses on butt welded fittings and ÖMV focuses on Process Equipment Fabricated & Engineered Products.


During 2014 the company had a production capacity of circa 65,000 tonnes of process pipes (PP) and 10,000 tonnes of butt weld fittings (BWF), while its 630 employees helped the company generate a total turnover of €183 million. Traditionally OSTP has been highly active within Europe, with the majority of its plants and customers located within the region, however the company also presently maintains a manufacturing presence within Saudi Arabia. Set up in partnership with the Al Hejailan Group, Outokumpu Armetal Stainless Steel Pipe Co Limited (OASP) and which represents a multi-million Euro investment into the first stainless tubular manufacturing facility in the Middle East. The state-of-the-art stainless steel process plant is located in Riyadh, Saudi Arabia and has an annual output capacity of approximately 10,000 tonnes.
Drawing on decades of experience, the dedicated staff at OSTP are on hand to assist clients with matters such as grade selection advice and technical support. The company has a comprehensive portfolio of products that enables it to operate in a diverse spectrum of industry segments including: O & G – P & P – Petro Chem – W & WWT – Desalination – Energy – Building & Construction – Mining and Transportation. Across all of the industries in which it is present, OSTP is keenly aware of the need for the highest levels of quality and customer service. Furthermore, within the oil and gas market the company is an experienced global player that inspires confidence through its understanding that oil and gas infrastructure is designed and built to last and serve for decades under the most severe operational conditions.
"Within the oil and gas sector one of the biggest challenges is quality. In terms of application the products we supply include pipelines, which are put in demanding environments where they need to stay and be reliable for a long time whilst operating at high pressures and wide temperature ranges. So quality is a very important concern and OSTP is recognised as a quality producer within the market," elaborates Managing Director, Thomas Pettersson. "Additionally within the oil and gas sector there are several kinds of customer approvals that need to be in place in order to be able to operate in the market. We work together with the client to ensure that these are in place and they also help us to deliver products according to the customer special requirements.
"Our laboratory in Örnsköldsvik, Sweden, is a clear indication of our commitment to developing our expertise in special grades and complicated project demands. With hyper-modern equipment, our laboratory technicians perform tests such as tensile testing, corrosion tests according to ASTM G48, ISO 3651-2 and ASTM A262 'E', microexamination to ASTM A923, ferrite-austenite ratio to ASTM E562, hardness, bending tests and Charpy impact testing."
Further to its activity within the global oil and gas and energy markets, OSTP is also presently highly active within the chemical sector, particularly within Germany. Like the oil and gas sector, this is a further application in which quality is paramount and an area in which OSTP is able to excel. Historically the company began operations by supplying clients within the pulp and paper industries and today the company is again experiencing a boom in the Nordic countries within these sectors. Throughout all of its active market sectors, OSTP utilises one of the widest ranges of stainless steel grades within the industry. This means that as well as standard grade stainless steels, it also offers high performance austenitic, ferritic, duplex, and super duplex grades. Each grade encompasses a different spread of properties through the varying levels of chromium, nickel, and molybdenum, and additional elements such as titanium and niobium.
Although the depressed oil price has naturally impacted the availability and frequency of projects within the oil and gas sector, the flexibility and presence of OSTP within a broad base of industry sectors has shielded the company from the impact of this relative period of slowdown. Over the coming years OSTP will seek to maintain its diverse market presence while further developing its product base inline with industry demand. "It is clear that over the next three to five years that flexibility will definitely be an important factor as well as further focus on quality. Previously it was less important how the pipes looked, as it was most important that they did their required job, there were no weld defects holes and they could hold the required pressure and so on. I think the trend today however is increasing concerned with the visual quality of the pipework," Thomas concludes. "Service level is another area in which the trend is toward shorter supply times and fast track production lead times, while the use of special grades is another trend coming into the market. Increasingly there are applications with requirements for specific grades including standard grades as well as all kinds of exotic grades and that is an area where we are very attentive and need to be alert."
OSTP Group
Services: Specialist welded stainless steel tubular products