OT industries The meeting place for world-class expertise
OT INDUSTRIES is a Hungarian company group implementing complex industrial investment EPC projects as a general contractor. EPC (Engineering – Procurement – Construction) activity is supported by high level project management skills. However, the company also undertakes and contracts so-called 'single-business' works, meaning engineering, or production, or construction – depending what is in the focus of the project.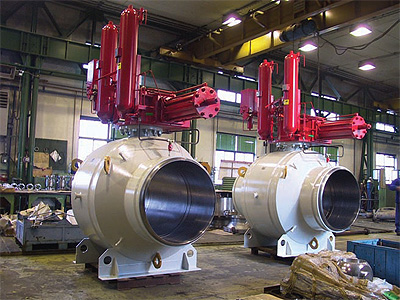 EPC project implementation covers preparation, engineering, procurement, authority engineering, production, erection, construction site management start-up and project management, thus turnkey project implementation.
Engineering – OT INDUSTRIES Engineering Co. Ltd.
The competencies and capacity of OT INDUSTRIES embraces 12 fields of expertise and its state-of-the-art IT toolbox enables the company to provide complex engineering services. The engineering branch of OT INDUSTRIES has gained a lot of experience in the petrochemical, oil and gas industrial facilities in the CE region over its 50-year history.
Main activities and products:
Feasibility studies and conceptual design
Basic design, FEED documentations
Authority engineering documents and detail design. Expert activities and licensing
Nuclear consulting, engineering and general contracting
Application of complex engineering systems, including 3D modelling and technological process modelling
Support of project implementations and site activities
Production – OT INDUSTRIES-DKG Machine Manufacturing Co. Ltd.
OT INDUSTRIES-DKG Machine Manufacturing Co. Ltd., a member of OT INDUSTRIES, has been a determining machine producing company in the hydrocarbon and chemical industry in the CE region since 1944. The main field of its activities is to satisfy the tool and equipment needs of oil and gas exploration, producing, transporting and processing. It makes products that are designed and developed in-house as well as equipment and assemblies made of special materials to bear extensive pressure and temperature ranges and deliver them worldwide.
Its factory includes 30,000 m2 workshops where all processes from designing and manufacturing to quality control are done by qualified and highly experienced professionals. Its products are manufactured in compliance with international standards. Quality and performance are tested using its pressure and specific high/low temperature testing equipment. In its material testing laboratories, it performs various destructive and nondestructive raw material and mid-production tests. The quality of its products is ensured by state-of-the-art processing tools, machines and production technology.
Based on the expertise of 70 years, its business philosophy is to keep on looking for new opportunities that challenge the experts of its knowledge-based organisation to ensure permanent development.
Valves and equipment:
Ball valves
Wedge gate valves and parallel slab gate valves
Pipeline gate valves
Wellhead equipment, wellhead gate valves
Pressure equipment:
Pressure vessels, tanks, reactors
Columns and towers
Spherical tanks
Filters and separators S Shell and tube heat-exchangers, air coolers
Pig launcher and receiver stations
'Flash-Lock' quick opening closures (developed by DKG)
Skid mounted units (glycol regeneration unit, pump unit, degassing unit, ejector unit)
Gas loader, receiver stations
Steel structures
Pipe fittings
Construction – OT INDUSTRIES-KVV Contractor Co. Ltd.
The company has 60 years of construction experience, and has installed more than 10,000 km of gas transmission pipelines, 1000 km of optical cables worldwide, and 47,500 m3 storage tank capacities in the CE region. Pipeline construction capacity: 200 km/year up to diameter of DN1400 mm
206 construction professionals S 50 qualified welders
45 pipelayers
Six field bending machines
16 welding tractors
50 semi-automatic orbital welding units
Auxiliary equipment
OT INDUSTRIES–KVV Contractor Co. Ltd. is a leading pipeline construction company for Central Europe's market. In accordance with its business philosophy, relying on the expertise accumulated during 60 years, it is constantly searching for new ways to ensure continuous development by posing challenges to the professionals of this knowledge-based organisation, thereby ensuring the ongoing development of its services and the company. Its main objective is to provide higher and higher level of services to its customers with the help of the results of its constant innovations.
In addition to the activities in Hungary, OT INDUSTRIES–KVV Co. Ltd. has been present in foreign markets for 40 years. During this period, the company has played an active role in the implementation of major projects, in partnership with international or local businesses in the following countries: Iraq, Kuwait, Kazakhstan, Germany, Croatia, Belarus, Poland, Georgia, Slovenia and Romania.
The professional experience, references, resources and stable financial background guarantee high quality and reliable partnership co-operation to customers.
OT INUDSTRIES-KVV does offer the following services to pipeline operators and other clients:
Installation of high pressure gas transmission cross-country pipelines and its stations up to dia. 56 inch
Diagnostic tests and rehabilitation of pipeline
Installation and maintenance of cathodic corrosion protection systems
Installation of telecommunication cable networks
Diagnostic tests, rehabilitation, repair, construction and cleaning of storage tanks
Destructive and non-destructive material tests in an accredited laboratory
The key strength of the company is the main line welding of large diameter pipelines, using mechanised welding techniques, which eventuate excellent production rates and welding quality. Lowering-in operation with tie-in welding works are included among the strength of OT INUDSTRIES-KVV, as well.
The established and properly operated integrated management system (QMS/EMS/OHS/SCC) does ensure the fulfilment of the requirements of quality assurance, environment protection and occupational health & safety during project implementation.
Main references:
Gas pipeline (DE) – TERRANETS BW GmbH, 2015 DN 600 – 26.3 km
Barátság I. oil pipeline (HU) MOL, 2014-2015 DN 450 – 120 km
Slovak transit gas pipeline (HU) MGT, 2013- 2014 DN 800 – 92 km
Natural Gas Pipeline (PLN) 2012-2013 – 50+78+30 km
Croatian transit gas pipeline (HU) MOL – FGSZ, 2009-2010 DN 800 – 206 km
Romanian transit gas pipeline (HU) MOL –
FGSZ, 2009 DN 700 – 47 km
Cross country gas pipeline (HU) MOL – FGSZ, 2008 DN 1000-1400 – 220 km
Ongoing construction works:
Gas pipeline (PL) – GAZ-SYSTEM S.A.: Lwowek- Krobia DN 1000 – 113 km, Czeszow- Kielczow DN 1000 – 17 km
CONTACT OT INDUSTRIES Ltd.
Address: H-1117 Budapest, Galvani str. 44.
Tel: +36 1 453 6300
Mail: sales@otindustries.hu
otindustries@otindustries.hu
DKG: Károly Komíves – sales dierctor
KomivesKZS@otindustries.hu
KVV: Zsolt Gálek – sales director
GalekZs@otindustries.hu
OT INDUSTRIES
Services: EPC project contractor, pipeline construction, equipment manufacturing