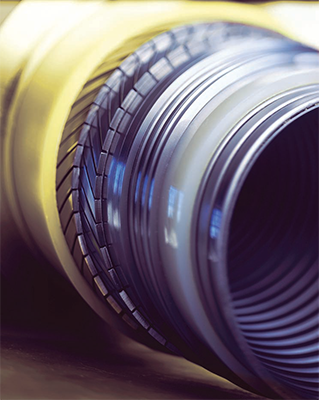 Heavy metal
With a legacy that traces back more than a century, Espoo headquartered Finnish firm Outokumpu has evolved from its beginnings as a mining and multi-metal company to become the global leader in the development of Duplex stainless steel.
A key figure in the rise of the stainless steel industry, the NASDAQ OMX Helsinki listed group has a long history that is as old as stainless steel itself. Invented more or less simultaneously in Germany and the UK in the early 1900s, stainless steel was followed by the invention of duplex stainless steel in Sweden a few years later. Today, following the strategic acquisition of Avesta Sheffield in 2001 and Inoxum, the stainless steel segment of Thyssenkrupp in 2012, Outokumpu benefits from a wealth of expertise in metals and advanced materials as well as the widest product portfolio in the market.
"As the global leader in stainless steel, we employ more than 15,000 professionals in more than 40 countries who work to create advanced materials that are efficient, long lasting and recyclable – helping to build a world that lasts forever," says Dr Bernd Beckers, head of high performance stainless marketing. "Stainless steel is an ideal material to create lasting solutions in demanding applications from cutlery to bridges, energy to medical equipment; it is 100 per cent recyclable, corrosion-resistant, maintenance-free, durable and hygienic."
At a transitional time of global megatrends such as economic and population growth, urbanisation and mobility as well as climate change and a distinct shortage in natural resources, Outokumpu's stainless steel offers sustainability and cost efficiency through a longer lifecycle than that of more traditional materials. "You only need to look at today's headlines to be reminded of the global economic situation – we're facing challenging times, and yet experts are promising long-term economic growth. This, and an increasing world population, means constant growth in industrial and consumer demand, because stainless steel is needed in many of the more demanding applications," highlights Bernd.
A key supplier of stainless steel to the oil and gas industry over the last 50 years, Outokumpu's portfolio comprises of high performance austenitic grades, Duplex grades, high temperature grades for clients requiring high performance stainless steel as well as martensitic grades, ferritic grades and standard austenitic grades for clients requiring standard stainless steel. The company's products include hot rolled plate Quarto, tubes, cold rolled strip, hot rolled white strip, hot rolled black strip, bars and rod coils. "Our products can be found in upstream and downstream applications, from oil and gas production to transport and storage, refineries, LNG plants and petrochemical units. Tried and tested in these extreme conditions, we have earned approvals from leading oil and gas firms on a global scale," says Bernd.
Outokumpu supplies materials and products to a broad spectrum of applications within the oil and gas industry, including riser pipes and casing tubes below sea level and process piping, above sea level. Furthermore, it supplies piping systems and ballast water piping for seawater handling and tube plates, heat pump panels, and heat exchanger plates for customers requiring heat exchangers. "As wells go deeper and systems become heavier, the industry reaps major benefits from Duplex stainless steel with its superior mechanical strength," says Bernd. "At Outokumpu we have pioneered the development of Duplex, delivering nearly 40 per cent of all Duplex production in the world today and we continue to actively develop new duplex applications for the industry."
It is at the company's Avesta Research Centre, based in Avesta, Stockholm, that it develops advanced instruments for material characterisation and also simulates production processes. Indeed, many of Outokumpu's most innovative stainless steels were developed at ARC, such as 254 SMO, 153 MA, LDX 2101, LDX2404 and its most recent duplex stainless steels product segment, the FDX 25 and FDX 27. Showcased at the three day Indian Oil and Gas Expo in February 2014, the FDX 25 and FDX 27 boast increased formability that allows the use of duplex grades in applications that were previously too complex to be suitable. Being able to meet the demands of applications with high formability demands including heat plate exchangers and flexible pipes and pumps, it is certain to increase Outokumpu's global market share, which is presently at 12 per cent.
Another example of the company's innovative developments is the enhanced duplex grade EDX 2304, which, due to enhanced levels of mechanical strength and resistance to corrosion, is particularly suitable for oil and gas structures that will have their lifecycle extended by up to 40 years. Receiving NORSOK approval in November 2013, the EDX 2304 was also showcased at the Indian Oil & Gas Expo in February 2014. "Typical applications for EDX 2304 within the offshore industry are topside structural components such as fire, blast and relief walls and doors, structural pipes, pipe supports, clamps, cable trays and ladders," explains Bernd.
Keen to retain its global customer base, Outokumpu is more than a supplier and focuses on providing stainless steel solutions through added-value services. "In addition to material supply, we deliver tailored solutions that include training in stainless steel grades and selection, guidance in welding and other technical services," highlights Bernd. Other services include surface finishing, bending, edge preparation, project administration and package solutions.
With an impressive history of growth and innovation behind it, the future looks positive for Outokumpu as it continues to develop its comprehensive range of duplex subsea piping applications for the offshore sector. On top of this, the forward-thinking firm is continuing to gain full Det Norske Veritas approval for offshore use of its whole product range in line with major plans to expand further into the oil and gas and power industries.
"We have clear priorities for 2014, to finalise the Calvert ramp-up, implement EMEA restructuring, implement savings programmes and improve customer satisfaction through enhanced delivery reliability," explains Bernd. "As stainless steel innovation continues and new applications are developed, the demand for stainless steel will continue to grow. However, industry over capacity and slow economic growth are creating short-term challenges for the market, which is why we are focusing on further cost savings and benefits to customers to help us find a way out of these troubled waters. We are the new global leader in stainless steel, and to ensure we continue delivering value we are putting our customers first."
Outokumpu
Services: World-leading developer of Duplex stainless steel