Outokumpu Stainless Tubular Products
Making the grade
Like many other companies today, Outokumpu Stainless Tubular Products (OSTP) is the result of a number of mergers and acquisitions.
In 2008 Sandvik AB had sold its minority stake and until late 2011 OSTP has been fully owned by the Outokumpu Group, manufacturers of a wide range of welded stainless steel pipes, tubes and fittings.
The impact of the recession though forced the business to reassess its approach to the market, and as such, since last year former Outokumpu executive, current shareholder and CEO of OSTP, Andrea Gatti has led the business. "I approached this opportunity from the angle of knowing the company, knowing the brand, and the strengths, capabilities, and reliability associated with this. From this background I agreed to take a 36 per cent stake of OSTP, with the option to increase this to 51, and have since agreed with Outokumpu a business plan for the company's evolution," he explains.
Traditionally OSTP has been a very Europe-centric business with the majority of its plants and customers located within the region, particularly given that not all of its products are capable of global export. This is reflected in the company's network of manufacturing facilities, which includes sites in Northern Europe. However, alongside this OSTP maintains a plant in Canada, and most recently, has taken the necessary steps to establish a manufacturing joint venture in Saudi Arabia.
Set up in partnership with the Al Hejailan Group, Outokumpu Armetal Stainless Steel Pipe Co Limited (OASP) represents a multi-million euro investment into the first stainless tubular manufacturing facility in the Middle East. The state-of-the-art stainless steel process plant is located in Riyadh, Saudi Arabia and has an annual output capacity of approximately 10,000 tonnes. "Especially in relation to the oil and gas industry, we felt that this opportunity was an ideal way for us to get closer to one of the forefront regions in this market," notes Andrea. "We are in the process of being approved by the leading local companies in the petrochemical and oil and gas industries, and are quite confident of achieving this since our manufacturing units in Northern Europe hold such approvals. The facility itself has the capability to manufacture 12 metre long longitudinally welded process pipes of up to eight inches in diameter and 8.2 mm wall thickness."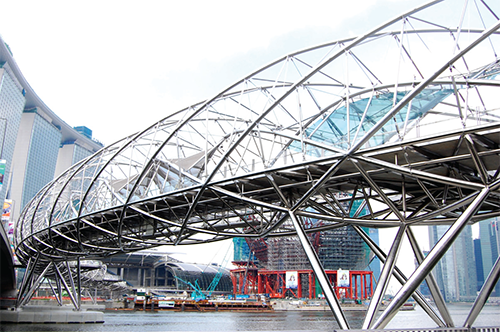 Although the management structure of OSTP may have changed, the company's supply of tubes and pipes has remained resolutely fixed on quality and reliability. In particular, these are well suited to the challenge of transporting fluids in corrosive or high temperature environments, which require high performance components. Likewise, OSTP's range of fittings is predominately used in the demanding chemical, pharmaceutical, pulp and paper, and offshore industries.
As part of this offering, OSTP utilises one of the widest ranges of steel grades within the stainless steel industry. This means that as well as standard stainless steel, it also offers high performance austenitic, ferritic, duplex, and superduplex grades. Each grade encompasses a different spread of properties through the varying levels of chromium, nickel, and molybdenum, and additional elements such as titanium and niobium. "As part of the Outokumpu group, OSTP can exploit the research and development and production capabilities of this leading enterprise, as well as sourcing innovative products from other fields. Having such an array of steel grades on hand means we can often replace more conventional choices as used in more conservative industries, such as oil and gas, with materials that offer the same, or better, properties," elaborates Andrea.
"As part of our business culture, we pride ourselves on not taking shortcuts but instead always creating products that are of the highest quality, meeting the most demanding requirements of our customers. We see that although price is important to every business, for critical industries such as oil and gas there is a similar emphasis on having the right products for the necessary application. The failure of these products is simply not an option, and therefore the value of reliability in the supply chain is becoming of greater concern," he continues.
With the oil and gas industry expanding and a rise in new markets, manufacturers that can meet these criteria are in demand. In much the same way that the Outokumpu group has become a leader in stainless steel, OSTP is intending to consolidate its image as a highly reliable and efficient supplier for tubular products and fittings. "The reality is that our business is driven by the exploitation of natural resources – be it oil, gas, water, mining, or paper and pulp. It is within this sector that we provide products of good quality, which are resistant to the corrosion issues in processing these reserves. I therefore see that the future of OSTP continues to lie in the field of natural resources, as compared to the commodities needed to manufacture consumer products like automotive or household goods," concludes Andrea.
Outokumpu Stainless Tubular Products
Services: Welded stainless steel tubular products