Keep on rolling
Outokumpu is a global leader in stainless steel that has been instrumental in developing the stainless steel industry into what it is today.
In a history that is as old as that of stainless steel itself the company has operated from established sites in Germany and the UK, where stainless steel was invented in the 1900s and in Sweden, where duplex was invented. "We are a material supplier creating advanced products that are efficient, long lasting and recyclable, complementing our vision to help build a world that lasts forever. Stainless steel is a perfect example of such a material that will help us achieve that goal," says Dr Bernd Beckers, director technical marketing. Today the company has facilities covering all continents with production resources in China, Finland, Germany, Mexico, Sweden, the UK and the US, with a global sales and service centre network that is close to its customers.
Following the integration of Inoxum, the former stainless steel arm of ThyssenKrupp, the business has been actively undergoing a major transition period. "This is a major transition for us that will enable us to further grow our market positions across the globe," highlights Bernd. Its operations in Europe, Middle East and Africa (EMEA), in Americas and in Asia-Pacific (APAC) have helped
the business to achieve sales of 6745 million euros and stainless steel deliveries 2,585,000 tonnes in 2013. Employing more than 12,000 professionals in more than 40 countries, it has headquarters in Espoo, Finland. "Today we are organised into five business areas. Beyond Coil EMEA, Coil Americas and APAC we have established business areas targeting long products, and quarto plates.
"The main rationale behind the restructuring is to sharpen the profile of our offering, and adapting to a regional approach. Across Europe the overall stainless market continues to struggle with overcapacity and to operate within this tough climate we need to take a streamlined approach to our coil activities. In contrast, the US has shown to be one of the important growth markets and we are in the phase of ramping up our stainless steel mill in Calvert, which both melts and rolls coil," he adds. The mill, which is expected to be in full production by 2016, was incorporated as part of the business transition.
Outokumpu has been supplying its products to the oil and gas industry for over 50 years in both upstream and downstream applications, and its high performance products have proved to withstand some of the most aggressive environments across the globe. "From extracting and processing the oil to the final customer delivery there is an application area that demands a corrosion resistance but increasingly important are the strengths and benefits of the products," says Bernd. Recognised for its strengths, in March 2014 the business announced its largest-to-date duplex order. Delivering 22,000 tonnes of duplex 2205 stainless steel to a natural gas field project in Oman, the company is well progressed into the order that will continue to autumn 2016.
Commenting on the trends seen outside of the business, Bernd points out: "The market continues to grow globally and this is very positive for stainless steel. Globally, average growth rates of five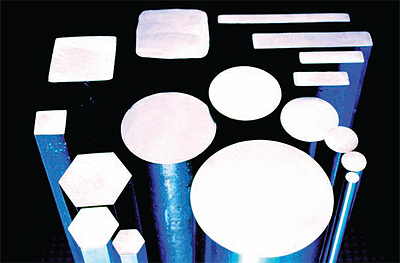 per cent in 2015 and 2016 are expected, with four per cent in 2017. We now have a strong foothold in the Americas, where our market share in the growing NAFTA market is 20 per cent." Benefitting not only from its long experience, but also a high degree of technical expertise, the company utilises a wealth of R&D resources that maintains its position at the forefront of application engineering, for example developing new solutions for specific segments, such as oil and gas.
From enhanced grades that offer better corrosion resistance and higher strengths to a new umbilical tubing development within the subsea environment, the potential of its portfolio continues to grow. "Seamless super duplex umbilical tubing is the only available solution at present, but we have recognised the strong interest from oil companies to find alternatives and successfully developed a welded umbilical tubing solution, which we launched with one of our partners that offer tight dimensional tolerances and a substantial reduction of the number of orbital welds in the umbilical," explains Bernd: "The development of a lean duplex with a pitting resistance equivalent number (PRE) above 28, meeting the requirements from Norwegian offshore is another example of our recent product development activities. EDX 2304 – a modification of the mature duplex 2304 grade with higher corrosion resistance and higher mechanical strength – is an ideal material for structural offshore applications."
The company attended ONS 2014 in Stavanger where it further promoted its aim of developing a solution working with its own clients, as well as the customers' customers, with the engineers, the end users and the oil and gas companies. "We are looking towards teaching the industry about recent developments in stainless steel production, and through being close to the market and understanding the challenges we can find the best solutions. Through consolidation and restructuring capacity we have set the foundations for the future but now we must execute our promises. We have reorganised our production capacity and product portfolio and we look ahead in a good position to be an even stronger partner to our customers in the future," Bernd concludes.
Outokumpu
Services: Global producer of stainless steel