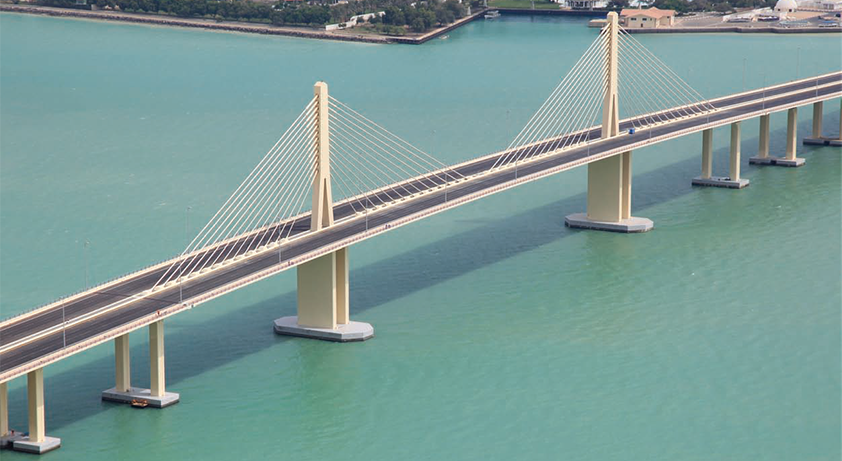 Consistent quality
Originally an Austrian firm founded by engineer Eduard Wilhelm AST in 1898, Overseas AST began operations in Dubai in 1959 and was officially incorporated by a Ruler's decree in 1964.
Having celebrated its 50th year of operating in the UAE in 2009, Overseas AST has been involved in a wide range of prestigious projects that contributed to the exceptional development of both Dubai and the UAE throughout the 20th century. These include the company's first project in the country, the dredging of the Dubai Creek, building of the Maktoum Bridge in 1962-1963 and the construction of a number of ports and shipyards.
"Overseas AST operated as a foreign entity until 1983, when two locals, Mr Khalifa Juma Al Nabooda, based in Dubai, and Mr Abdulla Mohammed Al Mazrui, based in Abu Dhabi, acquired a majority share of the business. The two acquired the remaining shares in 2001. The business has grown under the leadership of these two local Emiratis, with a heavy focus on the specialist infrastructure sectors such as oil and gas, marine and mechanical. Our marine side includes everything from installing quay walls, jetties, and marinas to dredging and shoreline work," explains James Wood, general manager of Overseas AST.
Predominantly working on real estate and leisure related projects before 2009, the economic crisis led to the company developing a strategy for diversification to ensure ongoing growth. Key to this plan was the penetration of the oil and gas market and the industrial infrastructure sectors. "Due to the size of the oil and gas sector in Abu Dhabi we decided to capitalise on this and our specialist experience helped us to enter this market," says James.
Dedicated to offering excellent customer service, Overseas AST has developed long-term relationships with major firms such as Abu Dhabi National Oil Company (ADNOC) and the family of companies related to it such as BOROUGE, ADMA-OPCO and TAKREER. "Another client is CMW, the Command of Military Works, we do the majority of jet fuel installations for the military; we have also completed 90 per cent of the jet fuel installations for Dubai Airport over the last eleven years," highlights James. "Primarily our specialist jet fuel installation services are for the military, we are identified in specialist markets and are aware of the importance of health and safety and adopting a high level of management value to projects we are involved in. We also utilise our own resources by using our own in-house capabilities, which saves time and allows us to control physical resource and be time-efficient."
With its own marine fleet of specialised vessels and barges and a total staff of approximately 1850, Overseas AST has the facilities, capabilities and expertise to take on the most challenging of projects. "We own five tugs, 15 barges ranging from 600 tonnes to 3500 tonnes, a large number of support vessels and specialised cranes and excavators for specialist projects. The ongoing investments of our marine fleet and in-house facilities is very important to us as this is an area of our business that requires constant upgrading. At the moment we are building an accommodation barge for operations offshore; these developments enable us to maintain a strong position in the offshore market, you really need excellent facilities to be involved in this industry," says James.
Continuing to have a role in shaping the face of Dubai, the company is currently working on the artificial islands for drilling with firms such as ADMA-OPCO and Petrofac, a move that is related to Overseas AST's interest in developing a foothold in the offshore industry. "The package is called SARB Package 7 and involves the construction of pre-cast drilling platforms and well heads to the two artificial islands. It involves 70,000 cubic meters of pre-casting in our own pre-cast facilities in the mainland of Abu Dhabi; following this, we have to then establish and maintain an uninterrupted marine logistics supply to deliver these materials to the islands," explains James. "It is a remote offshore environment and will involve us establishing our own accommodation facilities so we deliver on time to a very tight programme. We are also co-ordinating with the companies working on the other packages involved."
Dedicated to finding solutions to the biggest challenges in the offshore and marine industries, Overseas AST is working on two major seawater intakes for BOROUGE and TAKREER, as James highlights: "Both of these companies are part of the ADNOC family and both projects are for three metre diameter subsea pipelines and will involve 15km plus of these pipes going into the sea. This has never been done before, it is a world first." Having been involved in pipeline projects for the oil, gas and water sector throughout the Emirates for over 40 years, the company has a high level of expertise for pipeline projects as well as a large stock of roller stations and floats for the installation of subsea pipelines.
With an impressive portfolio of projects behind it, the future looks positive for Overseas AST as it continues to offer excellent customer service and high quality solutions to its diverse range of customers, as James concludes: "We want to be the contractor of choice in the specialist infrastructure side, expand our market further in the Gulf Co-operation Council (GCC) and also head more into the North African market. We also want to expand our capabilities in terms of the oil and gas industry and take on bigger and more complex projects. Overseas AST has been here for 54 years, we are well respected locally, but it is time to grow and create a world class business that will increase our turnover and profitability."
Overseas AST Company LLC
Services: Design and construction