Generating results
As a leader in the specialist design and manufacture of on-site nitrogen and oxygen generators, more than 2000 such systems from Danish-based Oxymat A/S are in operation around the world – a number which continues to expand.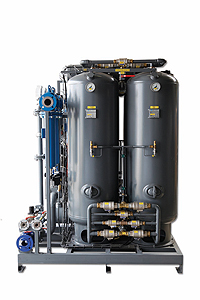 Whilst the concept of pressure swing adsorption (PSA) technology, which the company's products are based upon, may be over 40 years old, Oxymat's technology is considered state-of-the-art as a result of the continuous improvements being made to its products, driven by field feedback and in-house R&D.
The company has been manufacturing oxygen generators since its formation in 1978, and nitrogen generators since 2001, and possesses first-hand knowledge of the market, developments, demands and possibilities that PSA technology holds. Headquartered just north of Copenhagen, Denmark, Oxymat has grown from a two-man operation to a workforce of around 70 employees between its two manufacturing sites in Denmark and Slovakia.
The use of on-site generators is of particular benefit to clients as it removes reliance on external supplier gas needs by allowing for an uninterrupted supply of gas with a high purity output when and where it is required. At present Oxymat's standard generator systems are available in nearly 70 models, but drawing on its long experience in PSA technology and R&D capabilities the company can also develop tailor-made solution for every application. One example of this is the development of offshore PSA solutions, which are fully skid-mounted and built in stainless steel for the oil and gas sector. Crucially, these products were created together with companies with decades of experience in the industry to ensure their success from the very first delivery.
As a business long-rooted in its market managing director Jesper Sjögren touches upon the direction that Oxymat has taken in the last two years: "Since early 2010, Oxymat has enlarged its activities in China with offices in Kunshan and Hangzhou, which count more than ten employees now. In June2011 the company then opened an office in Bogota, Columbia, and we have taken the first preparations towards a new sales and service office in the Middle East. It is our clear intention to be presented worldwide and to be as close to our customers as possible.
"Our presence in China has been successful in following huge Chinese investments overseas in this sector. Furthermore, we have established partnerships amongst globally presented industrial gas companies, which gives us local presentation and quality in the early stages of projects. We see the Far East and Asia as our most potential market in oil and gas both for onshore and offshore installations."
The oil and gas sector is very much of focus for Oxymat, particularly in areas such as the Far East as the business is concentrating on countries with relatively high growth rates. "Our continuous R&D works focusing on energy consumption and CO2 friendly solutions seems to tie in with the market as more and more customers have noted this as an important driver, and we see increasing interest especially among young, strong economies to go for environmentally friendly solutions. The oil and gas sector is rather conservative towards accepting new technology, but countries with higher growth rates seem to be more innovative in their thinking," notes Jesper.
R&D remains an integral focal point of Oxymat's future strategy, particularly in light of the energy debate and likelihood of costs escalating in the future. To this end the company has enlarged its R&D department further and is close to submitting a patent for a new PSA technology, which will cut another 25 per cent off its energy consumption in order for Oxymat to stay at the front-line compared to any other PSA manufacturer worldwide. The company's PSA systems have also become much more user friendly, with one new technology in particular enabling full PSA systems to be monitored and controlled via any type of smartphone.
Such commitment to furthering its technological capabilities has also yielded other notable results for Oxymat, including the launch of its OPAS nitrogen purifier system two years ago. A true add-on technology, the OPAS system is aimed at applications that require nitrogen of one ppm quality, using only 0.4 kW energy per cubic metre. The demand for high quality nitrogen is growing, and with this technology once again Oxymat shows itself to be at the forefront with a low energy solution.
In fact the challenges that Oxymat foresees in its market are not generated by immediate competition for technological solutions, but stem from bottom-line concerns such as price. "Our factory in Slovakia, as a relatively low-cost European country, has enabled us to secure low production costs, but also reduce project
management and design expenses. This has made it possible to sell our products at much lower prices than our traditional Western Europe based competitors. However, we do see competition increasing from the Far East and Asian manufacturers, and therefore are putting in place a strategy to grow Oxymat in low-cost countries with high education levels to give us a foothold to compete with these companies when the time arise," concludes Jesper.
Oxymat A/S
Services: Oxygen and nitrogen generator systems