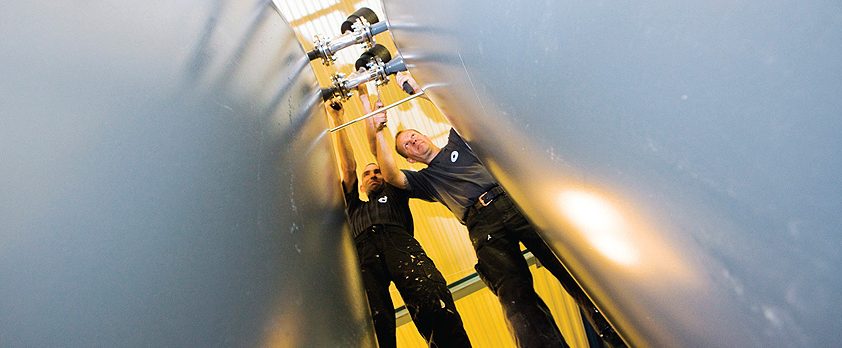 Generating success
Oxymat is a Danish company that began in 1978 with the production of oxygen generators, adding nitrogen generators to its portfolio in 2001.
In its early years, the company was owned and run by a small local gas provider, which handed control over to current managing director, Jesper Sjogren in 1995. He concentrated immediately on developing the business, purchasing it in 2000. To date Oxymat has grown from a twoman operation to a world player employing 70 people between its two manufacturing operations in Denmark and Slovakia.


While growing the business, Jesper also concentrated on improving quality and efficiency within its operations. He describes the importance of R&D in his business and how it has provided a major advantage: "Our main strength is the essential research we have conducted over the years. Our generators use pressure swing adsorption (PSA) technology – a concept that is over 40 years old, and we have improved it with our research. As a result, our energy consumption is setting new standards in the market and that is very important for our customers, as energy savings and CO2 reduction are some of the main issues in the oil and gas market at the moment."
The PSA technology implemented by Oxymat's generators is indeed a very clean process. The outlet product from a generator is a physical, not a chemical process and the only raw material required is air. Oxymat is a specialist in this market, with longstanding experience and first hand knowledge of the developments, demands and possibilities of PSA technology. Its PSA generators are continuously upgraded based on the field feedback received from customers and the results proven in its R&D department. Consequently, today the Oxymat technology is accepted as state-of-the-art.
On-site generators allow for an uninterrupted supply of gas with a high purity output. This means that companies can produce gas wherever and whenever it is required, in the exact quantities needed, and always at the highest quality. By using these systems, Oxymat's customers are able to become self-sufficient in terms of their gas needs, no longer needing the support of external suppliers. Oxymat's customers work internationally, and the business itself operates a solid distribution network, dealing with 100 distributors, agents and partners around the world. The generator systems are available in nearly 70 standard models, and cover oxygen flow rates from 0.6 to 1.200 (322) m³ per hour, and nitrogen flow rates from 0.3 to 4.000 (2.100) m³ per hour. All models operate with Oxymat's own developed control systems, which range from the simplest to the most advanced system with touch control screens with 3D visualisation to ensure that day-to-day operation is simple for the user.


"In high purity nitrogen systems we can produce down to 1 ppm in one step without the use of extra equipment and hydrogen," says Jesper. "We have by far the best air/N2 factor out of all European manufacturers nowadays. Also, we have by far the most competitive prices due to our low capacity costs and high investments in R&D to develop better performing systems. We launched our nitrogen ECO programme at the beginning of April 2009."
In 2006 the company opened a production site in Slovakia. Jesper elaborates: "Buying a factory in Slovakia allowed us to increase the sustainability of our business and reduce costs. The site began production in 2007, and so far has been a great success. We provide training there as well, so we can recruit locally. For the business the cost savings have put us in a good position to face the competition from East Asia, which we expect to be tough."
Looking to the future of the industry, Jesper first describes the difficult times experienced during the recession, before outlining his hopes for the future: "We have faced some very big challenges over the course of the last year and our core revenue reduced by around 25 per cent in 2009. We were managing to maintain a profit on the bottom line, but it was hard, and we had to look outside Europe at growth markets, such as Brazil, India, China, and Korea. This is also important for the future, because even if the record high order intake for the first 40 days of the year covers more than 40 per cent of our total budget for 2010, we believe that Europe will still be impacted by the crisis in a year and so we need to safeguard our business now. In terms of markets, we are still focused on Europe but we will continue to look into global expansion."
Finally he outlines his vision for the next five years: "I want to see Oxymat become known as the preferred supplier in the oil and gas market, as is already the case for the marine sector. We are quite certain that if we want to maintain our leading position as a supplier of these products in Europe, and pursue our goal to be the number one choice for rest of the world, we will have to look carefully at our costs to prevent competition from China, so this will remain a focus for the future. We're quite strong at the moment, so I'm confident that we can prepare for a leading position in five years from now."
Oxymat
Products: Oxygen and nitrogen generator systems