Radiant possibilities
Pacific Radiance delivers a wide range of marine and offshore vessel services to the oil and gas industry in Asia and beyond.
The Singapore-based company's main activities include owning and operating offshore support vessels, manufacturing deck equipment as well as the execution of subsea projects. Established in 2002 by a team of industry veterans whose business acumen has proven invaluable in navigating Pacific Radiance through the financial crisis to emerge as a more resilient owner and charterer, the Group now operates a fleet of around 125 vessels.
Commercial and business development director Mr James Pang outlines Pacific Radiance's strategy in having such a large and diverse fleet: "Our fleet includes dive support vessels, platform supply vessels (PSV), anchor handling vessels, multi-purpose supply vessels ocean tugs, accommodation work barges and vessels, offshore barges, and various other types of vessels. The spread is diverse and not restricted to a single asset class.
"This enables us to support our clients throughout the upstream oil field life cycle be it exploration, production, development, and even well abandonment. We supervise the construction of our own vessels – more than 100 over the past five years – and operate them; 60 of the ships are wholly owned and another 65 are part owned through joint ventures with various companies in Malaysia and Indonesia. This approach was adopted because we believe in partnering with local companies with local knowledge in a synergistic working relationship."
As part of the Group's newbuilding programme, three further vessels will soon be added: this comprises two PSVs and one anchor handling tug and supply (AHTS) vessels. All will be built to a high standard of specifications to increase fuel efficiency as part of a drive to offer more operational savings for clients. The two PSVs will feature diesel-electric engines and boast up to 1000 square metres of deck space as well as a large carrying capacity of between 4500 to 5000 tonnes. The AHTS will be capable of up to 200 tonnes bollard pull and is powered by a Wärtsilä hybrid propulsion system. The remaining six to 12 ships in the newbuilding programme will also be constructed to similar environmentally friendly specifications.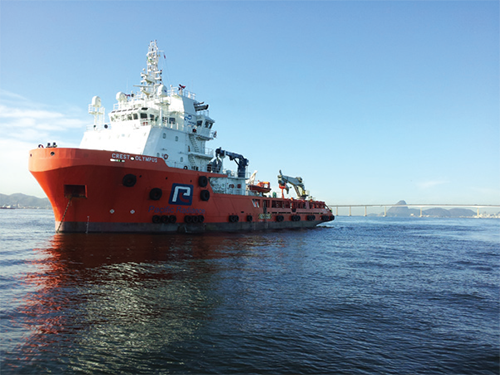 In addition to its large fleet, Pacific Radiance also owns a deck equipment manufacturing division which specialises in manufacturing machinery such as anchor handling winches, towing winches, A-frames, deck cranes, and others which are used on its own vessels. This provides the company with greater control over its supply chain as well as a shorter leadtime for critical shipboard equipment. The Group's subsea division was formed through the recent acquisition of an offshore diving contractor, which together with the control of the Group's own diving support vessels, enables Pacific Radiance to deliver turnkey offshore construction, maintenance, and repair work.
James goes on to share what he believes is the secret to Pacific Radiance's success: "For us it is all about the people. We recognise that the key differentiator in our industry is not the hardware but the professionals operating the hardware. You can have the most advanced vessels available but if crew competency and motivation are low then operations will be inefficient and dangerous. In this aspect, the Group is fortunate enough to benefit from its very experienced management team which comprises well-known industry veterans, a number of whom were responsible for pioneering the use of certain vessel asset classes in South East Asia."
Business for the company has picked up in the years following the global economic slowdown in 2007/8, with Pacific Radiance experiencing a recovery in vessel asset utilisation as a result of an increase in offshore exploration and production activities on the back of firm oil prices. "The only concern is the surge in interest in the offshore sector by investors and even traditional shipping companies, which are turning away from the conventional shipping sectors of bulk, container, and tanker shipping," says James. "That means our ndustry is now attracting even greater levels of unwarranted liquidity which will lead to a dramatic increase in the supply of new offshore support vessels being constructed, potentially upsetting market supply-demand balance. This will add pressure to vessel utilisation and charter rates sometime in the next two or three years. In addition, the market will experience greater fragmentation with the entry of many smaller newcomers possibly leading to a decline in operational standars. What the industry needs as a whole, is consolidation and not destructive competition which is likely to happen as a result of the above."
Nonetheless, Pacific Radiance remains upbeat about its market position. Controlling a wide range of vessels and with diverse capabilities allows the Group to develop synergies that provide the client with a complete package of services. In fact, in August 2013, the company will be shifting into a new state-of-the-art headquarters in Singapore equipped with over 180 metres of waterfront land and two 100-metre dry docks, which will further add ship repair capabilities to its range of service offerings
"The key to remaining competitive will be to operate with the highest standards of health, safety, environment and quality, and to build good assets at the best prices so that we can deliver a high standard of reliability coupled with competitive pricing to our customers," says James. "If the market experiences an oversupply of vessels then the companies with lower capital and operating costs will have a competitive edge. In addition to that, Pacific Radiance will continue to adopt a long-term view of the business and work to enhance our operational expertise whilst retaining experienced personnel to ensure continuing success."
Pacific Radiance
Services: Comprehensive support solutions