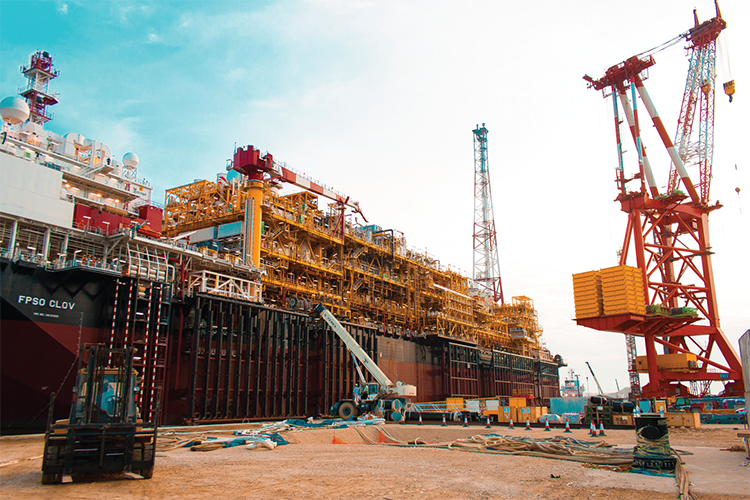 A collaborative approach
Playing an integral role in the offshore oil and gas development in Angola since 1968, SBM Offshore began operations in the southern African nation with the supply of a shallow water CALM buoy to Gulf Oil. Following two decades of increased activities within the Angolan oil and gas market, SBM Offshore founded SBM Offshore Contractors Sucursal de Angola to manage all SBM related activities in the area; today this includes the construction, installation and operation of FPSOs.
Angola has been further transformed by its offshore energy resources and has become Africa's top oil producer; for example, in 2010 the nation had a production capacity of two million bpd, which was up 400 per cent over the last 20 years. Aware of the incredible opportunities within Angola, SBM was keen to forge close working relationships with Angolan partners through joint ventures that enabled local companies to benefit from its global experience within the oil and gas industry. A key example of this took place in 1998, when Angola's state oil company Sonasing was created through a joint venture between Sonangol, SBM Offshore and other local partners. Established to promote Angolan participation in oil and gas activities and to acquire FPSOs and FSOs for charter to the Angolan oil industry, Sonasing's inception has led to SBM participating in the design, supply, installation and commissioning of five FPSOs so far: Kuito, Sanha LPG, Mondo, Sax-Batuque and Xikomba. The latter of which has since been significantly upgraded and renamed N'Goma FPSO, which was relocated in July 2014 to block 15/06.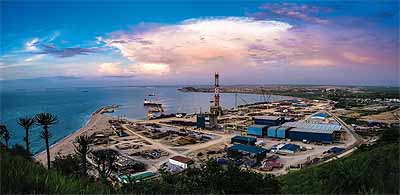 The group's commitment to Angola was intensified with the joint venture between Sonangol and SBM, OPS Servicos de Producao de Petroleos Ltd, in 2003; the local company manages the Angolan fleet of five FPSOs that are owned by Sonasing and also employs and trains a 500 strong Angolan workforce. OPS benefits from the extensive experience of the SBM Offshore Group and boasts more than 40 years of cumulative experience in the delivery of operations and maintenance work in offshore Angola. In fact, the company has delivered excellent results since its establishment, with 735 million barrels having been produced by June 2014 and an impressive fleet uptime of 99 per cent. The company also provides the Angolan offshore sector with safe, reliable floating production and storage facilities.
OPS also focuses on continuing to develop Angola's own domestic offshore technical expertise through offering a comprehensive range of services, including design and construction, mobilisation, installation and operation.
Noticing a significant lack of offshore construction capacity in Angola, SBM and Sonangol established PAENAL Yard (Porto Amboim Estaleiros Navais Lda); in 2010, Daewoo Shipbuilding & Marine Engineering (DSME) became the third business partner within the venture. Developed in Porto Amboim, in the Kwanza-Sul region, the yard has since become one of the most modern yards in Africa. Moreover, in 2012, it received the Fabricator of the Year award from the Angolan Minister of Petroleum for its work at the Porto Amboin yard; work includes its first contract in 2008, which involved supplying two shallow water CALM Buoys, and its first FPSO topsides contract in 2010. This project involved the topside fabrication and integration of Total's FPSO Clov, a 305 metre long, 61 metre wide vessel that today is able to reach a production level of 160,000 barrels of crude oil per day; it can also store up to 1.7 million barrels in volume.
When the vessel pulled up quayside in PAENAL in November 2013, this arrival not only represented the successful completion of her voyage from DSME Shipyard in South Korea, but also set a record by being the first FPSO to berth at an African quayside. In the same month, the PAENAL fabricated 1836 tonne module M122 was lifted onboard the FPSO Clov by PAENAL's heavy lift crane Jamba. As Africa's largest crane, Jamba (which means elephant) was inaugurated in August 2013 after being built by PAENAL at a cost of $50 million. Designed by Ihi Unyo Kikai in Japan, the crane can lift cargo weighing up to 2500 tonnes. The successful operation also made the record books for PAENAL and Africa as it was the first topside module integration to be performed in Africa. On the 5th December 2013 PAENAL yard was used as the location for Total's naming ceremony of FPSO Clov; the event was a double celebration as it coincided with the major oil company's 60th anniversary of operating in Angola.
With this game-changing project complete, the shipyard celebrated the arrival of N'Goma FPSO at its 490-metre quayside on 17th June 2014. The arrival of this second mega FPSO in a mere eight months helped cement the shipyard's reputation key position in the oil industry and demonstrates PAENAL's expertise in handling challenging projects. For the N'Goma, the shipyard fabricated two of the FPSO's modules, the sulphate removal package and the hot oil pump, both of which were successfully lifted and integrated onboard the vessel. The project also included upgrades to the hull, turret and the integration of new and refurbished topsides, which was completed at Keppel Shipyard in Singapore. Once work on the FPSO was completed, it began operations on the Eni operated block 15/06 west hub offshore as part of OPS' fleet under a 12 year lease and operation contract with ENI Angola SpA.
As one of the most significant investments ever made in Angola's oil and gas industry, and with its 490 metres of purpose-built quayside and the HLC Jamba in place since the final quarter of 2013, PAENAL has been fully commissioned for the accommodation and installation of topsides into mega FPSOs for almost two years. This development represents an integral part of Angola's history as it focuses on sustainable growth and strengthening the country's ability to support the offshore oil and gas sector as well as deliver prosperity for its people.
Indeed, not only have SBM, DSME and Sonangol been investing in facilities, the two firms have also spent the last eight years fully qualifying and training 420 local people into becoming skilled welders and fabricators. As the biggest employer in the region, with a workforce of more than 1200 employees, PAENAL represents a true success story for Angola, and today stands proud as a thriving hub of activity that will continue to attract growth over the many years to come.
PAENAL Shipyard
Services: Fabrication and integration yard