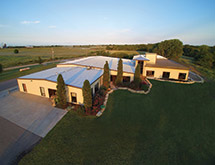 Palomino Petroleum Inc. has a long history of drilling in the oilfields of Kansas, and President Klee Robert Watchous says one of the main reasons for the company's success has been its ability to work well with others. "I think we have had a great deal of success for a variety of reasons, but we've always had good relationships with landowners, service companies, contractors and even with other oil companies," Watchous says.
The company has been promoting positive relationships since 1969, when Watchous' grandfather founded the company. A geologist who had been working in exploration and production since the late 1940s, R.W. Watchous helmed Palomino Petroleum until his death in 1993, at which point Klee Robert Watchous assumed control of the company. Today, Palomino Petroleum concentrates on exploration and production in Kansas with the assistance of its partners WW Drilling and Western Kansas Dirt Construction.
Although the recent plunge in oil prices has the entire industry concerned, Watchous says Palomino Petroleum is confident that its ability to find oil in Kansas and work successfully with others to get it out of the ground will continue to serve it well in the future.
Despite the fact that many of the state's biggest oil-producing sites have been utilized, there are still plenty of opportunities to take advantage of, and he believes his company will be in a good position to make the mostof them.
Integrity Matters
Palomino Petroleum's success in the Kansas oilfields is determined mainly by the company's ability to work together with the many parties involved in discovering oil, from leasing to exploring and eventually drilling a prospective oil well. Watchous says that's due, in large part, to the principles that have been the company's bedrock since its inception. "We can work with people, and honesty, integrity, character … all of those things matter to us," he says.
The company's staunch integrity is, in fact, the single most important element of how it does business. "That really is the backbone of what we are," Watchous says. "If we say we're going to do something, we're going to do it. That sets us apart because we've enjoyed good relationships with people in all facets of the industry for many, many years."
Strong relationships with professionals outside of the company are crucial for Palomino Petroleum. It's important to note the role that certain connections with industry affiliates play in its success. WW Drilling and Western Kansas Dirt Construction provide the company with rotary drilling and dirt services, respectively. With these capabilities, it can be assured of the same high level of quality work every time.
"Both of those companies are vitally important to the success of Palomino because we work hand-in-hand on each and every project," Watchous says.
Another important aspect of Palomino Petroleum's success is its use of 3D seismic data in the assessment of the land it leases. Watchous says the use of this technology has made it possible for the company to locate prospective drilling sites that would not have been identifiable in years past. "We, as a company, have been a proponent of 3D seismic over the past 15 years or so," he says. "We get smarter with every well we drill." The use of 3D seismic data has become more important for Palomino Petroleum over the last several years as exploration has become more difficult in Kansas.
Finding Opportunities
More and more of the state has been explored and drilled as existing well sites have been tapped, making those opportunities more difficult to identify. "Simply put, the low-hanging fruit has been picked," Watchous says.
Although many producers are nervous because they don't have the resources in place to take advantage of these challenging opportunities, Watchous says Palomino Petroleum isn't sweating it at all. "I believe that we have the right team in place, our processes are such that we know how to evaluate the areas in which we work, and I believe that sets us apart and puts us in a great position to take advantage of the opportunities that are out there," he says.
Not Giving Up
Being able to identify those challenging opportunities will give Palomino Petroleum a leg up in the industry over the next several years, especially as the industry starts to move away from the traditional drilling areas in Kansas. Regardless of where the price of oil settles in the months to come, Palomino Petroleum is dedicated to remaining active in the industry and building upon the strong relationships it has forged over the years. "Pessimism seems to rule the day now because the prices are so low, but we're not going to give up," Watchous says.