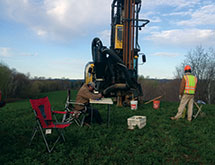 Paramount Sand of Wisconsin
There's no doubt that hydraulic fracturing is on the rise in North America as an effective means of unlocking oil and gas in reserves previously believed to be inaccessible. As an essential component of the fracking process, frac sand has become a hot commodity, and those with access to the highest-quality frac sand stand to be a major supplier to the energy sector. That's why Matthew Segerstrom and Travis Adams have confidence that their company, Paramount Sand, soon will be one of the leading providers of frac sand in the industry.
Segerstrom and Adams are Wisconsin natives, their deep roots and close ties to the local community along with their business development backgrounds are what brought rise to the Paramount opportunity. Armed with verified sand assets, a team of industry experts and a close connection to western Wisconsin, they decided to enter the frac sand market in 2012. "Our local ties to the area is one of our biggest assets, this is where we grew up and being good stewards in the area is of upmost importance to our company," Segerstrom states. He and Adams both convey how meaningful their company mission statement was to them, which states: "Paramount Sand of Wisconsin was formed to safely, effectively and efficiently process and provide customers with high-quality Wisconsin frac sand. This is to be done while being good stewards of the land, community and industry with professionalism and integrity at all times."
In the time since they co-founded the company, Segerstrom and Adams have been working diligently to ensure they have all the right pieces in place to effectively market the company's Wisconsin frac sand to the energy industry. That experience gave the partners a strong base of knowledge about the mining sector as well as numerous connections within the industry. The company's founders say that by having superior-quality frac sand and through proper preparation, Paramount Sand is ready to make 2014 its year. "We're looking for 2014 to be a break-out year, as our first mine and processing plant are going to be coming on line," Segerstrom says.
Superior Assets
The biggest asset Paramount Sand has is its frac sand deposits, which are located in Trempealeau County, Wis. This area of the country has become well-known for producing some of the highest-quality sand for fracturing applications. The frac sand found in Wisconsin has a more uniform composition than typical frac sand, with grains much rounder than other varieties. These qualities make it easier for the sand to be carried in a liquid suspension into a well without much turbulence, and its shape provides resistance against the crushing forces of fractures in the rock. "The Wisconsin sand has superior qualities to other sands," Segerstrom says.
Paramount Sand's mine in Trempealeau County not only features some of the best frac sand in the region, but it also provides the company with added benefits. The site is already permitted for processing facilities, which will help reduce the amount of time it takes to bring the sand to market. On top of that, the site is close to major highways, which will make the company's sand easily transferable to railways.
Paramount Sand's mine will come online with washed sand in the fourth quarter of 2014 and with finished frac sand by the second quarter of 2015.
Also, on the subject of railways, Paramount Sand has a Union Pacific-approved transfer facility in the early stages of development. The facility, which will be operated by Fairchild Rail, will give Paramount Sand a convenient method of getting its sand to the marketplace.
This Union Pacific-approved rail transfer facility will be unit train capable, which will play a vital role in Paramount competing as a major Wisconsin producer. Segerstrom explains that the company also has opportunities to load onto the Canadian National and Canadian Pacific railroads to serve other fracking markets, as well.
Slow but Steady
According to Adams, one challenging aspect of the company's preliminary work has been navigating the local permitting of mining related operations. "There are numerous regulatory agencies overseeing our operations but, in some municipalities, we have encountered the permitting environment to be adversarial instead of a collaboration to find a reasonable solution."
In addition to regulatory red tape, the company's position as a smaller newcomer creates challenges because the market already contains numerous large-scale, established competitors all jockeying for the same customers and space in rail cars. However, Paramount Sand has been taking the time to ensure that when it does cycle into production, it will be able to hit the ground running with minimal missteps.
Segerstrom says Paramount Sand has been very selective about the partners it chooses to work with, and has been following a slow-but-steady schedule for bringing its facilities online. Although this means the company has been taking the slow road to production, Segerstrom says he believes it will put the company in a position to succeed right away. "We haven't been in a hurry as we want to do this right," he says.
The company's approach will start to pay off soon. Its mine will come online with wash sand in the fourth quarter of 2014 and with finished frac sand ready by the second quarter of 2015. After that, Paramount Sand's transload facility will come online in either the second or third quarter of 2015.
The company is anticipating production of 650,000 tons of sand in 2015 while increasing to 800,000 tons of plant production by 2016.
Segerstrom explains that taking the time to do things right should give Paramount Sand a good head start on its mission to become one of the top-10 producers in the Wisconsin frac sand market.
"We have a really good vision for the future of further expansion," he says.