Parkburn Precision Handling Systems
Commitment to excellence
Operating out of its two UK bases in Hamilton and Telford, Parkburn Precision Handling Systems is a specialist marine handling systems provider that was rebranded in October 2002 to combine the extensive experience and complimentary products of Parkburn Controls, Dowty Precision Handling Systems and Marine Project Development (MPD).
Engineers Dennis O'Hara, Campbell McFall and Andy Lawson, who today remain equal shareholders and owners as well as working directors within the business, originally founded Parkburn in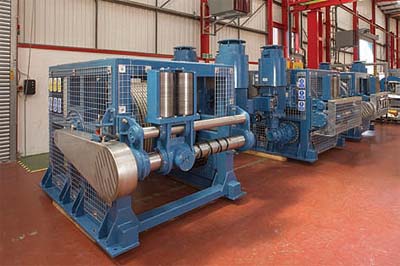 1989 as a private limited company providing control and drive solutions for original equipment manufacturers (OEMs) across a wide range of industries. Later during 2002 Parkburn, having made the conscious strategic decision to become its own OEM product manufacturer, completed the acquisition of its largest customer at that time, Dowty Precision Handling Systems, part of the Smiths Industries Group.
Today, Parkburn has evolved into a total handling systems solution provider to the oil and gas, offshore, naval, and oil and renewable energy sectors. With three engineers running the company, there has always been a total commitment to technical excellence and full customer support. "The company remains engineering driven as well as a strong believer in research and development and continues to re-invest significant turnover in this respect," elaborates director, Andy Lawson. "Partnershipswith both customers and suppliers are key. We believe that the best project solution is for all involved to feel that they are a valued team player with a combined 'desire to succeed' rather than a 'commercial fear of failure.' We do not promote blame culture or complacency and believe that it is a constant learning process in moving ahead and appreciating where improvements can be made."
Through its commitment to technical excellence and dedicated research and development, Parkburn has been able to deliver many differing types of Marine handling system solutions for applications including diving bell launch and recovery, rigid and flexible pipelay, HV cable storage and lay, seismic and sonar system deployment, deck module handling and seabed landout in both offshore and renewable sectors. Additionally, complete carousel cable or pipe storage and handling systems, land and sea, with payloads of up to 7000 tons have been provided year on year.
Increasingly, as oil and gas operators move into ever-deeper waters the demand for robust and reliable equipment is becoming an ongoing concern. Through its in-depth experience, Parkburn has devised a new deepwater heavy lift fibre rope winch system, which aims to revolutionise deep sea operation, as Andy explains: "With the move into deep water, beyond 1500m depth, for the majority of future oil and gas developments; the need to be able to safely and economically deploy and recover equipment to and from these depths has brought many challenges to the industry. At depth, the weight penalties of current steel wire systems are becoming a major issue and as we go deeper we will soon reach the point where the wire weight alone will be too much even to support itself, therefore alternative solutions are essential.


The industry for the last 12 years has been striving for reliable solutions utilising synthetic rope in lieu of steel wire as this type of rope is effectively weightless in water and has no penalties associated with depth. Parkburn has worked and developed patented solutions for handling and deploying synthetic ropes as part of its R&D work in addition to its normal project work and after extensive testing, is now looking to take these solutions to the offshore heavy lift and crane sectors in the coming year. Parkburn's system, we believe, provides the kindest de-tensioning, handling and storage of rope in the market today and coupled with the rope termination technology of our partners; we believe this will be the game changer for deepwater heavy lifting."
Further to the development of bespoke equipment that the company delivers, Parkburn is also keen to ensure that it invests in its facilities and testing capabilities to ensure that it is able to fully meet the demanding needs of its clients and to ensure all equipment delivered is fully tested and validated prior to delivery. "In the UK and Europe, there is a major lack of good facilities that would allow winch and handling systems to be thoroughly tested prior to being installed on to a ship," Andy says "The cost of these ships at the quayside when not working is very high so downtime for the vessel must be mitigated wherever possible. Our new test facility at Telford will allow a far higher and more thorough set of tests to be carried out on our handling systems, far more like its actual use and installation on the ship. In this way, the client can be thoroughly satisfied that the system will work as required. Our new test tower is 30m tall and is capable of lifting loads up to 125te, we can also simulate many of the emergency situations likely to be seen in an offshore environment, such as full speed dynamic testing and black ship situations, to ensure safety circuits and back-up systems are fully functioning"
Parkburn has a strong dedication to achieving 'best in class', which is reflected in its rolling fiveyear plan to raise the bar of what is technically possible. With continued focus on technical excellence and customer support Parkburn is set to remain a vital partner to operators looking for the most demanding and reliable solutions.
Parkburn Precision Handling Systems
Services: Marine handling systems