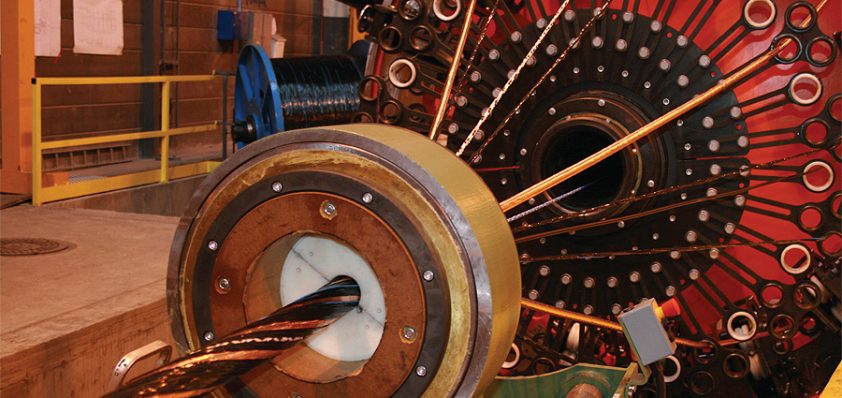 Installing confidence
Originally part of the ABB Group, Parker Scanrope has been through a number of transitions and alterations throughout its 200 year history including being part of the Blom Group, until it was acquired by the Parker Hannifin Corporation last year.
Parker is the world's leading manufacturer of motion and control technologies and systems that provide precision-engineered solutions for a broad range of market needs. Since the acquisition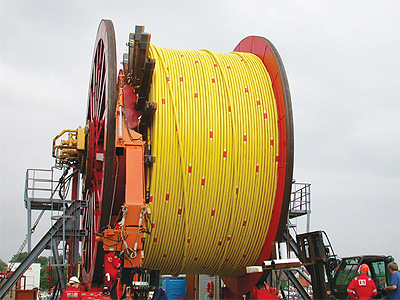 Scanrope has grown to have the largest and most modern manufacturing facility in the industry, using its expertise and specialist know-how to produce the highest quality control umbilicals and mooring systems.
The company's products fall into two distinct divisions, the first consisting of subsea umbilicals and power cables mainly for the oil industry, and the second for deep sea mooring systems made up of both polyester and standard steel wire for use with floating production units, mobile floating units and drilling rigs. In addition the company has recently entered the renewables market, by adapting its existing capabilities to facilitate the needs of offshore wind farms. Scanrope supplies its range of products throughout the world including the North Sea for both the Norwegian and UK markets, and as far afield as West Africa, Russia and Kazakhstan.
In addition, Scanrope's sister company – Parker Cabett – manufactures umbilical products, which not only complement those made by Parker Scanrope, but are also preferred by many companies in the Gulf of Mexico market. With a well-earned reputation in the industry, the business operates from a state-of-the-art dockside umbilical manufacturing facility at Port Freeport, Texas, which has a 750 foot wharf with a minimum 36 foot water depth. This location offers logistical and economic advantages for customers for a range of equipment testing and mobilisation operations.
Eric Rynning, business development director of the company, highlights Scanrope's main strengths: "On the wire rope side it's the manufacturing capability and the history we have – we've been on the same site for over two centuries. As a result of the recent investment we now have by far the largest production facility in the market, and for the wire and polyester lines this is a massive benefit as we can produce rope in any length. With regards to the umbilical and cable side, we were previously a small division of ABB and I think we still hold that small company flexibility in reference to meeting customer's individual requirements, it is only now that we are part of Parker that we can give them the financial backing as well. Our years of experience, history of fault free products, and our extensive facilities set us apart from competition."
Being part of Parker has meant that Scanrope can continue its series of investments even through this time of economic difficulty. Currently the storage facility of the company is being increased by 3000 square meters, in order to accommodate the storage of the larger carousels that are enabling Scanrope to produce in bigger quantities. A 6500 tonnes carousel is also awaiting installation and will bring further storage and production capabilities. In addition Parker, as a component manufacturer, is highly experienced in lean management and is passing this knowledge onto Scanrope's
operations.
In regards to the present industry conditions and the challenges Scanrope is facing, Eric outlines the company's plans to overcome the economic downturn: "At the moment we have a fairly strong order book, especially in the standard steel wire mooring systems and we have recently landed a couple of projects in that area so we are still very active, though there is no doubt that there has been a number of changes in the market. Within the power cable side there are a lot of new companies coming into the industry who have recognised the opportunities in that area, and that creates a challenge in terms of increased competition. However we have demonstrated our quality capability in the projects we have already completed and our experience and flexibility speaks for itself. In terms of umbilicals and the oil industry, operations have changed, the building of large offshore platforms has reduced and developments are heading towards the subsea sector, demanding more from umbilical capabilities. In addition, a lot of the easy oil has been found and oil companies have to reach deeper waters for discovery, we are able to support this change. Though there may be potential uncertainty in the short-term, in the long-term we are confident of our role in the industry."
Adapting operations to fit the needs of the renewable market has been a positive move for Scanrope. Though a logistically different market, the wind farm industry has increasingly been ukturning to the subsea market for its experience, and Scanrope already has the product capabilities in place to facilitate utility company's needs. Flexibility has been key for the company's success in this area, some companies require cables to be delivered in long single lengths and spooled directly onto vessels, while others are looking for smaller lengths supplied on reels – Scanrope can accommodate both of these requirements with ease.
Looking to the future, Eric outlines his vision for the company: "Previously we had constraints due to size of machinery, now because of the investment and backing we've received from Parker we have the capability, as well as the experience to meet customer requirements and hold a significant role in the marketplace. We are very keen to pursue operations in the renewables market, we predict a lot of developments in that area and not just for wind farms but for subsea turbine systems and barrages as well. We will also be supporting the changing trends in the oil industry to deeper waters – we have the ability to move with the market and are in a good position to continue growth."
Parker Scanrope
Products: Umbilicals and mooring lines