Powering the industry
Parker Scanrope, which was previously known as Scanrope Subsea ASA, is one of the industry's leading developers and suppliers of power and production umbilical cables for subsea and oil and gas operations, and mooring lines for floating oil production and exploration units.
More recently, the business has moved further into the supply of power transmission cables to the renewable industry such as offshore wind power, tidal and wave applications. The company's success relies on its dedication to innovative technology, and continued investment in its production capabilities.
Scanrope's history can be traced back to 1796, when it was established as a company that supplied rope to the Norwegian maritime industry, actively supporting the growth of trade in this field. In subsequent years the business has experienced a number of significant changes, each contributing to its position today as one of the globe's leading manufacturers of cabled products for the world's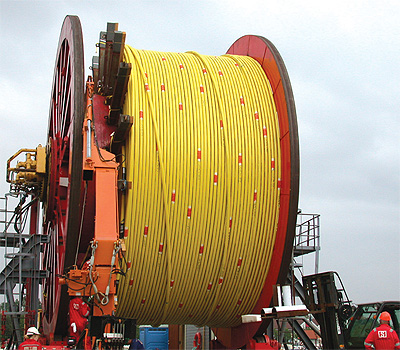 energy industry.
Per Einar Nilsen, divisional director at the business, elaborates on the company's more recent history: "We were originally part of the ABB Group – a global leader in power and automation technologies. ABB then sold off its oil, gas and petrochemicals division, which was bought by a group of individuals and Scanrope. Later, in 2006 the Blom Group took over the business – this organisation collects, processes and sells high quality geographical information. Blom acquired Scanrope because it wanted to optimise the emerging opportunities in the oil and gas sector."
More recently the business has taken a major step forward in being acquired by the Parker Hannifin Corporation, the world's leading manufacturer of motion and control technologies and systems that provide precision-engineered solutions for a broad range of market applications. The acquisition offers considerable benefits for Scanrope, including belonging to a global company that has a proven performance culture and a network of business activities that involves around 57,000 employees in 43 countries across the world. "As we are now part of the Parker Hannifin Corporation we believe that we will have a very strong future ahead," says Per Einar. "In addition to benefiting from its worldwide presence we have been working very hard with the organisation on implementing new lean manufacturing techniques."
These new techniques have been accompanied by considerable investment in the company's production capabilities and facilities – work that has made its site in Tonsberg, Norway, the most modern manufacturing facility in the industry. Comprising of some of the largest, most complex machines available, and its own deepwater quay that allows direct ocean access for large vessels, the site offers an unrivalled manufacturing capacity for umbilicals, power cables and mooring lines.
Per Einar elaborates: "It is the most up-to-date production facility in the world at this point and gives us a definite commercial edge over many of our competitors in the market. It was fully commissioned last year and has already seen us take massive leaps forward, including increasing our production capacity by more than 300 per cent. The site is situated on the water's edge and can load our products onto sea-going transport vessels using a 250 tonne crane from several turntables. To accompany this new site we are also in the process of building up a stronger engineering pool. Parker has helped us considerably in this. They have approximately 290 fabrication facilities worldwide and a great deal of competence in lean manufacturing techniques in modern facilities."
The company has supported this by investing in new machinery and production equipment, including new fibre anchoring systems and one of the largest cabling machines in Europe. The latter is capable of handling every type of power and control cable, and has significantly improved production efficiency at the business.
As a leader in its field, Parker Scanrope offers one of the industry's most complete ranges of umbilical cable products and mooring lines: "We really do offer the whole product line with regards to an umbilical system or a multi-purpose cable," says Per Einar. "This encompasses both control and power umbilicals, together with power cables to the renewable industry such as offshore wind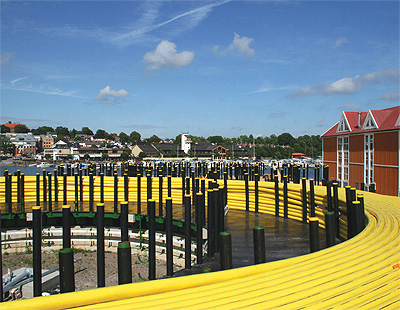 power, tidal and wave applications. In addition we make mooring lines in a number of materials for a range of applications."
Specialising in larger diameter/big unit weights of mooring lines for floating production and exploration units, and control umbilicals and subsea power cables, the company provides products to operators in Europe, West Africa, North and South America, Asia, the Middle East, and the Caspian Sea.
As Per Einar explains, this encompasses many of the industry's leading players: "Our long list of customers in the offshore sector includes wellknown names such as Saipem, Statoil, Norsk Hydro, and FMC Kongsberg. Additionally, we have been entering the offshore wind power market, working with companies such as E.ON and npower. We work very closely with our customers, and also look to enter partnerships with third parties here in Norway during the development of new products."
Parker Scanrope has the largest manufacturing capability in the world for spiral strand mooring lines for permanently moored floating production units, as well as for six strand anchor lines used on mobile units. With an unsurpassed reputation in the industry, the business has produced such mooring lines for some of the world's deepest moored installations, including BP Atlantis and Shell/BP's Nakika, which are both situated in waters up to 2000 metres. Alongside this, the business is also a world leader in polyester lines, manufacturing the products on two state-of-theart manufacturing machines. One of these features a world's first direct in-line tensioning/measuring system that provides unsurpassed lengths with extreme accuracy.
In the field of umbilicals, Parker Scanrope manufactures both control and power solutions for use in a range of offshore and subsea operations. The company's control umbilicals, which consist of hydraulic lines used for the transfer of chemicals and fluids, are used for the control and operation of subsea production, processing and injection facilities. Available as either simple static umbilical lines or complex dynamic umbilicals, the products are manufactured as thermoplastic hoses or Super Duplex steel tubes
Alternatively, Scanrope's innovative power umbilicals are used for the transmission of electric power between installations offshore, and for the supply of electric power to a range of subsea facilities. Each product is customdesigned in accordance with individual customer specifications, and typically contains fibre cables, hydraulic lines, electrical signal cables and electrical conductors.
Recently, the business has looked to expand its service portfolio by moving into the production of power cables for the renewable industry. This relatively new market is offering a wealth of opportunities for companies with the depth of experience that Scanrope has. Per Einar sees it becoming increasingly important in the coming years: "This is a very exciting area for us as it is just starting to develop, which means that thereare plenty of openings available. We have recently been awarded three contracts for the supply of subsea cables to offshore wind farm projects – all of which are in the UK sector."
Looking ahead, Per Einar is confident that with the backing of the Parker Corporation, and the favourable market conditions, the future looks bright: "Overall the market looks very good for the coming years, both in the offshore sector and in the burgeoning wind farm area. We are seeing the more traditional approach of large fixed platforms slowly decreasing and that deepwater developments and subsea operations are becoming more commonplace. This is very good for us as the deeper that companies go, the more important reliable and efficient umbilicals and power cables become.
"Of course there will be challenges in moving forwards, and one of the things that is particularly important is to find skilled engineers and employees, and to keep them in the business. We are running a recruitment programme to address this issue, which has been successful during the last six months. Overall we aim to continue our growth pattern for the foreseeable future, expanding by around 50 per cent in the coming three years," Per Einar concludes.
Parker Scanrope
Services: Umbilical and mooring systems