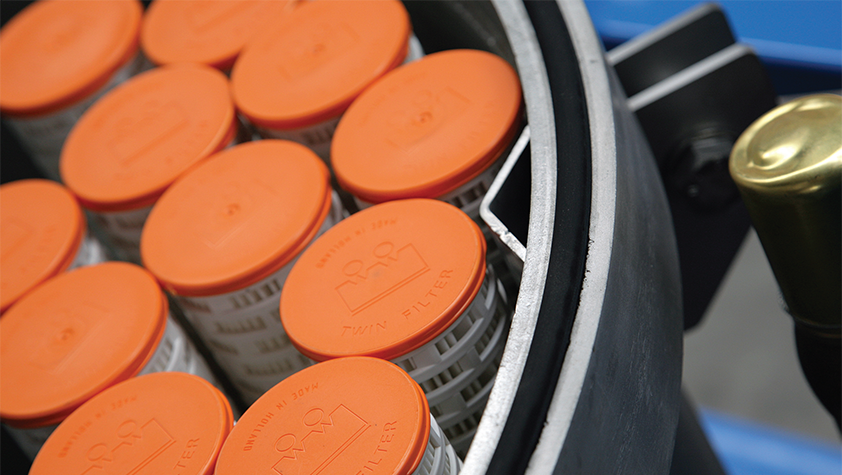 Double the innovation
Founded in 1985, Parker Twin Filter designs, engineers and manufactures a full range of filtration equipment and consumables for clients in industries such as the oilfield, chemical, electronic, pharmaceutical, sulphur, amine, food and beverage.
Its products are used in over 80 countries and developed in its own manufacturing facilities, where standard filter consumables for liquid, gas and air applications, as well as custom made products for OEMs are produced.
In late 2012 Twin Filter became part of Parker Hannifin Corporation, which has a strong strategic focus on the oil and gas industry; the transaction is beneficial to both parties, as Eric Wais, oilfield division manager of Parker Twin Filter, elaborates: "Parker Hannifin operates on a global scale through a network of more than 50 customer service centres and has a strong presence in all regions, thus guaranteeing immediate service to our customers all over the world. The addition of Twin Filter to Parker Hannifin's portfolio will make it a global leader in the oil and gas industry; furthermore, Parker Hannifin will be of great value for expanding our process and food and beverage market."
Twin Filter customers will continue to receive the same high standards of service and solutions following the transaction and will gain a one-stop-shop solution for their oil and gas needs. "Parker offers a wide range of filtration products for the oil and gas industry, including filters and filter vessels, compressed air dryers, hydraulic filters, fuel handling products and nitrogen generators, and that's just the filtration group," highlights Eric. "In addition to filtration, Parker offers many other products for the oil and gas industry such as instrumentation, hoses and connectors." On top of this, Parker's dedicated global oil and gas team, led by Twin Filter's corporate office, ensures the company can consistently meet the changing needs of the industry.
With 25 years of experience in filtration, this innovative company has focused on the quality of its environment, working conditions and the organisation itself. This dedication led to the company receiving the ISO-certificates 9001 and 14001 and the VCA certificate for its Twin Filter Internal Quality care system. Proud of its great teamwork and enthusiasm, Parker Twin Filter hires highly qualified and experienced engineers that can provide assistance in areas such as problem solving, commissioning, project engineering and sample analyses. The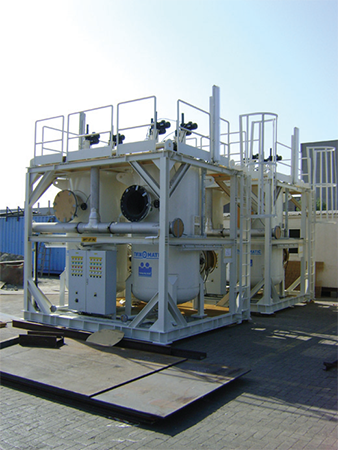 company continuously strives to improve products and develop new solutions for its customers. "Our engineers are constantly innovating new products and we are able to offer complete packages including all auxiliaries such as pumps and storage tanks," says Eric. "All of these products comply with the highest industry standards and we have experience in local standards and codes such as ASME, ADTM, DNV and many more."
Renowned as a problem solver, Parker Twin Filter supplies filter services and solutions for projects such as completion/gravel pack fluids, work over fluids, water injection, oily water clean-up, waste water treatment, pipeline flushing, produced water treatment and sea water intake filtration. "We do not offer one solution to our customers; alongside our standard product range we also customise solutions," adds Eric. A recent product developed by the company is the TwinZapp, which reliably polishes slop water and produced water through a two-step process: the emulsions are destabilised through an oxidization process and the resulting neutrally buoyant particles are then separated with a deep filtration system. The technology was tested offshore throughout 2011 and has so far provided consistent results, with the free oil content typically reduced from 2000 ppm (parts per million) to 500 ppm.
The firm's main market is fluid filtration in the upstream oil and gas industry and it has worked with major oil companies such as Total, GDF, Shell, Wintershall and Statoil. In 2012 Twin Filter's expertise, references from some of the major oil and gas companies and knowledge of media filters led to it being selected by GS E&C in Seoul, Korea, to supply two nutshell filter packages. "Each train (package) consists of four identical skid mounted nutshell filter vessels, and these (wall) nutshell filters will be among the largest in the world, with each horizontal filter vessel 2.7 metres in diameter and approximately 13.5 metres in length," explains Eric. The two nutshell filter trains will each have the capability to filter 2319 m3/hr of produced water, which will then be used as injection water for enhancing natural gas production; they will be installed at KOC for the WARA Project in Kuwait.
With oil and gas still as a growing market, despite the current economic crisis, the company is positive about its future and the competitive benefits of the recent integration and aims to continue offering its customers the best global service. "In the near future we will be focusing on the integration so we can become a global leader in filtration and oil and gas," says Eric. "As the industry continues to change and bring new challenges we too will continue to find new solutions."
Parker Twin Filter
Services: Filtration systems specialist