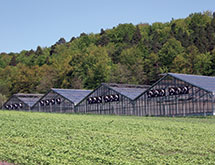 For more than 50 years, Parkson Corp. has supplied equipment and solutions for potable water, process water, and industrial and municipal wastewater applications. The company designs, engineers and assembles products for municipal and industrial wastewater customers. Today, the company is working to provide the highest quality products and customer service possible as it looks for opportunities to grow organically and through acquisition in its market segments.
"We design and manufacture water and wastewater equipment for municipal and industrial systems," says Mark Turpin, vice president, general manager and chief marketing officer. "We are headquartered in Ft. Lauderdale and have about 100 employees at facilities here in Florida, Illinois, Kansas and Dubai."
Predominantly a North American company, most of Parkson's products serve customers based in the Americas. However, the company has been active on an international level, working projects in the Middle East, Australia, India, South Korea and throughout Latin America. International growth is among Parkson's goals.
Market Awareness
Given that Parkson serves both municipal and industrial customers, it must place a great deal of emphasis on understanding the differences in each market. For example, municipal customers are generally focused on public safety and environmental quality. Industrial customers in markets such as the food and beverage industry are also focused on water quality and public safety, but have business models requiring cost reduction, efficient use of manufacturing space, and resource reuse.
Turpin says the municipal and industrial markets are both looking at ways to invest in sustainable processes. Parkson partners with these key stakeholders by designing systems for treatment and reuse of water, while minimizing power and chemical use required to achieve the desired quality.
With various government entities focused on reducing spending and deficits, the municipal market is somewhat slow at present. But Turpin says the industrial market has been coming on strong over the last two years or so.
"The chemical processing market, as well as food and beverage, have been strong," Turpin says. "We're also seeing more strength with international markets. Multinational industrial and energy producers, combined with increasing public investments from emerging economies, are generating strong demand for our treatment systems."
Parkson is currently executing the largest project in the company's history in the tar sands of Alberta. "We are also working on the largest solar drying application in the world in Dubai," Turpin says. "During the past year, we have delivered treatment processes for food processing plants and an automotive production facility in Asia. All of these projects are with customers we have partnered with in the past."
Building from existing relationships is critical to Parkson's ability to expand internationally. "There are a variety of ways we can access those markets, but in general we are a relationship company," Turpin says. "Our aim is to build long-term relationships with customers and suppliers."
Eye on Improvement
Sustainable water usage is critical to mankind's prosperity, and demands on the water supply are higher than ever. With that in mind, Parkson understands that devising ways for customers to use fewer chemicals and less power to recycle water is crucially important.
For example, Turpin says conventional biosolid drying uses gas-fired dryers to kill off harmful bacteria in the solids. Parkson is now drying biosolids with solar dryers. This not only significantly reduces the volume of solids to be disposed of, but also ultimately results in a discharged material that can then be used beneficially as opposed to going into a landfill.
Turpin gives another example of a unique process for treating drinking water in North America. "Instead of hauling bulk chlorine to the treatment facility, we have a process that combines salt and electricity for disinfection," he says. "That way, there is no need to haul and store bulk chemicals. These are examples of the kinds of things we are working on to change the amount of power and chemicals required for treatment."
Parkson's primary investment area in the next few years will be process expertise and knowledge. Turpin says a major industry issue is mass retirement of experienced people. Now the industry is full of senior people heading toward retirement and junior people with limited experience. That lack of people in the middle stages of their careers could have an impact on technological development and business growth. That is why Parkson is investing in knowledge transfer and training.
"The ability to acquire knowledge at a rapid pace and grow the next generation of technical leaders is key for us," Turpin says. "We need to expand our leadership and process knowledge, and we need to invest in our processes and next generation equipment. Those are key areas for us today and over the next few years. This focus on our people and processes will make Parkson a sustainable partner for our customers and suppliers. In the end, that is what our business model is all about."