Sustainable growth
Founded from the joint venture between Colruyt Group, Korys and PMV, Parkwind already had its roots in the Greenline environmental commitment programme founded by the Belgian retail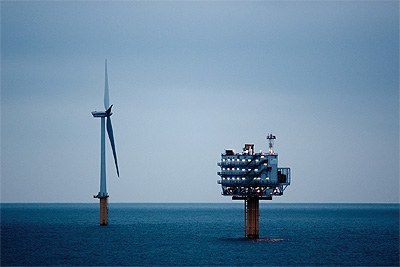 giant Colruyt Group two decades ago. Each partner demonstrates a clear and constant responsibility to social entrepreneurship and sustainable action, making Parkwind a perfect platform to grow a renewable energy business.
In 1999, Colruyt built its first onshore wind turbine in the city of Halle through the Greenline programme and formed a joint venture with Aspiravi in 2006 to develop the Eldepasco wind farm project (renamed Northwind) after winning the concession for the Lodewiikbank. Three years later Colruyt joined forces with its investment partners Korys and PMV to take over the financially distressed project Belwind and started construction in the same year. Belwind became operational in 2010. In 2013 the newly formed Parkwind started construction of the Northwind project – one of the largest investments in recent years – which became operational in 2014.
With two operational offshore wind farms in the North Sea, Parkwind's activities already contribute heavily towards meeting European climate and energy targets:
Northwind offshore windfarm, comprises of 72 wind turbines with a total capacity of 216MW, and provides electricity to 250,000 Belgian homes, saving 255,000 tonnes of CO2.
Phase I of Belwind, composes of 55 turbines with a total capacity of 165M, provides electricity to 160,000 Belgian homes and displaces 270,000 tonnes of CO2. For an investment worth €614 million, Belwind's capacity alone contributes 4.7 per cent of the Belgian government's target.
Keen to continue delivering more capacity, Parkwind has further extended the Belwind concession and is currently constructing its third wind farm: Nobelwind. The expected capacity is 165MW, with an estimated production of 679GWh a year. This is enough to provide 186,000 Belgian homes with electricity. Completion is set for December 2017.
Parkwind's expertise in offshore windfarm development and construction is used to reduce environmental impact to the utmost and to preserve the fauna and the flora. Both concessions are far out
in the sea and are closed to shipping and fishing operations making them hotspots for marine animal and plant species to thrive around the foundations.
Parkwind is fully dedicated to finding innovative solutions to today's energy problems. Parkwind is confident that a low carbon future is possible and affordable. Parkwind focuses on sustainability to create long-term value to all its stakeholders.
Such is the extent of green energy generated by Parkwind's sites that Colruyt, a company with 400 of its own stores, 500 affiliated stores and 27,000 employees across France, Belgium and Luxembourg, produces more renewable energy than it uses.
Parkwind NV
Services: Leading offshore wind company in the Belgian North Sea