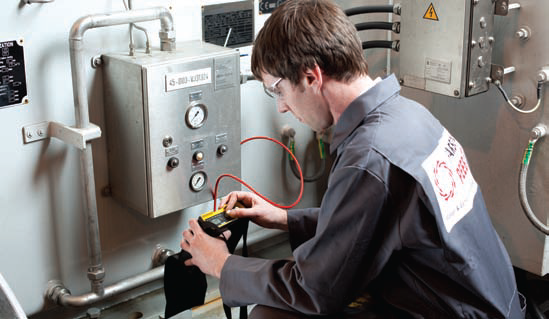 Parsons Peebles Generation Ltd
Enhancing excellence
A trusted partner with 115 years of high voltage machine expertise, Parsons Peebles is headquartered in Rosyth, Scotland.
Established as a specialist electrical machine manufacturer and service partner of choice to its customers, Parsons Peebles provides superior solutions through the leveraging of its IP, proprietary processes and specifications, product quality through reliability, compliance and availability; it also offers knowledge and focuses on delivering value and responsiveness.
With a rich history of motor and generation production, the company has developed a reputation for excellence and today stands as a market leader in the service and manufacture of bespoke electrical machines for customers in the oil and gas, petrochemical and power industries.
Specialising in bespoke, made to specification motors and generators that are low noise level machines, low starting current motors, hazardous areas machines such as Ex, nA, Ex p and Ex e, as well as specialist and unusual applications, Parsons Peebles' designs are robust and proven in the industry. The company offers induction motors up to 25 megawatts with cage, horizontal and slip-ring, synchronous motors up to 50 megawatts with salient-pole, synchronous generators up to 80 mega volt ampere with diesel, gas turbine, steam driven and salient pole, induction generators up to 80 mega volt ampere, and motor/generator frequency changer sets
The company's current service offering includes worldwide spares and service for Parsons Peebles equipment, and it is equally comfortable utilising its engineering depth on similar (OEM) motors/generator manufacturers, reverse engineering services, replacement core and re-wind services, onshore and offshore maintenance and troubleshooting, AEMT qualified personnel and HV full load testing up to 13.8kV and 60Hz. "For the past six to seven years Parsons Peebles was owned by a Scottish businessman who kept the business small, profitable and retained investment, but ultimately kept it a static business. We at Clyde Blowers Capital, an investment company that was born out of an engineering company and invests in mission critical equipment, saw an opportunity to acquire this organisation and use it as a cornerstone for us to engage in the electrical machinery market," explains Frank Barrett, chief executive officer of Parsons Peebles. "The company has the largest installed base of any HV motor manufacturer in the North Sea, it has one of the most reliable products in the market place and has an extremely good reputation for engineering problem solving and customer resolutions; we see this acquisition as a huge opportunity."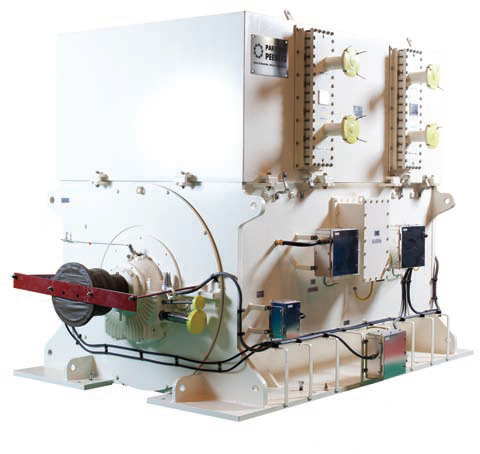 With headquarters that cover an area of 8300 square metres, including manufacture, assembly and testing as well as offices for all support functions such as design and engineering, Parsons Peebles is in a unique position in having the only test facility that can conduct full testing of units prior to installation. "This gives us a significant advantage that has never been exploited, and although it is the best test facility in the market we are investing heavily in our testing and methods of electronic data capture. We are upgrading how we test and enhancing the information we give our customers, as well as the speed of response within the facility. Office capability has been doubled in size and we are recruiting extensively in both the engineering and the commercial recruitment and sales departments. On top of this, we are looking at our intention to use Parsons Peebles as a cornerstone for the wider capability of the electro-machinery groups and are in the process of some complimentary acquisitions in Europe, Asia and the Americas," says Frank.
Notwithstanding the existing capability and reputation, Parsons Peebles is focused on providing services and solutions that add value to its customers by eliminating operational challenges and by enhancing unit reliability and availability. The company will progressively provide innovative contractual solutions that align with key customer operational drivers through partnerships and long-term relationships.
Having developed an excellent reputation with a niche group of customers in the oil and gas industry, Frank anticipates a vast growth in demand over the next few years once the firm has generated market awareness: "A major challenge over the last six months has stemmed from actually getting the name back into the wider market place. Parsons Peebles has a great reputation with a small niche group of customers but for the last eight years the organisation didn't employ a single sales person and never marketed itself. The business was very much built on reputation and capability. To enhance market awareness we have rebranded the company, improved the website and all related literature and carried out a launch event in Aberdeen; on top of this we were at Offshore Europe recently."
Following the acquisition existing customers of Parsons Peebles have been enthusiastic at the ongoing developments of the company, as Frank explains: "We have had the customers down to the facility and have shown them our plans that are being put into action; its not just talk, every time they come in they see a new building or piece of equipment. Customers see continuous growth and improvement of a service they were already happy with; a big part of our route to market is bringing customers in and running some training and development by them, we engage with them and offer some value in what we do."
Over the next 18 months to three years, investment is a major focus for Clyde Blowers Capital as it aims to quadruple Parsons Peebles' business to £250 million by 2017. "Moving away from just service or supplying the equipment, we are looking to understand the true needs of the customer so we can offer a total package. To do this our aim is to invest in our people by recruiting the highest caliber of staff and also working on the training and development of our people," concludes Frank.
Parsons Peebles Generation Ltd
Services: Manufacturer of bespoke motors and generators