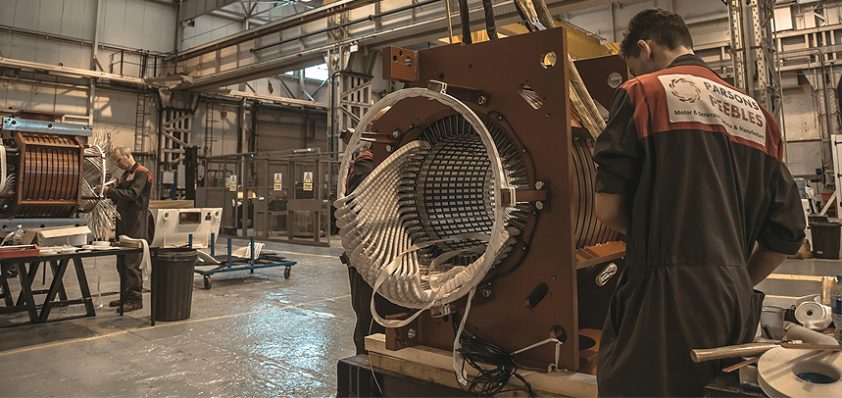 Generating success
Parsons Peebles Group has over 100 years of experience in the motor and generator sector. Through this period it has honed its skill and experience in supplying these to whatever industry requires its services, though initially when the business was formed its main customers were from the gas industry, this then became the oil & gas and power industries and now it serves a diverse collection of companies from different energy and industrial sectors. The company also gained a boost to its potential when in 2013 Clyde Blowers Capital purchased it, and there was subsequent heavy investment in Parsons Peebles. This helped the group grow into a world leader in the service and manufacture of bespoke electrical machines.
Parsons has many strengths of its own, such as its extensive experience, or its high quality facilities, it has also – in recent years – been expanding into more sectors, partly through its own growth
and partly through acquisitions. Marketing Director Robin Tait discussed these moves by Parsons: "We have made a number of acquisitions – the first of these is a high voltage coil company called Preformed Windings based in Rotherham in the north of England. We acquired Preformed Windings for various reasons, such as integrating our supply chain and to grow its supply to global service businesses and we've had a lot of success in that so far. We have invested over two million pounds in a new facility for them, so we are able to deliver high voltage coils in days not weeks. This means there is a massive advantage in terms of delivery – they can turn around a whole set of high voltage coils within five to seven days, instead of most other quality companies taking two to three weeks. So what I would like to impress upon our customers is that – if a machine goes down offshore or elsewhere, and they need to rewind, then we can supply coils to get critical machines back up and running very, very quickly." While this sounds like an impressive feat in itself, Robin said the company offered much more: "Not only that, but because we have the original machine design experience, it means that we often find that we can not only just put in a set of like for like replacement coils, but we can often upgrade the coil to provide a more reliable machine that can be designed if required for potentially more power output too."
There have been a number of other benefits of the acquisitions, and some of these were discussed by Robin: "We now employ over 360 people, we also have a network of 13 sites around the UK – this gives us the advantage of being much closer to our customers, being much more responsive and also gives us a lot more product and service coverage, and on top of this we are now have a full electromechanical offering. In addition to low to high voltage motors and generators we can also supply and service mechanical equipment like pumps, compressors and gearboxes – we're now a full line new equipment and service partner. We have also beefed up our technical services such as condition monitoring, and partnered with a couple of companies which give us energy efficiency offerings, plus some quite sophisticated high voltage partial discharge options as well, which is an analytical technique which can predict when a machine may fail and we can jump in there and service it to ensure it doesn't drop out of service." This provision is invaluable for those that rely on critical machines for a successful business. Parsons' quick and flexible response means that it reduces the time a machine takes to be back up and running, or prevent it from failing in the first place. Additionally due to Parsons Peebles OEM expertise it has extensive root cause analysis linked to machine design which can fully diagnose bad acting machines and put in place a total solution to avoid recurrence.
The difficulties some are facing within the oil industry are well established, however for Parsons there are far more positives from this situation than negatives. Due to one sector of its business weakening it has sought to strengthen other areas, and with the diversification it has provided a more stable and opportune business future. Parsons has recently focused on different areas, as
Robin elaborated: "The market has had its challenges particularly in oil and gas, so we had to grow into other sectors slightly quicker than we might have done otherwise, so that is one reason for getting back into hydroelectric power, in which we have significantly strengthened our capability, as well as in other energy, water and industrial sectors that are developing strongly, which are all keeping us busy. Undeniably, it has been a positive because we are now more versatile, and have more balanced revenue streams – which means when oil and gas does come back it is going to be an added bonus for us."
There are clearly a vast amount of reasons behind Parsons' success, and Robin was able to provide a summary of its key strengths: "We understand how service organisations need to work, but we also have the engineering knowledge – we make machines so we are not doing a short term job, we actually go back to the fundamentals of the design and we can say for example why a machine's bearings are wearing quicker than they should. We'd use our machine and applications knowledge to look at bearing and shaft design, machine loading, alignment, vibration, site condition, lubrication regimen and a whole host of other factors to fully understand the problem and create a fix that provides a long lasting solution. We think we're forming a niche for ourselves, a company with the fast moving mentality of the best service businesses but with the credibility and expertise of an OEM designer behind it. We're not complacent though and are adding to our UK network to improve our responsiveness and footprint so we can offer even better service. Our recent acquisitions of Anstee & Ware and Taylor & Goodman, as well as the strengthening of our project management skills to handle large outages, are just two examples of our focus on delivering even better service. There will be many more developments to come."
Parsons is not short of ambition, but neither is it short of reasons for that ambition: "Our vision statement is to become the UK's number one electromechanical services provider. Additionally we have a growing global business and are seeing successful sales of new machines and spares in many areas, most notably in the Middle East, Europe, and the US. Many of these sales are into critical applications such as nuclear power and downstream oil where machine quality and availability are important factors. There are also several more acquisitions in the pipeline that will strengthen the company, and we see a route to more than doubling Group revenues in the next couple of years – through organic and acquisition growth, so we are very much in growth mode," Robin concluded.
Parsons Peebles Group
Services: Manufacturer of bespoke motors and generators