The oil and gas industry is facing increasing demands to reduce greenhouse gas (GHG) emissions as much as possible to achieve the goals of the Paris agreement. Oil and gas companies are vital to the world's energy transition, yet the production and transformation process of getting oil and gas out of the ground and to consumers represents 15 percent of the overall industry footprint according to the IEA. Oil and gas production is one of the most energy intensive industrial activities, so there's plenty of room for progress to be made. In recent years, Schneider Electric has embarked on the journey to help decarbonize the energy sector through the use of data, software, efficiency and green energy.
In recent months, there has been a lot of discussion about the Green Premium, especially since Bill Gates has been highly vocal about this topic. The Green Premium concept works well when it comes to highlighting cost as the key barrier to adopting cleantech. But the main risk of relying on green premium as a solution to reduce carbon emissions lies in ensuring government and industries can distinguish between technologies and solutions that will never be suitable for mass deployment versus those that can potentially make a significant and immediate impact, once scaled up.
Our belief is that ambitious environmental considerations must be embedded in all processes, products, and business decisions. We are committed to facilitating meaningful change. Today, more than 75 percent of Schneider Electric's product sales come from Green Premium solutions that offer superior transparency and environmental stewardship, as well as improve resource-efficiency throughout an asset's lifecycle. This includes the efficient use of energy along with the minimization of CO2 emissions, water, air, and other natural resources, putting us on the right path to a Net Zero future.
When it comes to the oil and gas sector, we can go further. I believe that Net Zero upstream facilities are the future for the oil and gas industry. It's something that is already possible today, with the solutions we have now. The first step to that Net Zero future is changing the sector infrastructure and best practices to future-proof them for 20-30 years to come.
Schneider Electric, together with McDermott and io Consulting, released the findings of the Net Zero Upstream Facility study in March 2021. It reveals that for a minimal total expenditure Green Premium increase of two percent, the operational emissions of oil and gas operators could be reduced by a staggering 76 percent, while embedded carbon (CAPEX emissions) could be dropped by 17 percent. This can be achieved through a mix of renewable grid power, SF6-free switchgear, designing out the flare system and the so-called fugitive emissions, encouraging remote operations, and increasing staff safety.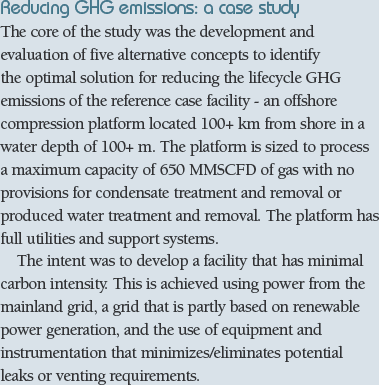 A digital, Net Zero future
Ten years from now, one positive thing 2021 will be remembered for is how the concept of Net Zero became a mainstream activity that reshaped the economy. The pivotal shift that has made this more sustainable future possible is the rapid adoption of digital technologies.
Though corporate action has spurred progress in addressing climate change, to date only 23 percent of Fortune 500 companies have made public climate commitments to meet by 2030. This is surprisingly low given the awareness of the potential consequences of climate change on our planet as well as future generations. As Secretary-General of the U.N. António Guterres pointed out in a speech in September 2019, "the climate emergency is a race we are losing, but it is a race we can win."
There are many green alternatives available today for the oil and gas industries that reduce costs and more than pay for themselves over their lifespan. As we undergo the energy transition, it's important to invest in decarbonizing the oil and gas sector as the costs have proven to be marginal in comparison to the benefits.
When you think about the fact that 80 percent of all carbon emissions are due to energy consumption, and 60 percent of the way we manage energy is inefficient, the scale of the task of changing the ways we create, manage, and use energy to reach Net Zero is significant, but so are the potential benefits. The industry as a whole must encourage and enable key players to make energy choices that reduce GHG emissions in sustainable and cost-effective ways that don't harm the planet. That way oil and gas companies can become part of the solution to the biggest problem of our generation – climate change.
SCHNEIDER ELECTRIC
Astrid Poupart-Lafarge is President of Oil & Gas, Schneider Electric. At Schneider Electric, we believe access to energy and digital is a basic human right. We empower all to make the most of their energy and resources, ensuring Life Is On everywhere, for everyone, at every moment. We provide energy and automation digital solutions for efficiency and sustainability. We combine world-leading energy technologies, real-time automation, software and services into integrated solutions for Homes, Buildings, Data Centers, Infrastructure and Industries.
For further information please visit: www.se.com