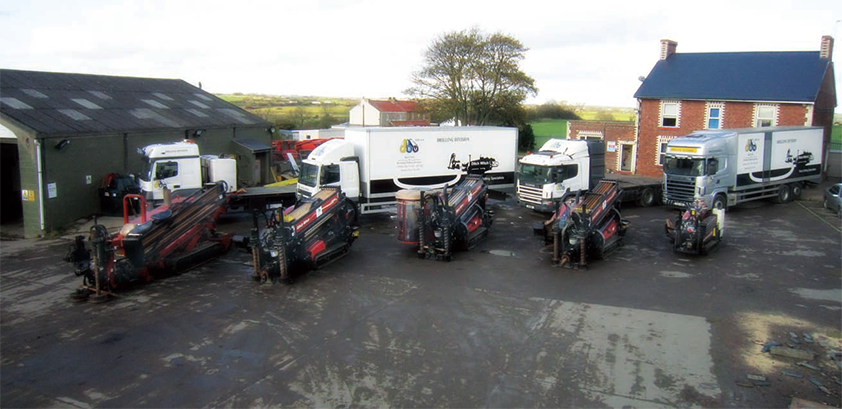 Moving in the right direction
Over the last two and a half years PBU (UK) Ltd has undergone significant changes in its structure, and experienced unprecedented growth.
Today, PBU (UK) boasts an operating turnover of around £12 million per annum, representing a significant increase in workload. This increase has been planned and executed under the full control of PBU (UK)'s two directors and senior management team.
One of the key reasons for the company's success, according to Lee Porter, managing director, in the bringing together of high-level directional drilling expertise: "We picked only the best managers from the drilling industry, so our original core team, which was responsible for our original success, was complimented by new drilling managers Kieran Morris and Wayne Cartwright, giving what we believe is a market leading team," he highlights. "We can offer a full turnkey package from cable marking, excavation and reinstatement, directional drilling to soil stripping and drainage. There are not many other companies of our size who can offer that range of expertise, which gives us something of an edge in what is a very competitive market. Clients are inevitably seeking a one-stop solution and at PBU (UK) we believe can provide this service."
Vast experience in the multi-utility sector and civil engineering means that PBU (UK) can tackle even the most challenging of jobs within the electricity, gas, water and telecommunication sectors. This has gained it a reputation amongst many major tier 1 companies. "Within the UK and Ireland, we are one of the first points of call for directional drilling enquiries for nearly all of the big players," notes Lee. "We have a very good rate of success regarding our strike rate for tenders submitted at present, with around half of all jobs we tender for being awarded. We have worked with many of our clients for years, and because of the quality and professionalism of our teams we have gained a lot of repeat business from them.
"Although it's a big industry, it's also a small one when it comes to word of mouth, so we recognise that we are only as good as our last job, and are very proud to have such a reputation for specialist drilling works. This reputation, in turn helps us to attract new clients to the business."
As well as the skills of its workforce, PBU (UK) also benefits from its own fleet of plant, which includes eight directional drill units. The fleet of rigs covers a capacity ranging from 8t up to 50t, with full manufacturer backing from rig supplier Ditch Witch. With a policy of re-investing profits straight back into the business, the company has been able to build up its fleet quickly, enabling it to take on more varied types of work as well as the conventional straightforward directional drills. As a further sign of confidence in the business going forward, PBU (UK) has ordered a JT60/20 rig (the first of its kind in Europe), with delivery hopefully in the new year. Furthermore, PBU (UK)'s three-acre site is home to workshop facilities, an operating centre and office block, and onsite training facility, making the company fully self-contained.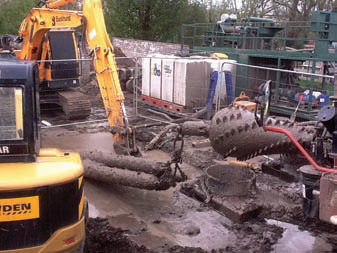 Whilst its experience may have been built up over decades in the industry, PBU (UK) is not afraid to embrace the latest technologies either. In fact it is the company's expertise in horizontal directional drilling (HDD) that is increasingly coming to the fore, as Lee explains: "At the moment we're drilling through the centre of Harrogate, which years ago wouldn't have even been considered, but modern drilling techniques and surveying technologies mean we can deliver this in a non-disruptive way. We have four surveying teams on site who identify all the existing assets in the ground, such as drains and cables, and then we use the HDD unit to deliver the work.
"The framework contract carried out in Harrogate, on behalf of ClancyDocwra, is far more cost effective than conventional open cut excavations, which would require the existing carriageway surface to be removed and reinstated in line with council regulations. Drilling reduces management requirements, long-term maintenance issues, the impact on stakeholders, and helps minimise the carbon footprint. On this one contract we are installing up to 6km of duct per month in both town centres and rural locations. The recognition of these benefits, highlighted above, by forward thinking clients means that today around half of our business is now HDD, and we see that figure increasing to around three quarters, compared to the conventional techniques, going forward" he continues.
In addition to this, further proof of PBU (UK)'s ability to tackle technically difficult projects can be shown by a recent project carried out in Stirling Town Centre, where an air reamer, the first in the UK, was used to back ream 220 linm through graphite/dolerite.
PBU (UK) has also recently completed a drill under the River Clyde. The client had tried to complete the drilling internally but after hitting problems decided to bring in PBU (UK) to assist and successfully complete the drill. Elsewhere, the company has recently completed work on one of the biggest wind farms in Europe, this scheme included over 50 drill locations, with two drill shots per location, resulting in over 40 km of drilling duct, supplied by one of PBUs key suppliers, Wolseley UK Ltd, being installed. This project utilised PBU (UK)'s large fleet capabilities, with a designated drilling manager allocated to the project to co-ordinate the drilling works. Internationally, PBU (UK) has recently been awarded a new contract for an offshore wind development in the Falkland Islands.
"We also played a part in a £600 million project which saw a cable put in from Wales to Ireland. The idea is that when Wales has surplus electricity it can be transferred to Ireland, and vice versa. We were taken on to drill to the substation in Wales, which was a massive undertaking due to the requirements of working in a live substation.
"Although the market has been in recession, as a company we've been experiencing a boom period, and this looks to continue for the next two to three years based on the number of enquiries we are receiving and the volume of cables we are seeing being manufactured," describes Lee.
In light of this, this year PBU (UK) has been focusing on building up its operational structure. "For the first time we have taken on specific commercial staff, to assist the team in carrying out their works," explains Lee. "Rather than just focusing on the frontline, we're now developing the structure behind. We have recently achieved full accreditation in 9001/1400/18001 and have completed our NERS accreditation. In addition to this we have recently appointed an internal HSE manager to augment our existing HSE capabilities. We're moving towards building more of a professional brand, which we believe will help us become even more firmly established in our markets."
PBU (UK) Ltd
Services: Directional drilling