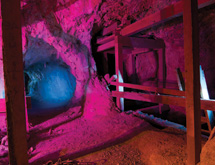 A Toronto-based gold exploration company is confident that it can revive a mine that once was one of Canada's most well-known and highest-producing gold reserves.
PC Gold Inc. in 2008 purchased the 10,000-acre Pickle Crow gold mine in northwestern Ontario. The mine had operated between 1935 and 1966, producing 1.47 million ounces of high-grade (16.14 grams per metric ton of ore) gold. Pickle Crow is located in a geological formation that has produced 35 million ounces of gold since it was first explored. Other mines in the vicinity include the Rice Lake, Red Lake and Musselwhite mines.
The original Pickle Crow mine shuttered in 1966 after gold prices at the time reached a low of $35 per ounce. The mine was subsequently drilled and split into two separate projects by other companies before PC Gold purchased and consolidated it, President and CEO Peter Hooper says.
Since acquiring the property, PC Gold has drilled 302 holes totaling 100,000 meters. The company estimates a total resource on the site of 1.26 million ounces of gold at 3.9 grams per metric ton of ore. More than 3,600 holes totaling 217,000 meters have been drilled on the site historically.
"This is a very good project with a long history," Hooper adds. "The risks of this project not being what it seems to be are very low."
In addition to its location in a gold-rich area, the Pickle Crow mine is located near several major roads and an airport. Facilities on the site include power generators, a mill, three shafts and a mine dry facility. Housing, educational, medical, recreational and shopping facilities and other services are also close by, PC Gold says.
Moving Forward
PC Gold ultimately hopes to enter advanced exploration on the Pickle Crow site in the next few years. This would include drilling underground, where the majority of the gold is located. "This is a very real historical resource," Hooper adds. "Geologically, this is in the right spot and at a high grade; this project is very well put together."
The estimated cost of advanced exploration, a feasibility study and future production at the mine is approximately $200 million. PC Gold hopes to generate part of the funding needed to move forward by exploring and producing two geologic veins on the Pickle Crow property located just outside of the main resource area. These veins are anticipated to produce 50,000 ounces of gold over a three-year period, Hooper says.
PC Gold is in talks with potential investors and partner companies to fund the smaller project, which has a $10 million startup cost but is anticipated to generate $60 million in revenue, he adds.
Hooper is confidant the project's long history and resource potential will attract investors, and anticipates new partnerships to start during the summer of 2013. "We're looking forward to getting started," he says.