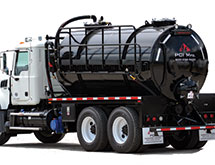 PCI Manufacturing LLC was created by the Pinnacle Cos. Inc. to meet the popular demand of its customers for high-quality, innovative products. "Our company goal is innovation within the normal product lines that we carry," CEO Matthew Hanna emphasizes. PCI Manufacturing offers a variety of liquid storage tanks, vacuum transports, frac tanks, acid tanks, MobilePonds and skidded mud tanks, as well as custom steel manufactured products.
"We also do a lot of customized work," Hanna adds. "Most of the people in our business that are frac tank or vacuum trailer builders do a cookie-cutter unit, which is easiest for them to run through production. We take a very different way. We are very willing to customize any of our products to fit the needs of the customer. We've really become known for our high quality and our customization capabilities. That's what draws people to us. I would say that 70 percent of our customers are repeat customers, and it stays that way, mostly because of our willingness to make exactly what they need."
PCI Manufacturing offers its customers in-house engineering. "A very big part of why people want to do business with us is because we do have a very talented design staff," Hanna maintains. "We do a lot of R&D both for ourselves and for our customers. Out of that in the last 18 months, we have applied for and received four separate patents for four very unique products that we build."
Three of the patents cover the company's MobilePonds. "We developed a method of making these million-gallon up to 2.5-million-gallon water retention ponds highly portable," Hanna explains. The fourth patent is for the company's step deck frac tank that allows the operator easy access to the front of the tanks.
High Quality
When holding petrochemicals in tanks and ponds, high-quality construction is necessary to prevent leakage. "We end up doing a lot of highly specialized tanks for different customers," Hanna notes. "A lot of these products are proprietary to them. We have the ability to manage not only the design but the finite element analysis all the way through to ensure the design's quality. We have a quality control system in place that allows us to produce very high-quality products."
PCI Manufacturing can produce tanks to the API 650 specification. "We have designed double-walled tanks that we built to the API 650 specification that have passed the Alaskan Cold Weather and Containment specification, which is a very stringent criteria that we had to meet to build these tanks. We're probably one of the only ones in the country building to these specifications.
"It's pretty detailed, and we have built and shipped 12 of those units to Alaska over the course of the last eight months," Hanna continues. "These tanks are designed to operate and maintain their structural integrity in minus-40 degree weather. It is special steel and a special welding procedure. Everything about these tanks is extremely unique."
Shipping times for PCI's products vary based on what they are and whether they are custom or standard products. "If it is a designed product that we run every day, I would say that from the time an order is placed until we start delivering product, that time is typically about 14 to 18 days," Hanna estimates. "That's pretty fast for the industry."
Because of their substantial backlogs, he notes, it may take some competitors up to 18 months to deliver the same product.
"The thing we always try to do is not overbook our product," Hanna insists. "We always try to maintain some production slots for our regular customers and new orders. We're pretty reluctant to book up all our production for one customer."
Proprietary Products
PCI Manufacturing produces its products in more than 200,000 square feet of space in two facilities in Sulphur Springs, Texas, one of which was an old facility that the company gutted and renovated in 2012. "The main product lines cover 20 items," Hanna explains. "We have 20 separate production lines inside those plants. There could be as high as 50 total variations of these different products."
The company's products are distributed in the United States and Canada, as well as South American countries such as Venezuela, Middle Eastern ones such as Saudi Arabia, and in Australia, which is a growing export market for PCI.
PCI Manufacturing intends to broaden its penetration into construction in the next two years. With approximately 8 percent of the company's products now destined for the construction market, Hanna's goal is to increase that percentage with construction equipment such as water trucks and industrial float trailers to 50 percent.
The company often is hired to do projects that require a high degree of trust and a good relationship with the customer.
"We do have products that we have to sign nondisclosure agreements on, where we are allowed to view the proprietary data and incorporate that into the products that we're building for them," Hanna reveals.
Part of the reason for that trust is the company's belief in maintaining long-term relationships with its customers. "We don't look at customers as one-time customers," Hanna stresses. "We look at all customers as the lead to the next deal. That's a little bit unique in our market, as well. A big part of our customer base is drawn to the fact that we keep our word as far as delivery dates, and we work very hard to meet their needs, and they recognize that."