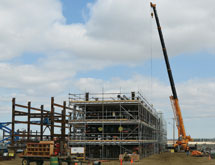 PCL Construction has been helping its clients realize their goals since 1906 by fashioning the buildings where business gets done. In the last century, it has built a family of companies covering the commercial, civil and industrial sectors in the United States and Canada.
"[There has been] a tremendous amount of activity in the Alberta oil sands and we are very active in that area," says Peter Stalenhoef, COO of PCL's industrial group of companies. "We have some major contracts underway and there will be plenty more opportunities to come. Canada is a good place for energy developers because of the proven resources, stability and proximity to our neighbors to the south. A lot of the energy companies that operate in Canada are the same companies that operate in the U.S."
In Canada, PCL's industrial portfolio consists of five companies. Two of these – PCL Industrial Constructors Inc. and PCL Industrial Management Inc. – are based in Edmonton, Alberta. PCL Industrial Constructors is a general industrial contractor that owns and operates a sophisticated pipe-fabrication shop – one of the largest facilities of its kind in North America. Next to that is a 130-acre modular yard facility. PCL Industrial Management is a construction management company servicing Western Canada's heavy industrial marketplace.
Its industrial operations in the United States are also split into two entities. PCL Industrial Construction Co. is a heavy contractor based in both Atlanta and Houston. It serves the power, oil, gas, chemical, cement and aggregates, mining and minerals industries. Covering its western base and headquartered in Bakersfield, Calif., is PCL Industrial Services Inc. This full-service heavy industrial general contractor also owns and operates a vessel fabrication and platework facility and an industrial painting shop.
Between these companies, PCL has worked on some of the largest industrial projects in the world. The industrial companies are also able to leverage strengths of the entire PCL organization.
"Each company does operate primarily in its own segment, but there is some overlap," Stalenhoef explains. "We share the resources when it comes to looking for expertise in a certain area. We have a company called Melloy, which is a shutdown contractor and will participate in greenfield construction projects. We have an electrical company called PCL Industrial Power and we bring them into projects to execute the electrical scope.
"Our commercial buildings division will occasionally subcontract with us for foundation work depending on what the client is looking for," according to Stalenhoef. "We also have a small business division that does metal buildings and we do metal building projects, as well, so we do share some of the work between companies."
Groomed for Growth
The companies have seen more opportunities for shared growth in recent years as both countries have continued on a fast, upward trend. PCL's industrial companies have been busy building multimillion- and billion-dollar facilities, upgraders, power generation and petrochemical facilities.
Growth in the mining industry has not been as dramatic as oil and gas, but it has been steady, according to Stalenhoef. "We have seen a lot more mining opportunities come our way in the last three or four years. And we still see that as long as China keeps purring along with a demand for minerals and other commodities … we see opportunities in the mining sector in that regard," he explains. "Also, Canada has lots of natural resources and deposits from uranium to copper and everything in between, so we see a pretty healthy industrial marketplace for the foreseeable future in Canada and the United States."
To keep up with the growth, PCL's industrial companies have grown, as well. It recently opened a new $10 million dollar office space next to its modular yard in Edmonton. A few years ago, the company built a new facility for its Bakersfield operation with space to grow for the future. That space is now filled out.
Building on Knowledge
In addition to growing in size, PCL – which is a leader in construction across several industries, not just industrial – has grown in knowledge and skill. PCL got its start in the industrial construction sector in 1949 as Poole Construction, building a CIL explosives plant, which was also its first major project in any industry. In 1978, it opened its first pipe-fabrication shop, because as Stalenhoef explains, "every project involves considerable volumes of piping systems." In 1995, the company made its first external acquisition, which happened to be an industrial contractor. It acquired another company in 2002 to launch its Bakersfield operations and its entry into the U.S. industrial sector.
As PCL has laid the foundation for a robust industrial group of companies, the companies themselves are structured to allow PCL to grow.
"In the industrial construction business, safety is absolutely paramount," Stalenhoef says. "We have an excellent safety record and we work very hard at our safety performance. We are also known for quality workmanship and recently won an award for our innovative welding techniques.
"In Western Canada, our name is synonymous with capacity and capability," he continues. "We participate on some of the most difficult and challenging projects where you need a high degree of capacity to execute the work."
PCL has the capacity to self-perform nearly every aspect of a project, providing a one-stop shop, Stalenhoef explains. The company also uses up-to-date construction methods, such as off-site fabrication. "In Canada in particular, modular construction is a technique employed on nearly every industrial project," Stalenhoef says. "It reduces man-hours on the field site and puts workers in facilities closer to their homes, which reduces the costs associated with setting up camps and travel."
Modular construction also allows the work to be fast-tracked. "You can pour foundation in the field and build the module at the same time, which means you can go right from foundation to installing modules," he notes. "It's a growing business and organizations are doing more of it."
Stalenhoef says that design/build projects are also on the rise. PCL is not in the design business but it will often partner with engineering firms to provide engineering, procurement and construction services for design/build work. One of its largest projects today, an expansion of a potash facility, is a design/build project.
"You need to be sophisticated to participate in work like this and we are categorized as a top-tier contractor," Stalenhoef explains.
"A lot of the plants we build are in the billions of dollars and we are capable of executing some of the largest, most-challenging projects." EMI