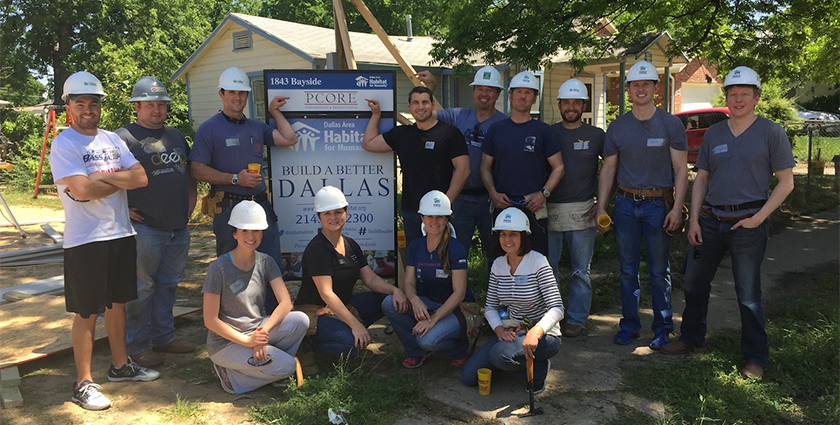 PCORE Exploration & Production II LLC
PCORE's CEO says his entire team is hyper-focused on achieving the best outcomes for PCORE.
PCORE Exploration & Production II LLC has a modestly sized staff, but that is an asset to the company, CEO Mark Hiduke says. "There's a tremendous advantage given to a small group of people who have a similar goal and mindset and can work in a collegial office environment," he says. "We're able to hit on all aspects of the assets."
Dallas-based PCORE II acquires and develops core unconventional oil prospects. The company's roots go back to PCORE I, which Hiduke co-founded in 2014 with three partners. "We had a wealth of knowledge in the Midland Basin," he says, noting that he and his partners had gained experience working for companies such as Pioneer Natural Resources Co., SM Energy and Norton Rose Fulbright.
"We started [with] $100 million from National Gas Partners, searching for a core Midland Basin position that we could develop with a small drilling campaign," Hiduke recalls. The company soon grew to have four producing horizontal wells.
Eventually, PCORE I sold the property to Parsley Energy Inc. "After that, we took little rest and immediately started PCORE II," he says. "We're right back out there, making acquisitions and again focusing on the core of the Midland Basin.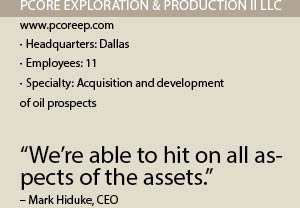 "We're looking at various opportunities right now, trying to find horizontally drillable positions and partner with land owners and small operators," he says, noting that PCORE II has a specific combination of qualities it looks for in properties. These include multiple subsurface characteristics and proper infrastructure in place to bring the hydrocarbons to market. "It's a valuable checklist of different variables that could add or detract from the eventual acreage value," Hiduke says.
The PCORE Family
Hiduke has extensive experience on the financial side of the oil industry. "I started off working for an investment bank, TD Securities," he recalls, noting that he later moved to Pioneer National Resources in 2010.
He enjoys PCORE II's environment, which he says has a "family" feel. "We get the team out of the office, including hunting trips, basketball games, and local philanthropy like Habitat for Humanity to grow that camaraderie," he says.
With an 11-person shop, "Everyone really matters here," he says, noting that this includes Executive Vice President Colin Farrell, who runs PCORE II's subsurface operations. "He's the most commercially minded geologist I've met."
Its team also includes Chief Data Analyst Paul Duckworth, "who we consider our data ninja," Hiduke says. "He does all things, including land mapping, data gathering and subsurface analysis. He helps us make critical decisions with alacrity."
Hiduke also highlights General Counsel and Vice President of Land Billy Hannes. "Billy is an incredibly hard-working guy who has kept us out of some hairy land situations," he says. "Working for him is Eric Davis, our top-notch land supervisor."
President and COO David Hall manages PCORE's operations with the assistance of Donald Peacock, who oversees the company's production and completion sides, and Joe Moidel, PCORE's drilling manager. "David and his ops team are responsible for some of the best performing wells in the Wolfcamp Shale," Hiduke says.
But the "glue" of PCORE II is at its back office where "we've got Trisha Inurrigarro, who is our office manager," Hiduke says. "She keeps all aspects of the company running smoothly.
"Each employee holds a lot of weight at the company," he says. "We are all 100 percent involved and hyper-focused on getting the best outcome of each department."
Playing Strong
PCORE II is coping with current industry challenges, Hiduke says. "Obviously, we have a commodity price environment that has been as low as we have seen during the shale revolution," he says. "We are constantly trying to drive down well costs and get the most resource out of the rock.
"We want to make sure we are maximizing completions, with higher proppant loads and proper stage spacing," he says. "We will have one 5,000-foot lateral and two 10,000-foot laterals online by year-end."
The company also has a tremendous opportunity to build up assets, Hiduke says. "PCORE's strength is to find stranded and underdeveloped acreage and then create value through the drill-bit and bolt-on acquisitions," he says. "Ideally we assemble an attractive asset base that is starting to cash flow via drilling campaign, delineate a large inventory of economic locations and have somebody pay for that inventory.
"We don't need to have 100,000 acres to create a successful company. You can put together 5,000- to 10,000-acre positions and have a lot of value there. The companies that play to their strengths are going to be here the longest."