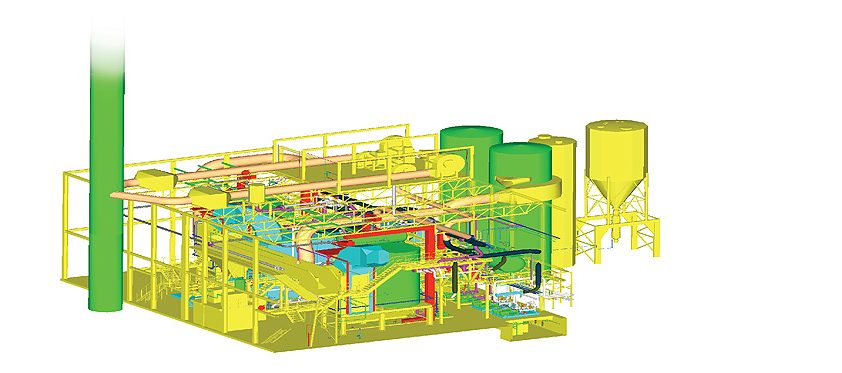 Call in the pros
Established in 1991, PDS Protek AS is the daughter company of Project & Design Services AS (PDS), which was divided in 1997 into three companies that form the PDS Group: Project & Design Services AS, PDS Klimakonsult AS and PDS Protek AS.
PDS Protek is the most active of the three and has the highest annual turnover, as well as the largest number of employees. Over the past 18 years it has been involved in founding new companies
and Aegir Engineering Ltd in Goa, India, is one of the newest of such ventures.
Having grown quickly, PDS Protek operates two departments: In-house Engineering and Consultancy Services. Its core business falls within consultative engineering services to the oil and gas, and land based industries. PDS Protek performs studies, concept development, multidiscipline 3D CAD modelling/design, structural calculations, stress analysis – including FEM analysis – and detailed fabrication drawings.
Introducing the company and discussing how PDS Protek has enjoyed growing success in recent years, managing director Terje Øverland says: "We have about 25 people working on in-house engineering and 70 in consultancy. Our biggest market is the oil and gas sector. In the last year our turnover increased from 80 to 110 million NOK, partly because we have had the market with us – there has been a lot of activity everywhere – so we have been putting a lot of money into our systems and our organisation.
"We've improved our systems and employed more personnel who offer a higher skill set to raise our competence level; we've enlisted engineers who boast a specific competence, so that we can lift the whole company. This is one of our main strengths and our clients, who are some of the biggest companies in Norway, come back to us because they are satisfied with what we deliver."
Besides a bright and dedicated workforce, PDS Protek has the strength of being the perfect size to respond to clients, as Terje asserts: "We're not too big, meaning that we handle our clients' requests very quickly and fulfil their requirements in a straightforward manner. Obviously our engineers possess impressive skills but we have very up-to-date software working in our favour as well."
Owing to ongoing interest in furthering PD Protek's reach, the company has opened an office in Oslo. At the end of April 2009 staff visited some of the company's major clients, potential clients and partners in Oslo, receiving a warm welcome, and set about introducing the organisation to the Oslo market. Commenting on the new development, Terje says: "It's progressing very well – we're not moving too fast as we're not sure about the market today, so we have started there with one person, office manager Tore Skiftestad, and we'll expand as we get more jobs and clients. We're undertaking a lot of marketing and our marketing manager from the main office, Jørgen Knudsen, is assisting in Oslo. We're talking about opening a couple more sites in the future and feel
Stavanger and Bergen would be natural choices for locations."
In terms of the company's current workload, PDS Protek has just signed a frame agreement with Riise Underwater Engineering (RUE) within its In-house Engineering division. RUE supplies subsea engineering, ROV and diving services offshore-and-on to the oil and gas industry. It has the capacity to undertake a variety of subsea operations through its main office in Haugesund and two more in Nigeria. PDS Protek will assist RUE within engineering services from its own office in Haugesund and Terje visited RUE's office in Risøy to sign the agreement in April.
"We have big expectations for the new frame agreement with RUE because they are now waiting for two new ships," he reveals. "We know that activity will be increasing with them as we progress through this year and into next year, so we have big hopes for that contract. We have also alliances with contractors to offer our clients both engineering, prefabrication and installation. SL Mekaniske AS, which is located at Bryne south of Stavanger, is one of our joint venture partners. Also, we have several frame agreements with StatoilHydro, Gassco and Aibel, which is a big client of ours."
New contracts demonstrate that PDS Protek is weathering the economic downturn well, however the company is not immune to the effects, as Terje concedes: "We are starting to feel the challenge of the recession; until now, it has been business as usual but we're seeing that the horizon is getting shorter for jobs. It takes more effort to succeed, in terms of marketing and getting in closer contact with the clients. For example, before the financial issues a big job may have lasted six months but now we're getting three or four smaller jobs that each last about four weeks, so we are noticing changes."
By adjusting to these market developments and focusing on maintaining close client relationships, the firm is able to ensure its position for years to come. Terje has his sights set firmly on challenging the company to perform better. He concludes: "We would like to become more nationally represented and work closer with oil companies. We want to have more agreements, so that we have more activities in everyday work – not from project to project but some basis engagement and longer projects. We're looking to take on larger, multi-discipline work, so instead of delivering a small part such as piping, we take on the whole project."
PDS Protek AS
Services: Engineering and consultancy