Reaching the peak
Peak Well Solutions, a Norwegian business, is a market leading developer and manufacturer of products and services dedicated to solving difficult or demanding open hole completions, casing services, cased hole barrier systems, and other downhole operations
The company's vast catalogue of products includes, surface equipment, zonal isolation tools, casing and liner products, completion and well intervention equipment, casing barrier plugs, and P&A equipment.
Alf Jan Wik, sales and marketing manager at the business tells European Oil and Gas Magazine more about the company: "Peak Well Solutions was originally formed in 1993 and reorganised in 2000 as a service company focused on the oil and gas sector. Triggered by a customer to manufacture a tailor made product to solve a specific problem, we started to focus more on developing various types of well plugs, realising that this would be an increasing important area for the oil and gas industry. Today we are the market-leader for these specific plugs, which are rated to the highest NORSOK D10 and ISO 14310 V0 specifications."
The company prides itself on its dedication to continuous R&D, a process which is aided by the contributions of engineers from a number of industry backgrounds: "We are a small company, with only around 5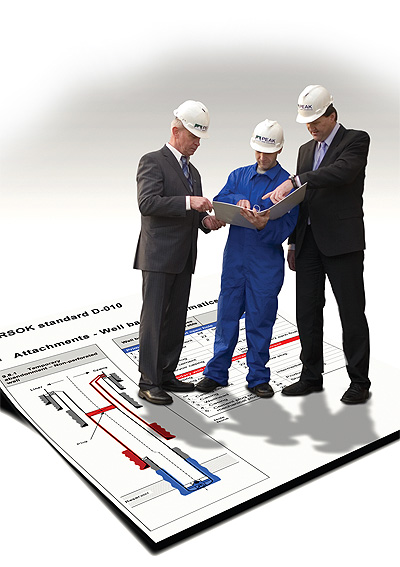 0 employees, but between ten and 15 of those are dedicated to R&D," says Alf. "It is extremely important that we have highly skilled engineers with backgrounds from different industries, including the aerospace, automotive and mechanical industries. Mixing these people with the highly skilled 'traditional background' staff is what has made the company what it is today.
"This combination means that we are able to look at product requirements with a different attitude, and focus on finding a solution, rather than concentrating on the problem," he continues. "It provides a more creative environment than just having people from the oil and gas industry look at the same problem they have been looking at for the last ten years. A lot of time, if you pass on the challenge someone else they will look at it from a different perspective and come up with a solution that really surprises you."
Alf explains that one of the company's key success factors is its ability to turn around a project extremely quickly: "Our major competitors in the market have a lot more resources and capital, but this often makes it harder for them to turn around a solution in a short amount of time. This is one of the most important factors in our line of business, as the operator's work 24/7, and they often need a solution in a matter of days. Our attitude and our focus mean that a client can approach us; we solve their problem immediately, and turn around a solution within a week.
"For example, Statoil approached us with a request for a specially developed plug to solve a problem with one of its wells as fast as possible," Alf elaborates. "The day after the request came to us we were working on solving the problem, and less than four days later we delivered the completed product to the offshore base at Bergen and it was installed successfully."
The business is currently working on a major project in Nigeria for Total, one Alf hopes will be a stepping stone for further business in the area: "Total had heard of our reputation for plugs, and the quality of our personnel, and they approached us with a specific problem that needed solving. Total needed an innovative plug that was capable of suspending the well whilst maintaining the well control issues and that would work efficiently and effectively.
"So far the project has been successful," he continues. "We now have a permanent employee based in Nigeria, whose job is to operate locally and source opportunities to further expand our business there. To be more successful in Nigeria we are looking to find local people capable of servicing and maintaining our products on-site so we do not have to bring them all the way back to Norway. To date, this is the first step outside of the Norwegian market for us, but we expect to continue to expand in new markets."
Reflecting on the success of the company, Alf is optimistic of an exciting future: "The market looks extremely good at the moment. There have been a number of ups and downs, but in recent years we have been continuing to grow, and we have to remain competitive to capitalise on this in the best manner. The key focus will be to continue to develop the best, most innovative products and to deliver them on time. It is a tough business, which means that you consistently have to fight to be the best. We pride ourselves on getting it right the first time, focusing our efforts on developing a product that makes a difference and providing flexible service to demanding clients.
"If we continue to do this, I believe that we will be able to remain the industry leader and grow our business. We see huge potential for the future. We are confident that we will be able to contribute when new technological achievements are required." Alf concludes.
Peak Well Solutions
Industry: Well plug solutions