People, customers and vendors are all key to Whites Energy Services' longevity  
Bill Riggs has been with Whites Energy Services for most of his career. Having started as a rig welder, he helped develop the business' patented equipment and slowly moved up the leadership chain. According to Bill, the evolution of the company since he began has been impressive. "There were about 20 of us, and now we're a team of 300, and we're scattered throughout the US. My experience being part of its development has been so interesting." 
Whites Energy Services is a consortium of smaller businesses, including Whites Equipment Rental, Whites Welding, Crossfire Production Services, Olympia Technology, Surge Equipment and Payzone Completion Services. Bill serves as the Director of Operations for Whites Welding, and the President of Surge Equipment. Each of the companies works in tandem to create a synergy for enhanced drilling, and completion and production performance of oil and gas. In our conversation with Bill, he unpacks the state of the oil industry, and how Whites Energy Services is working to preserve and strengthen one of the most monetized fuel sources.  
"We're currently situated in the Permian Basin, and we have other locations in Texas, Louisiana, Pennsylvania and Oklahoma. Basically, wherever there are oil fields in those areas, that's where you'll find us," he shares.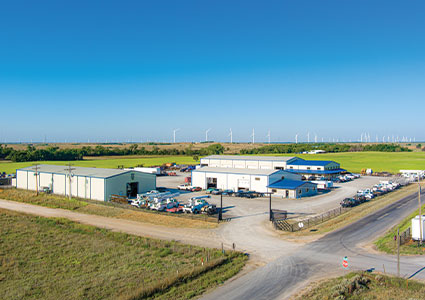 Project pipeline 
In the same way that the company's businesses come together to deliver excellent services, so too does its supply chain. Unfortunately, given the impact of the pandemic, vendors everywhere are struggling with timely deliveries and material sourcing. Despite the challenges, Bill and his network have worked hard to get ahead of the backlog, and he is proud of the effort his suppliers invested to keep Whites Energy Services going. "We ordered everything we could to combat long lead times and have stocked up on as much inventory as possible. To repay the work they've done, we also take care of them. Often, I'll invite them over here and strengthen our partnership with them; that's really important. It means we can all depend on each other, and when the market becomes turbulent, we have each other's back." 
The oil industry is grappling with a dichotomous controversy at the moment. While being a primary fuel source, it is also nonrenewable, and those working within the industry are facing challenges regarding sustainability and alternative sources. "The sector is quite politically controlled at the moment. On the other hand, everyone is making a push for electric cars, which also requires oil in the production. You still need steel, you still need massive trucks to move the materials across the country, so from my perspective, I believe the oil industry is here to stay, and that's a fact that we need to be open about," he shares.  
From Bill's perspective, replacing oil instantaneously is a far-stretched idea. However, to transition responsibly to renewable energy, there needs to be an acceptance that the phasing out of oil and gas will take some time. "Oil, wind, solar, even nuclear – they all have their place for the society we've created. We just need to keep researching how to make these processes as clean as possible."  
So how has Whites Energy Services figured out minimizing its impact on the environment? "Our biggest advantage is being a one-stop-shop. We're the hub of everything; among our businesses, we can do the design, work the R&D, build the equipment and maintenance. Furthermore, we have a centrifuge unit that recycles the cuttings, separates the solids, and we also reuse the water and send it back to our rig. This way we don't lose the resources we need to finish the job. This saves us money, but it also minimizes our impact on the environment," explains Bill. The other businesses under White Energy Services' remit work hand-in-hand to prioritize sustainable practices. Surge Equipment, for example, specializes in the refurbishment and maintenance of electrical utility vehicles. This is key to encouraging growth in the market as organizations able to maintain electric vehicles provides reassurance for the assets' longevity.  
With these capabilities, Bill highlights the business is keen to venture further into the electric industry. With a couple of projects in the pipeline, he teases that Whites Energy Services is collaborating with a few companies to go international, so watch this space. 
In the meantime, he is excited to continue to unite and empower his team. "There are three things that are pivotal to the success of this company: great customers to sell our equipment to – obviously. Great suppliers to provide that equipment, and then great people to put it all together. We work hard to do a lot for our employees. One of my favorites is our monthly cookouts. Those are a good time." 
New opportunities 
Another way the business shows it cares is through an initiative called Team Lane, an event that raises awareness for autism every year. "One of our guys has a child on the spectrum, and this is a fantastic way to bring people together and for them to show their support. There's lots of team-building activities, delicious food, and a great deal of fun. The money raised then goes towards autism organizations," Bill says. 
Our conversation then closes on the topic of 2023, and what lies ahead for Whites Energy Services. Bill is keen to see the business refine its manufacturing capabilities, as well as its supply offering. "On the oil side, we're going to maintain that operation. Of course, we need to look at new equipment and technologies so we're investing in our R&D, building test units, and perfecting their function. So I think 2023 will be a super year as we try out new opportunities." 
When asked about where he sees the business in five years, Bill jokes that he'd like it sold so he can retire. Whether this will be the case is unclear. However, what is certain is Whites Energy Services' success. Given the innovation and determination driving the company, it seems set to continue for many more years.