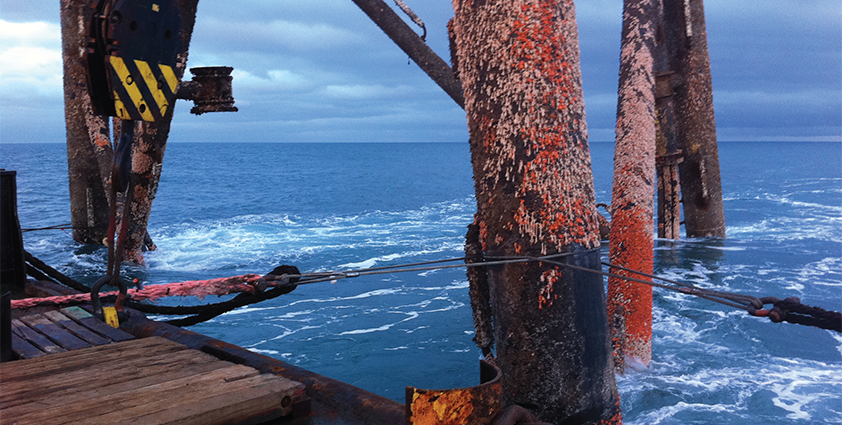 Building for the future
Having been a presence in the oil and gas industry since its foundation in 1975, today Perenco is an independent oil and gas company with operations in 16 countries across the globe, from North Europe to the Middle East.
Contributing approximately 15 per cent of the Group's total gross production, Perenco's UK subsidiary is one of the largest operators in the UK southern North Sea gas basin following a series of acquisitions in 2003 from major operating companies, such as BP, Exxon and Shell.
Currently producing approximately 240 million standard cubic feet per day (mmscfd) of gas, Perenco UK's portfolio includes 18 mature offshore gas fields, as well as 31 offshore installations, which also provide vital infrastructure for other operators. One example is the company's Pickerill field, which flows gas through a dedicated pipeline to the Conoco operated gas-receiving terminal at Theddlethorpe. Perenco UK also operates the Bacton gas terminal, situated on the Norfolk coast, along with its five connecting pipelines, which link to the company's five offshore compression hubs.
Two of the more challenging assets within the company's portfolio are the Trent and Tyne gas fields. However, despite the previous operators forecast for the fields to be decommissioned in 2005, Perenco UK has extended this lifespan to 2012 and beyond, through a number of reinvigoration techniques.
Whilst these fields' commercial viability has been successfully lengthened, the mature status of the North Sea market is well recognised, and as such decommissioning activities are beginning to come to the forefront. Amid this focus, Perenco UK is making a name for itself in the sector, not least through its ongoing decommissioning work on the Welland Field – a small gas field within the company's portfolio.
Having ceased production in 2003, the field was transferred to Perenco UK in 2007 as part of a wider asset purchase. General manager, Eric Faillenet, elaborates upon the current progress of this programme: "In January this year, Perenco UK safely executed the heavy lift removal of the Welland gas production platform from its location in the southern North Sea. In turn, this project has set a new decommissioning performance benchmark for southern North Sea operators and service providers alike.
"We are delighted with the success of this project, a key factor of which has been the co-operation between ourselves as the operator and regulator, and our main contractors. This enabled the regulatory requirements to be managed effectively within the engineering scope and design, and during opportunistic execution enabled all parties to take responsibility and complete their activities safely and efficiently.  Most importantly we have recycled almost all of the material removed, with over half of it destined for re-use, which means that energy usage and subsequent emissions have been substantially lower then previous industry projects."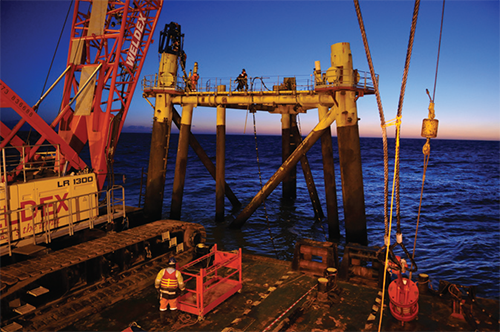 As part of this programme, Perenco UK implemented a leading initiative using a lower cost technology of cutting the legs and lifting the topsides, the success of which will set new goals with operators in the UK. This is just one example of Perenco UK's innovative approach to the unique challenges presented by individual assets and fields. Other leading developments include the use of enhanced recovery techniques such as artificial lift, secondary recovery, and in-fill and step-out drilling campaigns. In a similar vein, the business has used new innovative techniques alongside established technologies to recommence production from wells previously considered depleted. Perenco UK has also installed unmanned compression facilities at its Trent platform, including a purpose built Mobile Offshore Application Barge.
Given the complexity, and crucial safety requirements, of the Welland decommissioning programme Perenco UK employed a number of skilled service providers to assist in the project delivery: "We selected Antwerp based Scaldis SMC as the main contractor for the operation," highlights Eric. "Not only did its twin-crane barge 'Rambiz' have the required lifting capabilities, it also featured the necessary deck space to store and operate the removal equipment, as well as operation personnel. This reduced the need for further support vessels. As well-known partners from previous special-solutions projects, we also contracted German engineering consultants Overdick. Further support was provided by Proserv Offshore from Aberdeen in undertaking cutting operations, and Dutch based Hoondert BV, which dismantled the jacket at its yard in Flushing."
Whilst the Welland platform removal is a major undertaking in its own right, it is also part of a wider decommissioning programme, which includes wells, subsea wells, protection structures and pipelines. As a result, the experience and best practice gained during the Welland programme plays particular importance in delivering these additional activities: "Throughout 2011, we will be completing the remaining project tasks, culminating in final seabed surveys and trawling trials. An ongoing monitoring plan will also ensure that the area remains safe. Whilst the project execution phase went according to plan, we also learnt valuable lessons, which can be applied to further increase safety, efficiency and cost management for future decommissioning works. The completion of the heavy lift removal of the Welland platform also provides a level of confidence in our cost projections for future decommissioning activities," notes Eric.
With the decommissioning market poised for further expansion over the coming years, this in-house expertise is of notable commercial advantage. Perenco is also addressing other market trends through the formation of a joint venture – Bacton Storage Company Limited (BSCL), with partner Centrica Storage. Whilst this project is still in the primary stages, the concept is based around the storage of natural gas in an existing offshore reservoir – 86km from the North Norfolk coastline. During times of low demand gas will be pumped offshore through new facilities within the Perenco UK terminal in Bacton. In turn, during times of peak demand, the gas will be transported back through the terminal into the grid.
Core developments such as these are just some of the innovative ways the business is looking to maintain production and expand its operations in order to position Perenco as the long-term operator of choice in the UK.
Perenco UK Ltd
Services: Platform operation and decommissioning