The clean cut
The history of Perforator dates back to 1885, initially trading as Schmidt, Kranz GmbH & Co (SK), producing tunnel drilling machines and shaft sinking equipment for the central German potash mining and salt industry.
In 1922 Prof. Dr. Karl Glinz, who added reprocessing plants and coal mining equipment to the product range, acquired the business. His successors succeeded in developing the company into a holding, constantly adding new products to the portfolio and entering international markets. In 2002 the brand 'Perforator' was transformed into an independent company with headquarters in Germany, continuing the traditional core business of the former Schmidt, Kranz mining technique.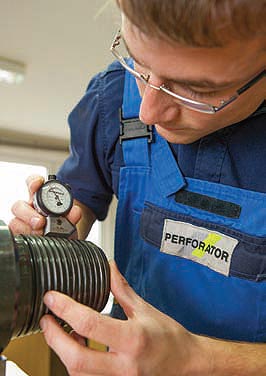 Today the company, under the direction of CEO Wolfgang Schmidt, offers customised solutions for worldwide drilling projects, supplying innovative and technically advanced drilling products to an international range of customers. Drill pipes and tools for oil and gas field drilling, DTH and HDD pipes, augers for vertical and horizontal drilling, drilling tools and injection systems for applications in mining, tunnelling and reconstruction are the cornerstones of its production.
"The basis of our success is the quality of our products, reflected by satisfied customers. We strive to maintain high manufacturing standards with production of drill pipes to API 5DP and regularly certified quality management systems according to DIN EN ISO 9001:2008," says Steffen Henning, sales director. Employing a highly motivated team of 125 qualified personnel ensures that the quality of its products is at a top level, which attracts a customer base that ranges from drilling contractors and rental companies to customers in the construction and mining industries. "We take care to keep close contact with our customers through an experienced field sales force and a well-structured net of associated companies and partners, mainly independent local companies, who ensure the distribution of our equipment worldwide," he adds.
Through a combination of experience, quality and development, the business has established itself in a strong position in the market as Steffen explains: "Drilling equipment is our business and we have decades of experience in a range of different horizontal and vertical drilling techniques. High quality products secure our good reputation, but it is equally as important to remain flexible and to adapt design and manufacture of products continuously to incorporate customer requirements or new technical standards. A close collaboration between our engineers, production, sales team and customers, guarantees that customised products can be supplied within a short time frame."
Operating as an independent company supports the flexibility but also encourages a flat hierarchy, offering direct contact to its customers with small expert teams, providing quick and effective solutions. However, as part of SK Holding it is able to take advantage of the synergetic potential of a strong group. In September 2013, MTS Perforator, its sister company and part of the Schmidt, Kranz Group took responsibility for the Perforator thrust boring technique division, already recognised internationally as a supplier of micro-tunnelling systems. Commenting on this business move, Steffen explains: "In recent years we experienced that the Perforator thrust boring technique perfectly complemented their product range. There have been many interfaces between the products regarding production as well as range of customers and market activities, so the target was to bundle resources under one roof and to offer single-source solutions to the customers."
Last year Perforator developed a new type of friction welded drill pipe, mainly for geothermal and other applications up to 1500 metres drilling depth. Using S-135 high-grade tube material with special highly quenched and tempered friction welded connections, these pipes meet all standards of comparable API 5DP drill pipes. The tube material is plain end, without upsetting, therefore the biggest advantage is a considerable cost reduction compared to upsetted API 5DP drill pipes.
Perforator also provides repair services of drill pipe threads, drill collars, HWDP's, subs and other tools according API or DS1 specifications including all necessary documentations.
"In co-operation with a major Scandinavian partner company we recently delivered double walled drill pipes with hexagon connections and outer casings up to outside diameters of 1016 millimetres, which are used with big DTH hammers for foundation drilling. These huge drill pipe diameters were a real challenge for our engineering and production team, but we successfully passed this pilot scheme and hope to enter the market with these large size drill pipes quickly," says Steffen. "Just a few days before we got a second big order for this type of drill pipes."
As the company seeks to develop its interests, it ultimately looks to the market to bring in new talent. Continuing, Steffen adds: "Training of employees is a critical success factor for a company. The main focus of our training sessions, which are regularly carried out either by our QA department, or by external institutions, is of course on the requirements of API or ISO standards." With a strong focus on certification, Steffen explains that the company's customer base views it as a traceable proof of high quality standards, furthermore, Perforator always put emphasis on the training of apprentices. "It is an investment in the future but it will pay off to have access to expert personnel.
"As we move ahead the challenge will be not only to assert our position but to extend our share in a highly competitive international market. The manufacture of customised high-quality products is only one side of the coin; the cost factor also has a heavy influence on our customers' decision to buy. As a medium-sized company we have been successful in maintaining a relatively equal balance between these two factors. Our target this year is to consolidate our position in Europe and to intensify our activities in the Middle East and South America. As we strive to reach this goal we will be focusing on our DTH and rotary drill pipes, field-tested reliable equipment with a high market acceptance. These drill pipes are well known for their excellent drilling performance at competitive prices," says Steffen.
Drawing to a conclusion Steffen provides an insight into the strategic vision for the business as it looks to the horizon: "We aim to strengthen Perforator's market position as a global, flexible supplier of high quality drilling equipment and to increase our market share continuously by entering the 'white spots' on our global map. At the same time it is important to keep pace with the changing requirements of our customers and to have an eye on new product development, such as high torque connections for oil field applications."
Perforator GmbH
Services: Customised solutions for drilling projects