Quality at its core
Perforator, under the direction of CEO Wolfgang Schmidt, offers customised solutions for worldwide drilling projects, supplying innovative and technically advanced drilling products to an international range of customers.
The company has significantly evolved since it was founded, and today the cornerstones of its production are drill pipes and tools for oil and gas field drilling, DTH and HDD pipes, augers for vertical and horizontal drilling, and drilling tools and injection systems for applications in mining, tunnelling and reconstruction.
It is thanks to Perforator's experience in the market that customers keep returning, and as Steffen Henning, sales director noted, the company also keeps a keen eye on quality and product development. "Drilling equipment is our business; we have decades of experience in the range of different horizontal and vertical drilling techniques," he stated. "High quality products secure our good reputation, but as well it is most important to remain flexible and to continuously adapt the design and manufacture of products to keep up with customer requirements or new technical standards. A close collaboration between our engineers, production, sales team and customer guarantees that customised products can be supplied within a short time frame. At this time, we have a staff of 120 motivated and highly trained employees, which also helps to ensure that the quality of our products is first class."
He continued: "We are convinced that the quality of our products is reflected in our customer satisfaction and that forms the basis of our success. Thus we pay attention to maintaining our high manufacturing standards, such as in the production of drill pipes according to API 5DP, and continuing to update our quality management system according to ISO 9001. Both of these are traceable through regular certification, which offers peace of mind to our customers."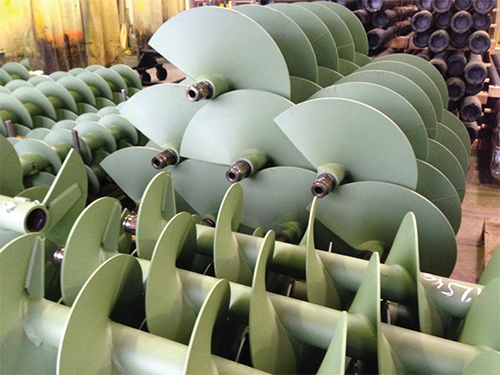 The clients that Steffen referred to are drilling contractors, rental companies or customers in the construction and mining industry. "We take care to keep in close contact with our customers through an experienced field sales force and a well-structured net of associated companies and partners, mainly independent local companies, who ensure the distribution of our equipment worldwide," he explained.
When European Oil & Gas Magazine last spoke to Perforator in 2014, one area that was highlighted was the need to focus on new product development. The company has indeed sustained its focus on these areas, and at the beginning of 2015 it produced a complete, newly designed reverse circulation (RC) drill string including a new generation of RC pipes for a customer in central Africa. "The main focus concerning the design was easy handling and maintenance of the string, since both the technical requirements as well as the infrastructure of this region do not correspond to the European standard," Steffen highlighted.
In addition to products such as this for the oil and gas sector, Perforator is also very active in the development of customer specific soil conditioning solutions. "Using advanced technologies for the production of polymer foams we were able to shrink the needed technology to not only fit into small- to midsized TBM's but also into custom crafted excavators," said Steffen. "This enables our customer to use the advantages of polymer foam-basedsoil conditioning in completely new cases, for example dam repairs or excavations under problematic soil conditions. Modern PLC based controls give the customer full control of the process and the use of well-chosen components extends the reliability of our systems."
It is through creating new and innovative products such as these that Perforator can continue to grow and develop. Steffen noted that there are good orders on the horizon, but that is not a reason to sit still: "We need to stabilise and further expand our position," he agreed. "However, the current oil price deterioration and consequently the decreased demand of drill pipes do pose major challenges to us. Therefore it is important not to lose sight of developing our other product groups that are apart from the oil and gas industry.
"So the challenge will be not only to assert our position but to extend our share in a highly competitive international market. Manufacturing customised high quality products is only one side of the coin – the cost factor of course influences our customers' decision to buy. As a medium sized company we are able to keep these two factors in balance.
"We also aim to strengthen Perforator's market position in the future as a global, flexible supplier of high quality drilling equipment and to increase our market share continuously by entering any 'white spots' on our global map. At the same time it is important to keep pace with the changing requirements of our customers and to have an eye on new product development – so for example, we are looking at our own high torque connections for oil field applications.
"This year's target is to consolidate our position in Europe and to intensify our activities in the Middle East and South America," he concluded. "We will be focusing on our DTH and rotary drill pipes, field-tested reliable equipment with a high market acceptance."
Perforator GmbH
Services: Customised solutions for drilling projects