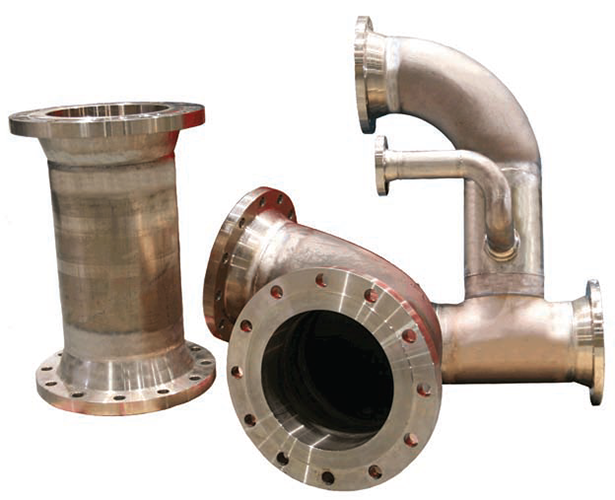 Unrivalled expertise
Permascand predominantly operates in the northern European market within the oil and gas segment, where it has built a strong reputation.
With a long experience in manufacturing customised equipment for the offshore sector Permascand meets the highest demands for material strength, weight, lifetime and fine tolerances.
However, the company plans to expand this segment globally and one year ago a management buyout (MBO) from former owner AkzoNobel was completed in order to achieve this growth. "In November 2012 we completed the MBO with the key aim of continuing to develop and expand our presence in the oil and gas market on a global basis," Jan-Olof Stromberg, sales and marketing manager at Permascand explains. "We already are highly regarded in the Nordic region for manufacturing customer-specific products in durable, high strength materials like titanium, aluminium, duplex and super duplex steels, copper-nickel, and Inconel for oil and gas, offshore and marine applications."
Permascand is one of the leading producers of electrodes and electrochemical equipment serving the global process industries. The business, which is based in Sweden, has built its reputation on its ability to work closely with its clients to understand their exact requirements, translate those into solutions based on expert knowledge and experience, and have skilled technicians manufacture those solutions.
The company's expertise in its field is unrivalled, it was one of the first companies in Sweden to work with titanium, and thus boasts a combination of theoretical and practical knowledge and innovative thinking that makes it a unique prospect. "We have held a strong global position with regards to electrodes and electrode coatings for the chemical process industry since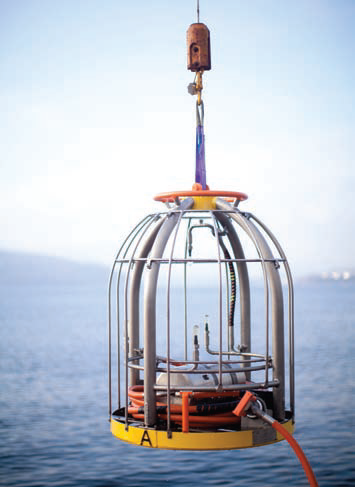 we were established in 1971," says Jan-Olof. "During the 1970s and 1980s we gathered considerable skills and experience in manufacturing various titanium products for the process industry, such as heat exchangers, pressure vessels, cooling towers and tanks, and piping solutions for the harsh conditions found in the process sector.
"It was this experience and capability, combined with our high skills in welding these special materials, that led us into the oil and gas market in the 1980s," he continues. "Since that time we have been expanding our offering and today we support many customers with manufacturing, design and engineering, problem solving and innovation in the process, offshore and marine industries. We manufacture various equipment such as subsea structures for acoustic leak detectors, subsea coolers, seismic data nodes, ROV (remotely operating vehicles) frames, motor housings and electrical actuators housings, hydraulic connectors, fire water systems etc."
Due to the wide range of expertise throughout Permascand the company provides a broad spectrum of services, as Jan-Olof highlights. "We also provide electrochemical water treatment systems for land based, marine or offshore applications, refurbishment and repair of electrochemical cells and/or electrodes for most major electrochemical applications, sub-contractor services for technology owners, technology development projects in co-operation with clients, and design, engineering and project management services for our main applications."
In terms of the oil and gas market, Permascand is right to pursue growth in the field, particularly as its products are ideally suited to many of the harsh conditions and challenging operating environments such as deep water depths (down to 3000 meter) and high pressure/high temperature conditions with a lifetime of up to 30 years. "Our product portfolio is a testimony of a proud background as a manufacturer of complex equipment for the subsea, seismic and process sectors," says Jan-Olof, "particularly where there are excessive demands for high strength, light weight, long lifetimes and extreme fine tolerances. In the oil and gas market we are a certified supplier of highly advanced equipment to the major engineering companies working offshore, such as Aker Solutions, FMC Technologies, Fugro, GE Oil & Gas, and Fire Protection Engineering among others. We have supplied equipment for most oil fields in the Norwegian continental shelf, and to international markets through our customers."
At present, in order to continue its growth, the company is looking at improving its workforce through training and investment in its personnel. "We certainly see the need to have a skilled workforce to achieve strong, sustainable and balanced growth," Jan-Olof says. "One of the first appointments we made after the MBO was a new HR manager, whose top priority is finding talented candidates for Permascand. Our location in mid-Sweden may not be ideal for recruitment, but on the other hand our employee turnover is low, which means that we are able to make continued investment in developing our existing skilled personnel. We're also networking with technical universities in order to anticipate and build competencies for future needs, and we have several programmes where undergraduate students take part in development projects."
By building strong foundations within the company through investment in its personnel and continued development of its product and service portfolio Jan-Olof is confident in Permascand's future: "Our main focus for 2014 will be to have our new organisation up and running in a lean and efficient manner. First we will strengthen our position in our home market in the core segments of subsea, seismological and process topsides. Then we will also look to expand our market reach towards the Americas, while at the same time keeping an eye open for other opportunities in other areas. To achieve this we have setup a business development objective of building Permascand into an international company that is highly competitive in its core sectors."
Permascand AB
Services: Subsea equipment