Permian Basin Materials LLC
Permian Basin Materials uses its vast experience, advanced technology and safety culture to meet the needs of customers in Texas.
Permian Basin Materials (PB Materials) LLC can flex its muscle in the Texas and Southwestern New Mexico market because it has so much experience in the industry. The company was established when three regional leaders – Wallach Concrete, Highland Concrete and Crockett County Mining – were pulled together to have strategically placed ready-mix and aggregate facilities across the region. PB Materials achieved lower transportation costs, timelier deliveries and improved customer service, and customers benefit from its management team's more than 200 years' experience in the market.
Leveraging Experience and Technology
PB Materials serves all sectors of the market, but with its depth of experience, it has built a strong reputation for handling the challenging work, such as DOT and high-end commercial projects, CEO Chris Crouch explains. When higher-spec values are required, PB Materials is known for being able to deliver.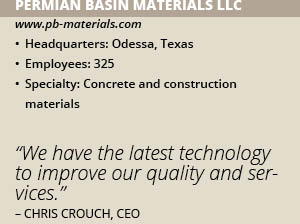 "The Permian Basin is becoming more technically savvy in what their requirements are in all of the materials," Crouch says. "A lot of that is driven by the oil and gas sector and their influence on the Permian Basin as well as their desire to raise the bar with quality, reliability and long-term performance. We are responding in the way we know how.
"Service is the key, and we have the latest technology to improve our quality and services, but also logistics software and integrated equipment software to ensure efficiency and customer satisfaction," Crouch adds.
"We have installed monitoring devices in our concrete drums," Crouch says. "With this, the minute the concrete is batched, it starts creating a record of the consistency, the temperature and all of the characteristics of the concrete so it is exactly what the customer wanted. We have a strong technical service group with a rich depth of talent that allows us to design the concrete that the market needs."
The extensive experience is driving PB Material's growth and new product development. The company is developing products for capturing wastewater in its concrete trucks, so when the trucks are finished pouring concrete they can be washed down quickly into a self-contained unit and taken back to their plants.
"We will dispose of the water," Crouch says. "That way, we leave a zero footprint of our presence on a job site, as well as exceed environmental compliance. This system also includes a cooler on the back of a truck so we can provide our customers with hydration, tying into our safety always culture. This will be on the market in the next few months. We also have a number of environmental initiatives, such as cleaning up the Pecos River by adding more fresh water."
Safety Always
A big part of this development is the result of its safety culture. PB Materials' motto is "Safety Always," not just "safety first" like many companies say. "Safety is a way of life for us and we implore our employees to take safety home with them," Crouch says. "We are just constantly focused on it. If you believe in what you do at work, you will believe the same thing at home and teach it to your kids. Safety is so important – it is one of the legs of building a culture in a company and shows you care about your employees, which we do."
He notes the safety message starts on the employee's first day and touches every part of the business after that. Everywhere employees go in the company, the safety message is reinforced. For example, PB Materials' branded water bottles relay its message of "stay hydrated," he says.
"Something simple like that can demonstrate Safety Always," Crouch explains. "Up here, it's noticeable when you get dehydrated and we don't want that happening to our people or customers. Every place they work, the themes we drive every day are about safety. Our mining operations go through safety protocols and routine safety training – it's a very big deal. If there ever was something in common across our business, it is that no one ever wants to see anyone get hurt."
Additionally, PB Materials implemented a safety protocol with cameras that look out the front of the truck and back at the driver to record every second. This ensures the company knows what's happening and it gives us a play by play for our records. This has become a benefit to law enforcement as well when trying to recreate an accident. It also is using more technology on the ready-mix side of its business.
PB Materials looks forward to continuing to serving the customers in the Permian Basin region with high-quality products and service.