Perpetuum Waste Management
Watching the waste line
Based in Northern Norway, Perpetuum Waste Management has provided the oil and gas industry in the Barents Sea with waste handling services since it ventured into the sector in 2005.
The business has a long-standing history, having handled both ordinary and hazardous waste for many a year, but found its way into the industry three years ago as a result of legislation that was enforced by the Norwegian environmental authorities. Specifically, this meant that all water based drill cuttings had to be brought ashore to be further utilised or disposed whereas previously it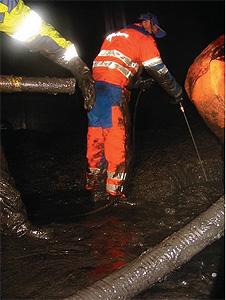 was only oil based drill cuttings that had been the subject of such rules.
With the need for new technology apparent, Perpertuum seized the opportunity, working with well-known industry names ENI, Statoil and Scomi Oiltools with the aim of launching R&D projects to develop technologies that would allow the water based cuttings to be utilised, rather than simply disposed. Through some inventive thinking and no short amount of work, the companies were able to come up with a now patented use of water based drill cuttings as watertight membranes for various applications. As such, the cuttings can be used as an alternative to commercial membranes or clay with the company having been granted permission to use them as an impenetrable layer in top coating constructions at closed landfill sites.
Commenting on how the company has come to attract the large majority of the business since the change in the law, John Barlindhaug, general manager in Perpetuum Waste Management, says: "We've actually been involved in the area of water based cuttings with R&D activities from 2003, so when they started taking cuttings on shore in 2005, we were the only company that had the necessary skill-set, capabilities and experience. It is for that reason that we have received the large majority of the business since then; indeed, it is only really in the last 12 months that other companies have developed alternatives to us."
Furthermore, with seven facilities across northern Norway – Perpetuum has sites in Hammerfest and Kirkenes in the region of Finnmark and locations in Tromso, Harstad, Narvik, Balsfjord, Salangen and Sorreisa in the Troms region – John believes that its infrastructure is one of Perpetuum's key strengths: "I would say that a particular strong point for us is that while we are a locally owned and based business we have a significant infrastructure in the North of the country, which allows us to serve all of our customers in a large number of locations. As a local player over many years Perpetuum also has thorough knowledge about local conditions. We benefit from the fact that much of the competition is based in the South and has little reputation here."
With an increased focus on the ecological impact that organisations in the oil and gas field have, and the initiatives taken to reduce such damage, businesses such as Perpetuum are becoming more important than ever. "Waste management is all about protecting the environment," John surmises. "We are looking at, and working on, several projects, to further progress in that sense. For
instance, we are looking at how we can aid the oil companies in recovering drilling fluids from the drill cuttings."
The theme of reducing pollution, be it oil or energy, is apparent in the company's project to build a frost free tank farm in Kirkenes, which is positioned a stone's throw from the Norway/Russia border. It is being constructed in a cavern that was previously used in the mining industry and will be used for receiving waste liquids from the nearby quay. The protection afforded will eliminate the need for extensive tank heating – previously a must in what are arctic conditions. "The winters in Hammerfest are harsh but Kirkenes is even colder. Because of the problems that frost brings we decided that we would build a tank farm in the cavern to alleviate them. It is going to reduce our costs quite a bit through the reduction we will see in our energy consumption," John comments.
The Kirkenes site is also significant given its close proximity to Russia. "We would expect to become increasingly involved in that sector in the coming years, especially at that site. The Kirkenes facility is already attracting a small amount of Russian business and we believe it will increase. There has even been talk of Perpetuum establishing a Russian facility, but nothing is set in stone," he adds.
It would be hard to say the same for the company's position in the Norwegian sector. Having applied its expertise from the moment the new laws were passed, Perpetuum has established a footing that is unlikely to be dislodged. Looking forward, John concludes: "We will always look to improve our services and to remain competitive, as well as providing final disposal alternatives as close to the source as possible. Our outlook has to be positive as while we recognise that drilling activity may decrease next year, we expect it to increase from 2010. We are highly ambitious and we want to become the leading supplier of oil and gas related waste management services in the Barents Sea, while also becoming a player on the Russian side of the border."
Perpetuum Waste Management
Services Waste management