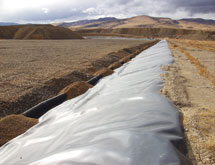 Stephen Alfers has a lot of experience in the mining industry, especially in starting and building companies. In a previous position, for example, he created a new company in 2002, took it public in 2006 and merged it into a Canadian junior exploration operation in 2007. He then became chief of U.S. operations at Franco-Nevada, a position he held through 2011. In March 2012, he became President and CEO of Pershing Gold Corp. (PGC, OTCBB:PGLC), a brand-new company in which Alfers saw "a significant opportunity" to build a new exploration and development company and become an emerging producer that would create real value for shareholders.
"I enjoy the creativity of turning around an enterprise or creating something new to create shareholder value," he says. "In just a little more than one year, we have achieved significant progress towards building a company that is going to become Nevada's next gold producer."
Since acquiring the Relief Canyon property out of bankruptcy in August 2011, Pershing Gold (formerly known as Sagebrush Gold Ltd.) is well on its way to putting the long-neglected Relief Canyon Gold Mine into production. Additionally, the company is conducting an aggressive exploration program that has already found new mineralized zones outside of the existing open-pit mine that are expected to substantially increase the mineral resource.
PGC's anchor property – the Relief Canyon Gold Mine – is located about 100 miles northeast of Reno in Pershing County, Nev. The mine is situated along the western flank of the Humboldt range near several other gold and silver mines and deposits including Florida Canyon, Rochester and Spring Valley that comprise a mineral belt that PGC calls the Pershing Gold and Silver Trend.
The Relief Canyon property consists of three open-pit mines and a recently refurbished heap leach gold ore-processing facility. The mine currently has a NI 43-101 compliant inferred and indicated resource of approximately 248,000 ounces of gold. Alfers is confident that the company's 2011–2012 drilling program will increase this resource. PGC recently retained Roscoe Postle Associates USA Ltd. to prepare a new resource estimate and a preliminary economic analysis using the data obtained from the 2011-2012 drilling effort.
Alfers also thinks the lands which PGC controls in all directions surrounding the mine have excellent exploration potential. "This part of Nevada has been underexplored despite the fact there are historic mines nearby as well as a few current producers," he says. "This is a great opportunity for us because we control over 25,000 acres. In fact, we have the dominant land position along the Humboldt Range south of Coeur d'Alene Mines Corp.'s Rochester silver mine. PGC's Relief Canyon land position covers more than 1.5 miles of the Black Ridge Fault, which is the major geologic structure that controls the mineralization at Relief Canyon and other nearby ore deposits in the Humboldt Range.
"Our land holdings give us a strategic edge and put us in an optimal position to discover new mineral deposits on lands surrounding the Relief Canyon Mine."
Advancing Prospects
"PGC has several areas of focus, the first of which is to reopen the Relief Canyon Mine and heap leach gold processing facilities," Alfers says. To ensure the readiness of the heap leach facilities for future production and to fine-tune the operation, the company plans to conduct an equipment test before the end of the year and it is initiating the design and permitting work to add a gold refinery to the existing facilities.
Once recommissioned, the Relief Canyon heap leach facilities would be available to process ores from the Relief Canyon Mine and previously mined dump material, as well as ores from other mines. Alfers notes that PGC has a target date to be producing gold in 2014 from newly mined ore, gold-bearing materials on the dumps and possibly toll ores from other properties.
Secondly, PGC has conducted an aggressive exploration drilling program since taking control of the property last year. To date, the company has drilled 127 drill holes totaling 61,083 feet of drilling. As a result of this exploration work, PGC's geologists have developed a new exploration model focused on three styles of mineralization. This refined understanding of the geology of the Relief Canyon ore deposit has identified a number of high-priority targets that are the focus of the company's exploration drilling campaign. The company believes the results from this drilling effort will substantially increase the mineral resource estimate that Roscoe Postle Associates USA Ltd. is expected to develop by December 2012.
Major Control
One of the main reasons PGC is confident about its position going forward is its landmark consolidation of the lands adjacent to the existing Relief Canyon Mine. Alfers explains that for the first time in several decades, the Relief Canyon Mine and the lands immediately surrounding it are controlled by a single owner. By consolidating ownership of these lands, PGC is in a unique position to develop and explore the Relief Canyon property without land boundary restrictions.
The previous owner did not own or control the entire deposit or the lands adjacent to the pits and processing facilities. PGC, however, has complete control of the entire land package necessary to reopen and expand the mine.
"The significance of controlling all of the lands adjacent to the mine cannot be overstated," Alfers says. "We are not landlocked and do not face the land ownership constraints that handicapped previous owners' efforts to develop this asset." He adds that with the area's "excellent infrastructure" – including supportive local communities and good maintenance of county roads – PGC is confident of the company's ability to achieve its goals. EMI