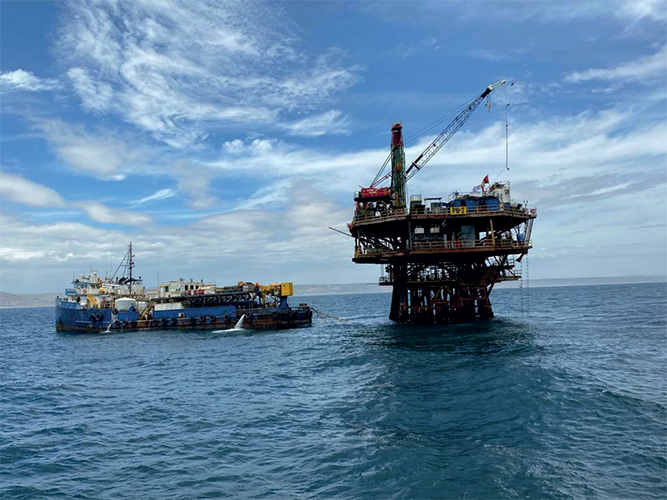 Ripe for investment
Approaching its 30th year, Perupetro is leading the development of Peru's oil and natural gas sector, while conducting all-important preparations for an inevitable energy transition
The early 1990s were a period of significant change for Peru, as the newly elected government moved swiftly to re-integrate the country into the global economic system. State assets were privatized, and investors were courted from overseas. Peru's energy sector was not immune to these reforms; to match the government's ambition required the formation of a new organization, tasked with promoting, negotiating, signing and overseeing contracts relating to hydrocarbon exploration and production within the country. To that end, in 1993, Perupetro was launched.
Peru itself has an extensive history of hydrocarbon exploration, dating back all the way to 1863. "The country contains 18 sedimentary basins, eight of which are totally or partially offshore," notes Daniel Hokama Kuwae, CEO of Perupetro. "A significant milestone for the sector arrived in 2004, when national gas production began in the Camisea fields, an area of approximately 14TCF in reserves. It marked the start of an energy transition within Peru, and the gradual replacement of electricity generation using diesel and residual by natural gas. Today, the latter accounts for approximately 50 percent of all electricity generation in the country, with the rest coming predominately from renewables."
It hasn't all been plain sailing for Perupetro. An impressive first five years in operation marked by the signing of several new contracts for hydrocarbon exploration came to an end in 1998, as crude oil prices crashed to a 12-year low. The El Niño phenomenon brought further turmoil after the new millennium, posing a particular challenge to Peru's northwest. Nevertheless, the company's revenues recovered, with the total number of in-force contracts rising to 45 by 2005, and 85 by 2010, followed in 2011 by the company's best-ever financial year. In 2021, royalties from Perupetro's revenues reached an impressive US$1.2bn.
"Today, the country's oil production sits at about 45,000 bpd of oil, 85,000 bpd of liquid natural gas, and 1380 MMCFD of natural gas," Daniel reveals. "We have 25 contracts in the production phase, seven in the exploration phase, and a further two technical evaluation agreements. Ultimately, we believe that we can produce more than 100,000 bpd of oil and 1500 MMCFD."
The company is already making headway towards this goal. In December 2021, Perupetro signed a two-year license contract for block 1 in the Talara onshore basin. Though the block itself is relatively small, containing just 500 bpd of reserves, it's nevertheless a significant contract, marking the return to the upstream business of the state-owned oil company Petroperu, after a near 30-year hiatus.
"We have six contracts in Talara that are about to expire, which we've approved for reconfiguration into two larger blocks," Daniel reveals. "The Talara basin has been without innovation for almost the entirety of its 150 years of operation, with most of the production coming from shallow wells. The advantage of combining the blocks is that it allows us to deploy EOR and other new technologies to explore the deeper layers beneath, thereby increasing the production of oil and natural gas in that zone."
The bidding process for these new blocks launches in May 2022. It's hoped that the opportunity can attract companies both big and small. "The blocks are around 40,000 and 71,000 hectares in size respectively, producing approximately 4500 and 12,500 bpd of oil, and 8m and 17m CFD of natural gas," Daniel adds. "Because they're already producing, that means cash flow from day one. Located in the city of Talara, there's good surrounding infrastructure, with access to ports, roads and a new refinery with 95,000 barrels of processing capacity.
"At the beginning of 2021, we proposed a new legal framework for assessing the companies who can participate in upstream activities," Daniel says. "Last December, that framework received approval from the Ministry of Energy and Mines. The change allows potential investors to join forces with a service company in order to meet the required economic and technical experience standards. We have a number of companies already showing interest."
Daniel is equally bullish about the potential for shallow and deep-water exploration in Peru's offshore basins. "We've operated in Peru's shallow waters since the 1960s, with reasonable success," he remarks. "Regardless, the majority of offshore basins remain largely unexplored. As per the latest reprocessing and seismic information, it's an area with bright prospects. We've already signed several offshore Multiclient Agreements with four recognized international companies."
Despite this enthusiasm, the last few years haven't been without their challenges for Perupetro, as the arrival of Covid-19 saw oil prices plummet worldwide, and the scale of the virus locally plunged Peru into a state of national emergency. "Our output dropped from 60,000 bpd to as little as 15 bpd in certain periods," Daniel admits. "We had to work closely with our contractors to help them maintain production, while retaining some flexibility in what was an unprecedented situation.
"For our team, we tried to provide a constant stream of reliable support and advice regarding the virus," he continues. "We began working from home, and continue to do so today, although we're now planning for the introduction of satellite offices. Many of us live in places that are ill-designed for homeworking, while others spend around three hours on their commute. Our intention is to ensure that these flexible, shared workspaces will be close to our employees' homes, offering them a place to work comfortably, and to engage with each other in person."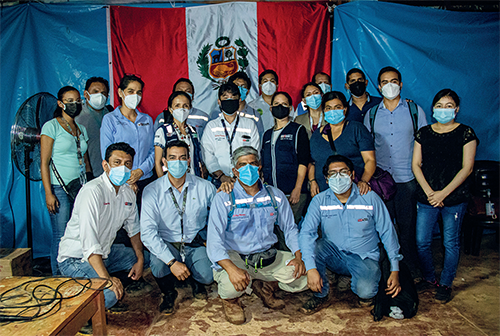 As its response to Covid-19 demonstrates, Perupetro places a heavy emphasis on the strength of its company culture. "Our aim is to empower our team with the confidence and opportunity to take on responsibilities and champion new ideas," Daniel tells us. "We want to drive new ways of doing our jobs efficiently, develop our staff through the provision of training, and to ensure that we're all aligned with the company's missions and values."
Like many within the sector, Perupetro is conscious that momentum behind a transition to renewable energy continues to gather. Accordingly, a vital component of the company's mandate is to ensure that hydrocarbon exploitation can take place in a manner that is socially and environmentally responsible. "We were the first company within the sector to successfully execute a project in compliance with the 1989 Indigenous and Tribal Peoples Convention," Daniel reveals. "Recently, we achieved that again, striking a total of 99 agreements with native communities in block 192, located in the Amazon jungle.
"Several years ago, we initiated a process called 'Citizen Participation'," Daniel continues. "As part of that, we inform all communities within the influence zone of any project about the agreement conditions, the permits, and the activities that are set to take place. We also work very closely with our operators to alleviate any environmental risks."
The company is a firm believer in the idea that hydrocarbon exploitation can coexist alongside efforts to protect the environment and local communities. "To develop Peru, we need energy and investment," Daniel reminds us. "Eighty percent of the population remains reliant on oil and gas. Although we support the acceleration of the transition, we need to use the royalties paid by oil and gas to finance that process, to guarantee competitive energy prices, and to provide a platform for our people and businesses to grow.
"Years from now, the way the world uses and produces energy will have changed," he insists. "With that in mind, we're now proposing that our upstream companies develop training programs for those communities who are reliant on the sector for their income. For anyone to diversify their skills takes time, so it's essential to start as soon as possible."
In the short term, Perupetro's focus is on improving its level of service. "To achieve that, we intend to successfully roll out the bidding process for the blocks in Talara," Daniel comments. "In the medium-term, we're working very hard to get new exploration contracts, and we intend to add new information to our online database as an incentive. Because the energy transition is accelerating, the next contracts to sign could well be the last. For that reason, we're looking to implement a very attractive set of conditions. As a country, we're focused on the massification of the use of natural gas. To achieve that, we need more investment in exploration."
The company is now gearing up to take a more active lead in Peru's energy policy. "We want to see the upstream industry make a soft transition to cleaner sources of energy," Daniel insists. "It remains the case that 80 percent of greenhouse gas emissions worldwide are produced by just 20 countries, not including Peru. Any action on renewables therefore needs to be a global effort. Domestically, we'll continue to explore new exploration and exploitation contracts, particularly in Peru's south and offshore, where we believe there's strong natural gas potential. Through that, we hope to contribute to the ongoing development of our country's economy."
Perupetro
www.perupetro.com.pe
Services: Promotion and oversight of hydrocarbon exploitation